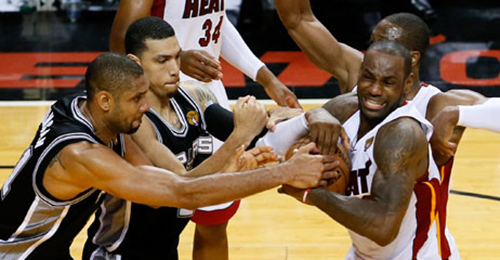 Whoa, whoa, whoa! We thought that when the San Antonio Spurs were up four with 28 seconds left in Game 6 of the NBA Finals, this series was over. The NBA believed that because they began to wheel out the Larry O'Brien Trophy, preparing for a fifth Spurs championship celebration. Magic Johnson, Michael Wilbon, Jalen Rose and Bill Simmons believed it. The Miami Heat fans believed it. You could hear the Bronx cheers beginning to creep up as people were heading for the doors. I know everyone in San Antonio started throwing more meat on the grill and popping another cold one because it was going to be a long night of partying along the Rio Grande.
Not so fast, slow your roll. This is the NBA. Rudy Tomjanovich told you all never underestimate the heart of a champion. Lebron James, surely hearing whispers of his previous choked opportunities, and how he doesn't have the clutch gene that is intertwined in the DNA of past legends, is still a champion. He lifted his team on his back like he's done since his high school days, to get them back in the game. And then "Sugar" Ray Allen showed why he's still the most dangerous deep threat in history; take notes, Danny Green. Now, after a long, long, full season (what a difference those 20 games make) it fittingly comes down to this. We all get the esteemed pleasure of witnessing one more game in this oh-so-epic series.
Game 7 is already a classic and they haven't even tipped off yet. The Spurs proved they deserve to be here. They have given the Heat everything they can handle. Gregg Popovich's name is intermingled in the discussion of the greatest coaching minds of all time. Tim Duncan, the vintage warrior, is drawing on everything he's got left in the tank and literally owning the paint. Tony Parker is playing like an MVP, no doubt about it. Don't forget about the aforementioned Green with the surgically implanted rocket launcher in his right arm. So it should come as no surprise that we find ourselves here, one more game, 48 (or more) minutes for all the marbles.
The stage is set. The lights are on, so grab your popcorn, your drinks, your snacks, and get comfortable because you're in for a treat. The Spurs are kicking themselves because they let Game 6 slip away. They missed crucial free-throws down the stretch that would have sealed the victory. They also gave up two crucial offensive rebounds, both leading to game-changing three-pointers, so they have to come out even more focused and ready to redeem themselves.
Miami escaped Game 6 with a victory by the skin of their teeth, so they aren't taking anything for granted. The Miami Heat crowd will be rocking as usual, just hopefully not premature to leave this time. That said, expect American Airlines Arena to be super loud, from the time Julia Dale wows us with her rendition of the Star-Spangled Banner to the final buzzer because this one is going to the wire.
This will be one for the ages. The old guard dynasty is making way for the new. This is one more step for LeBron James in his climb to the top of Mount Olympus, to take his place among the other gods. Tim Duncan knows his days are numbered, but like the other legends before him, pride keeps him going. He wants this one more than the four previous conquests, and it shows on his usually emotionless face. Hollywood couldn't write a better storyline. You couldn't make this up if you tried. Buckle up, it's going to be one helluva ride!