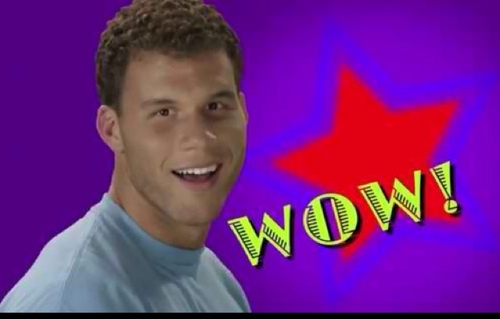 The 2012-13 NBA season is now over, so to keep you in a Baller Mind Frame, here are 10 Twitter feeds you need to follow.
10. Blake Griffin – @blakegriffin32
Baywatch Blake https://t.co/z3uznQi9gh

— Blake Griffin (@blakegriffin32) June 16, 2013
The great thing about Blake Griffin is that he's funny, but doesn't try too hard (looking at you, D12). His Twitter highlight came after he took a Serge Ibaka cheap shot to the groin: "Kid Blake: Who are you? Future Blake: you from the future … don't listen to anything else I've told you just start wearing a cup."
9. Walt Clyde Frazier – @WaltFrazier
Kudos for a dramatic emphatic mesmerizing intoxicating invigorating excruciating provocative charismatic acrobatic season! — Walt Clyde Frazier (@WaltFrazier) May 19, 2013
I legitimately feel awful for basketball fans living outside the New York metropolitan area because every night they miss out on the privilege of listening to Walt Clyde Frazier providing color commentary. The man's got more rhymes than Yeezus and dresses in an equally ridiculous fashion. If you can't watch games on MSG, the least you can do is follow this NBA legend.
8. J.R. Smith – @TheRealJRSmith
Lmao all my chicks like my eye brows! #ThickAsHell

— JR Smith (@TheRealJRSmith) June 18, 2013
Just like when he's on the court, you can never be sure what you're going to get out of JR's Twitter feed on a given day. For every "You trying to get the pipe?" and NSFW pic of a nice lady's butt, there's a hilarious @reply or sweet family picture. It's also quite informative: Did you know JR is an avid golfer? Here he is at a charity outing benefiting the National Down Syndrome Society. What a dude.
7. Bill Simmons – @billsimmons
Timmmmmmmmaaaaaaaaaaaaay.

— Bill Simmons (@BillSimmons) June 19, 2013
If someone gets a temporary ban from Twitter, it's a pretty good indication that their feed is worth reading. Yes, his writing on Grantland is intelligent and often hilarious, but the best thing about Simmons is that he's a passionate fan. This unique perspective he brings to NBA Countdown is a big reason it's been a lot more fun to watch this season.
6. Metta World Peace – @MettaWorldPeace
Welcome to The Ron And Metta Show. I know it's weird. Just go along with it and I will say what yal wish yal could say!!

— Metta World Peace (@MettaWorldPeace) June 21, 2013
The hilarity of Ronald falls into one of two categories: intentional or inadvertent. Both are completely insane. Intentional stuff includes tweets like "I'm changing my name in August to Jesus Shuttlesworth," but my favorite Peace-isms are the inadvertently funny ones, which include such gems as "Popovich is so smart he can coach a draw." Anyone out there have any idea what that means?
5. Kobe Bryant – @kobebryant
Really?? Me. Retire?? Soon, but not yet Vino still has work to do #35 #OG #kbvff

— Kobe Bryant (@kobebryant) May 20, 2013
Regardless of whom you root for, it was pretty disappointing to see Kobe suffer a season-ending injury right before the playoffs. And while it's tough to find a silver lining there, his tweets really have gotten better since the Achilles tear. Whether it's detailed updates on the recovery process or a new book announcement, the man consistently puts out compelling material, having generated almost 3 million followers in six months.
4. Nick Collison – @nickcollison4
To the dad, with all the energy, chasing his kids at the indoor playground…Have a seat buddy, you're making the rest of us look bad

— Nick Collison (@nickcollison4) June 4, 2013
Funny dude that clearly embraces the token white-boy role based on tweets such as "Driving on I-35 listening to John Cougar Mellancamp and drinking gas station coffee like the trill ass OG that I am". In addition to contributing to GQ magazine, he also provides valuable insider NBA knowledge. Did you know that Mo Cheeks pays to get into a movie theaters just for the popcorn and then leaves? Well, now you do. You're a better person for it.
3. Tony Allen – @aa000G9
Women speak 28,000 words a day… men speak 12,000

— Tony Allen (@aa000G9) June 18, 2013
I feel like I had to put Tony Allen on here, because the guy is just insanely prolific on his feed. Whether or not that's a good thing is for you to decide, but at the very least his Twitter offers an extensive look into the mind of one of the NBA's premier defenders. How'd you ever get that handle, Tony?
2. Not Bill Walton @notbillwalton
Like shaving a beard only to have it come in hairier the next time, LeBron's headband looks thicker tonight after falling off in Game 6.

— Not Bill Walton (@NotBillWalton) June 21, 2013
This is far and away the best parody account in the NBA. It's too bad the season is coming to a close because this feed is at its best when live-tweeting a game. My personal favorite from Game 6 of the Finals: "Ray Allen! Fans in Miami haven't enjoyed a big bail-out 3 like that since they were Laker fans watching Horry's shot against the Kings!" It's truly remarkable how much great material the account generates over a three hour span.
1. Javale McGee – @javaleMCGee34
"@AlexanderTh3Gr8: This bouncer looks like a fat @JaValeMcGee34" SO WHAT U SAYIN IS HE A GOOD LOOKIN CHUBBY GUY

— Pierre McGee (@JaValeMcGee34) June 20, 2013
I wasn't even aware of it when I started writing this post, but I guess at some point Javale changed the name on his Twitter profile to Pierre McGee. Classic Pierre. Some highlights of his feed include filming a Vine of himself giving a homeless man $100, and tricking the media into believing he bought a pet platypus. Also, he recently spoiled the ending to The Purge, so proceed with caution if you're still planning on seeing that.