The NBA Draft guarantees a few things: new millionaires, fan angst/joy and horrendous NBA draft outfits from the aforementioned new millionaires. Hopefully, with actual cash on hand, more professional attire will be in order. What's that? See Russell Westbrook, Dwyane Wade and Tyson Chandler? Good point.
Vlade Divac
Divac rocked the Steve Urkel look months before Urkel even existed, so I'm pretty sure Jaleel White owes Divac millions in royalties. Don't have it Jaleel? Well, it's prison for you. QUEUE: "Family Matters" theme music.
Jalen Rose
I'd love to see Rose bust this out next year on NBA Countdown. Jalen looks like a tapestry at an awful Middle Eastern restaurant. Not even a matching pocket square could salvage this bad boy.
Drew Gooden
Gooden looks like he's visiting us from 200 years in the future. Needless to say, it is a sterile, grim dystopia in which society has abandoned all forms of government and buttons.
Jared Jeffries
Jeffries' suit matches the colors on his hat a little too well. Could Jared to the Washington Wizards be one of the NBA's great undiscovered conspiracies? Regardless, the league should make a rule mandating he wear this suit in every game.
Erick Dampier
This looks identical to the jacket they used to make ESPN anchors wear. Yeah, that's not a good thing. The undershirt gets a pass because of David Stern's douche-like, soul-revealing expression.
Joakim Noah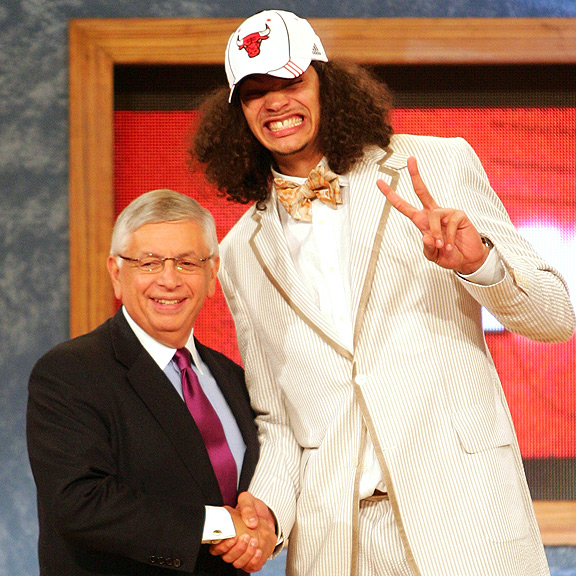 I can't tell what's worse in this photo: the suit, the bow tie or the weird anime expression from Noah. I'll just go with the jacket pockets, which look to be roughly the size of David Stern's face. Tuck in that shirt, Joakim.
Samaki Walker
Walker had a pretty forgettable career, but his draft outfit will be remembered long after we all die in World War Z. No surprise I have movies on the brain as this photo looks like a VHS cover on an awful 1990s flick, the logline of which is something like: "Hoops Hustler" – After a pimp's back-handed slap catches the eye of an NBA scout, he becomes the game's premier shot blocker and toast of the league. But when it comes to winning the hand of reporter, Leandra Lush (Vivica A. Fox), Samaki's about to find out that love is a whole different ballgame.
Hakeem Olajuwon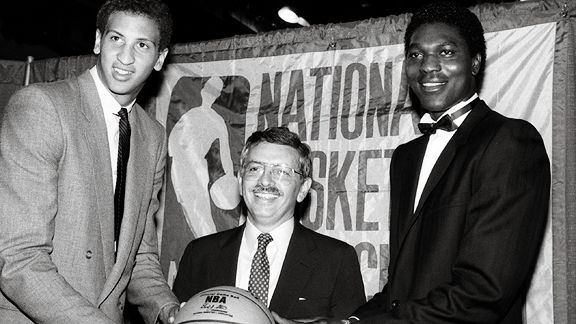 What is it about bow ties on draft night that makes centers so successful in the NBA? If I were Nerlens Noel, I'd forget about rehabbing that knee and learn how to tie one stat. Here you are, Nerlens.
Lebron James
I'd bet good money that James wore this same suit to his senior prom. Surprisingly, LeBron's fashion sense may actually have gotten worse since he hired a stylist.
Gheorghe Muresan
I scoured the internet for a better picture, but unfortunately no photographs of Muresan's full body were ever taken. Get it, because he's tall? Sorry. Anyway, though a lack of bow tie cost him a successful NBA career, the pins on his lapel did ensure him a role in the Billy Crystal classic, "My Giant."