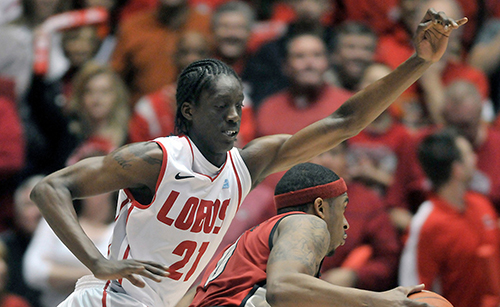 My inaugural article on Baller Mind Frame dealt with the potential point guard prospects most likely available when the Utah Jazz are on the clock with the 14th pick. Today's article encompasses the likely choices the franchise will make with their second first-round pick at 21.
As stated, I'm fairly certain the Jazz will use pick 14 to choose a point guard. If this occurs, I feel they'll go the "best player available" route with the 21st pick. While researching the various prospects I felt would be available, I quickly omitted the players I felt wouldn't be good choices for the Jazz (Mason Plumlee, Sergey Karasev and Tim Hardaway, Jr., to name a few).
I admit I'm less excited about this pick than the 14th pick, partially due to the names showing up in the various mock drafts—though mock drafts are seldom close to accurate past the initial picks. This article will differ from my previous in that the following players are prospects I feel would be good choices (as opposed to the likely choices). Let's begin:
Tony Snell, SG/SF, New Mexico
What I like about Snell is he does a lot of things well (whoa that totally rhymed!). He has a great shooting stroke (39% from three-point land), plays good defense (yet rarely commits fouls), has a 7' wingspan, and can be plugged into the 2 or 3 spot. Sure, his statistics don't jump off the page (2.6 boards and just under 3.0 assists per game his sophomore year) and scouts knock him as being too passive a player, but I'm convinced Snell could be a defensive stopper in the NBA. In the correct environment with the right coaching staff, I think he'll develop his game considerably.
Allen Crabbe, SG, California
Although I prefer Snell, I still believe Allen brings a lot to the court. Like Tony, Crabbe is a good shooter, though I feel Crabbe is more aggressive offensively with a better inside game. I also think Allen is underrated defensively and that he'll progress to being known as a better defender in the NBA than he was in college. Crabbe must cut down on his turnovers (2.5 per game his junior year) and become a more consistent player.
Also, some scouts claim Allen is a catch-and-shoot-type player, though after watching tape on him, I'm under the impression he's merely efficient; he doesn't take unnecessary dribbles just to take them. Also, he runs the floor well and possesses the knack of getting open during a fast break for an easy dunk or spot-up three. And finally, he averaged over six boards a game, which is not bad for a 6'6" guard who played against a significant number of legitimate programs.
Rudy Gobert, C, France
At 7'2", this Rudy is no underdog. If the Jazz select him at 21 and he makes the move from the French league to the NBA (it's reported he wants to play in the NBA next season), Gobert could be the big body the Jazz have lacked since the days Greg Ostertag was clogging the paint and protecting the basket.
The difference between Rudy and the height-blessed draft busts who failed in years past (Pavel Podkolzin and friends) is Gobert's athleticism—mainly how well he runs the floor. Also, Gobert possesses a reliable jump shot, though he tends to merely run the floor and dunk because no one in the French league could stop him from doing so. Also, he seemed quite unchallenged while playing defense. Watching him play against legitimate NBA big men will be interesting to watch.
Due to his athleticism, an insane 7'9" wingspan, nice shooting touch, and positive defensive timing, I believe Gobert can develop considerably. I don't think he possesses star potential, but envision him as a player who can contribute, especially when mismatches are evident.
Kelly Olynyk, C, Gonzaga
If Mehmet Okur had long hair and attended Gonzaga, he would be Kelly Olynyk, though the latter's inside game is certainly more impressive than Okur's. Known for his jump shot and efficient play, Olynyk does a lot of things well and possesses a high basketball IQ—a trait that's typically rare in big men.
Some scouts consider Olynyk soft, a finesse player, though when watching him play, it's obvious he doesn't defer from contact; if he was truly soft, he wouldn't have scored inside as much as he did in college. Sure, he'll have some trouble banging inside against guys like Andrew Bynum and Marc Gasol, but so do the majority of NBA centers.
I expect Kelly to shoot a higher volume of threes at the next level, simply to stretch the floor and to open the lane for his teammates. With the skill set Kelly possesses, he'd be a safe choice at 21, especially if the Jazz don't re-sign Al Jefferson and start Derrick Favors or Enis Kanter in Jefferson's place.
As the draft wears on, players tend to slide and steals become a reality. If any of the above four players are drafted by the Jazz at 21, I'll be pleased with the choice, for each player is solid and brings numerous talents to the court. I expect them all to enjoy productive NBA careers and look forward to seeing where each player ends up, team-wise.