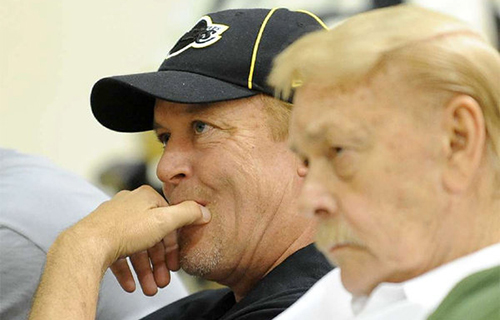 No matter your preference on who stays or goes this offseason, one thing is certain: the Los Angeles Lakers need strong leadership to pull through this storm. To survive the summer of 2013, we need someone capable of convincing Dwight Howard to re-sign, lining up the best deal to get him out of the door, or pulling off any of the multitude of accompanying deals to make the financials work and re-balance a roster already well over the salary cap.
Is Jim Buss that man? No.
As evidenced by Mike Brown's initial hiring, unceremonious firing and selection of Mike D'Antoni over Phil Jackson for a motive other than basketball reasons, Jim did not inherit the steady guiding hand of his father, the legendary Dr. Jerry Buss, overseer of 10 Lakers championships. Maybe the good Doctor did pass it down, only Jim needs to coax it out of himself with reasonable decision making and forward thinking. Or maybe the other heir, daughter Jeanie Buss, received the magic managerial touch, and is the rightful successor kept from the throne room by misguided patriarchal notions.
Either way, Jim's wearing the captain's hat as long as he avoids major catastrophe. That doesn't mean, however, that someone else can't man the helm. Mitch Kupchak has steered due course when enabled, pulling off miracle trades out of the blue, some panning out and some flopping, but all looking great on paper. Adding Karl Malone and Gary Payton to Kobe Bryant and Shaquille O'Neal's slumping contenders? It looked and worked about as well as Howard and Steve Nash did last season. Convincing the Memphis Grizzlies to send over Pau Gasol for pocket change? The canny move led to two more titles.
If Kupchak continues to have major decision-making power, there's no cause for concern. If Jim wants to show off his handed-down big boy pants, we may have a problem.
There is another possible way forward, courting the advice of the very man Jim scorned: the Zen Master himself, Phil Jackson. He knows the franchise in and out, possesses the strongest resume around, maintains a strong rapport with Kupchak, and doesn't seem too interested in any other team's offer. It's unclear why Jim decided to separate himself from Jackson when the Lakers needed him most, possibly due to a desire to create his own legacy or buried resentment towards Jackson's engagement with Jeanie. Whether it's pride or misplaced protective instinct, Jim needs to resolve his issue and bring Jackson back into the inner circle.
There are a lot of moves to make, hard decisions to weigh and future dynasties to decide. For the fate of the Lakers, this season and far forward, Jim should pull over and let someone else drive. He can keep the captain's hat, he just needs to get comfortable in the backseat.