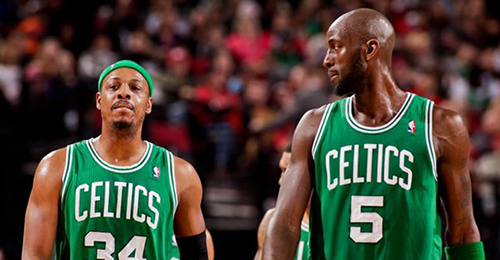 Momentum for this deal was gaining steam before the 2013 NBA Draft began and it snowballed from there. As the first few picks were being announced, word spread that it had passed on the ownership level and that it landed on the lap of Kevin Garnett, awaiting for him to waive the no-trade clause attached to his contract with Boston. Finally, just before the first round of the draft ended, word was that the deal is "done in principle." It is expected to be consummated on July 10th, after contract issues and the luxury tax moratorium can pass. Celtic top players Garnett and Pierce are headed to the Brooklyn Nets.
Here's the short version:
Brooklyn Nets get Kevin Garnett, Paul Pierce, and Jason Terry
Boston Celtics get Gerald Wallace, Kris Humphries, Kris Joseph, Reggie Evans, Keith Bogans and three future first round picks (2014, 2016, 2018)
The Celtics have blown up their roster and are now in rebuilding mode, a tough task as they will be burdened Wallace's contract. He will be owed $10.1 million a year for the next three seasons. This immediately boosts the value of Rajon Rondo, assuming he isn't traded later on, and Jeff Green. It's early and Boston will probably be making a few more moves before the 2013-14 tipoff. Wallace has a chance to move towards undoing his awful fantasy season in 2012-13. He was a middle round fantasy pick that just unraveled and fizzled. He's risky, but then again, he now has a window to eek out some slight stat upside over at Bean town.
The Brooklyn Nets starting five now looks like this:
PG: Deron Williams
SG: Joe Johnson
SF: Paul Pierce
PF: Kevin Garnett
C: Brook Lopez
Bench: Jason Terry, Marshon Brooks (could be traded), Andray Blatche
This makes Brooklyn a rotisserie format gold mine. The ball will be shared more with KG and PP now in tow. D-Will won't be lacking for assist targets, that's for sure. His scoring will take a beating, but hopefully less turnovers can be expected on the horizon. Brook Lopez will get another reason to be lazy on the boards, but should be inspired sharing the paint with KG. Johnson now gets reasons to slack off. Stay away. Pierce's numbers have been steady and he's clearly aged well, as far as his fantasy-friendly percentages are concerned. His assists should dip in Brooklyn and so should his scoring, however his three-point shooting volumes should see an uptick.
Stay tuned as we keep you posted on the latest NBA news and how they affect the 2013-14 fantasy basketball landscape.