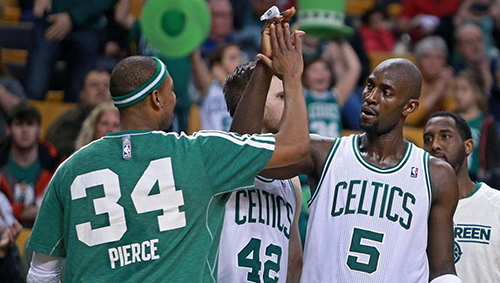 "You Maniacs! You blew it up! Damn you! God damn you all to hell!"
That was literally my reaction last night when Twitter began to light up with heartfelt goodbyes to Paul Pierce and Kevin Garnett. It's gone. It's all gone. I remember reading The Boston Globe in the days after The Big Ticket first came to Boston and seeing the Boston Three Party plastered on a whole page in full color.
I have long said that the National Basketball Association is working an unsustainable format. The league has been hemorrhaging money for the past seven or eight years and Forbes backs me up on this from 2005-11. The theory is that the league has too many teams and not enough talent to remain profitable. As the smaller market organizations in the league can't build adequate teams around their stars, the more powerful franchises can snatch up that talent and create "Big Three"-led teams, as is the vogue of the times. Only through blockbuster trades can teams find success, and this shows more and more. Below is a list of evidence supporting this:
• Garnett from Minnesota to Boston
• Amar'e Stoudemire from Phoenix to New York
• Carlos Boozer from Utah to Chicago
• Chris Bosh from Toronto to Miami
• LeBron James from Cleveland to Miami
• Chris Paul from New Orleans to Los Angeles (Lakers, before it was nixed)
• Chris Paul from New Orleans to Los Angeles (Clippers)
• Carmelo Anthony from Denver to New York
• Deron Williams from Utah to New Jersey/Brooklyn
• Ray Allen from Boston to Miami
• Joe Johnson from Atlanta to Brooklyn
• Steve Nash from Phoenix to Los Angeles
• Dwight Howard from Orlando to Los Angeles
• Garnett to Brooklyn
• Pierce to Brooklyn
Some smaller market teams can miraculously build their own success, but that involves an incredibly lucky series of draft picks. These teams are the San Antonio Spurs, who really are truly remarkable, the Oklahoma City Thunder and kind of the Chicago Bulls. For more on this theory and my solution, read my 2012 PopVeggies article on the subject. The bottom line is that the NBA right now can only support about sixteen teams. And from the looks of it, Boston just went from making the cut to contractible.
And what does Boston get in return for gutting itself for the sake of rebuilding? Well, frankly, I am thoroughly unimpressed by the players we acquired in this deal. I love Gerald Wallace's defense, and was happy with this trade until I looked up his contract. The Nets suffered the Mark Sanchez Effect with Wallace: sometimes if you miss out big on Peyton Manning (Dwight Howard), you end up overpaying elsewhere to keep people (Deron Williams) happy. Humphries can rebound well, but was voted "Most Disliked Player in the NBA" by a player survey. You have to know this guy is a real jerk. If you type in "Keith Bogans is" in Google, the first suggested question is "Is Keith Bogans in the NBA?"
Really, it's the draft picks that keep me from locking myself in my room and listening to Fall Out Boy until football season starts. The Celtics have two first round picks in four of the next five drafts. That could translate into good things, especially if we can now #tankforwiggins.
The Nets on the other hand, are the first team to pull together a "Big Five," the ultimate level of construction. Pierce and KG have been able to bring problems to the Miami Heat, and especially now since KG will be able to move back to the 4 slot. With debatably the best point guard in the East, an NBA All-Star seven footer and Joe "Mr. Clutch" Johnson, I'd call Brooklyn the team to beat in the East. Ladies and gentlemen, this may be it.
We may have a Heat-killer on our hands.