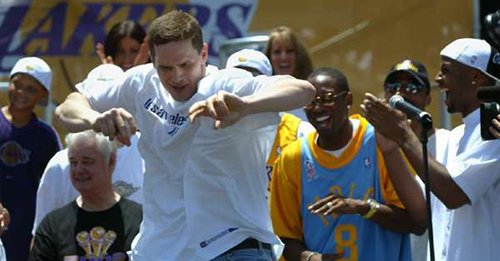 With most of the Los Angeles Lakers' bench cleared out in an offseason purge (why the finest coach of last season, Bernie Bickerstaff, got the boot is beyond me, but the dream has passed), head coach Mike D'Antoni and brother Dan are on the hunt for new playmates. Old pals Nate McMillan and Alvin Gentry already busy, the D'Antoni brothers looked within the organization to promote the longtime (read: one month) coach of the Lakers D-League affiliate, the D-Fenders. This quick, unproven advancement may rankle if said coach wasn't Mark Madsen the "Mad Dog," legendary Lakers bench contributor.
His coaching qualifications aren't extensive – a year assisting in the D-League, a year with Stanford – but his biggest strength fills a gaping hole from last season: enthusiasm. While never the strongest, fastest, or most talented player on the court, Madsen lived and died by the hustle, diving after every ball, slamming for every rebound and manning up against opponents twice his size. Even better on the bench, his towel waves and celebratory fist pumps provided a more consistent source of pep than the Laker Girls.
Mark Madsen's official role is big man coach, but I prefer to think of him as a full-time motivational speaker. Every dip in camaraderie and lack of star engagement will be met by his irrepressible energy, countered by a rousing speech or killer dance move. Last season, Robert Sacre's bench cheerleading and borderline breakdancing were the only continual sources of good cheer; can you imagine the theatrics he'll learn under Madsen's wing?
Speaking of high theater, have you seen Mad Dog's crowd control? In 2001, after the second Lakers championship in a row, Madsen took the stage, led the entire city of Los Angeles in a "Who let the dogs out" call and response, roared a frightening "YEAH" worthy of Howard Dean, and screamed, in barely decipherable Spanish, "We thank you and we tell you that we'll do it again next year." Dude knows how to move the masses…
[youtube]http://www.youtube.com/watch?v=ZgOQO5MilfI[/youtube]
… and move his body as well:
[youtube]http://www.youtube.com/watch?v=_1ciMXvSE8U[/youtube]
The next year, he followed-up by prompting the crowd to chant "Cuatro" before breaking it down again:
[youtube]http://www.youtube.com/watch?v=CTRuCPddhbU[/youtube]
Cite rhythm deficiencies and dock style points all you want, but anyone that can get that excited about something they are that bad at has the inspirational chops required to get even the laziest, most stubborn old dogs barking again. Steve Nash, Pau Gasol, I'm looking at you.
I love everything about this hire. In one unexpected, offseason move, the Lakers have moved from middle of the pack scavengers to title favorites by silencing any and all questions of motivation and effort. Mad Dog, take us to to the promised land. We believe again.