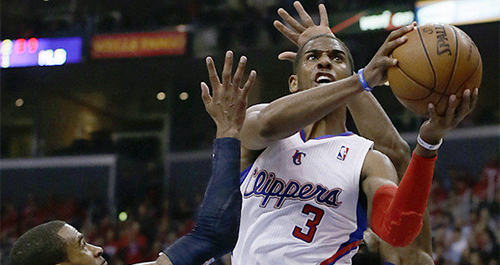 The Los Angeles Clippers have literally made magic happen in the past few years. Since selecting Blake Griffin with the first overall pick in the 2009 NBA Draft (and patiently waiting as he rehabbed a knee injury for an entire season) and acquiring Chris Paul from the then New Orleans Hornets, the Clippers have transformed from the Los Angeles Lakers' little brother to a legitimate championship contender.
What happened last season:
[youtube]https://www.youtube.com/watch?v=gMzJBSXfECE[/youtube]
56-26 record, 1st in Pacific Division
The 2012-13 season was a roller coaster ride for Clippers fans. While winning a franchise-high 56 games, the Clips enjoyed a 17-game winning streak and provided us with an endless highlight reel of Paul-to-Griffin alley-oops and humorous Kia commercials. As if seeing Griffin's freckled mug on television every 10 minutes wasn't enough to make disgruntled Lakers fans jump off the Staples Center, the Clippers also swept their crosstown rivals for the season, defeating the Lakers all four times the teams met. However, the overachieving during the offseason took its toll and the Clippers disappointingly lost to the Memphis Grizzlies in the first round of the NBA Playoffs.
How the offseason is shaping up:
The Clippers have arguably had the most promising offseason of any NBA team so far, with the Brooklyn Nets coming in a close second, and whoever signs Dwight Howard coming in dead last. The Clippers have acquired a championship caliber coach in Doc Rivers, which simultaneously halted all talks of their All-Star point guard parting ways with the franchise. The line-up could see slight modifications before next season is underway, with guard Eric Bledsoe remaining in trade rumors.
What to expect this season:
[youtube]https://www.youtube.com/watch?v=zifLrLyLf10[/youtube]
The stars seem to be aligning for the former league punching bag L.A. Clippers. Kobe Bryant is injured, Dwight is unhappy (shocking, I know), Doc Rivers is at the helm, and CP3 remains on the roster. There will be a considerable amount of pressure to live up to last year's success, however, the still unanswered question is whether or not this team can use their raw talent and highlight-friendly showmanship to win a playoff series. I predict another 50+ win season, a division title, and modest success in the playoffs. I would be surprised if their vacation began before the Western Conference Finals, however I still believe that the heavyweights of the West will prove too much for the Clippers, who will be stopped short of their goal of competing in the NBA Finals.