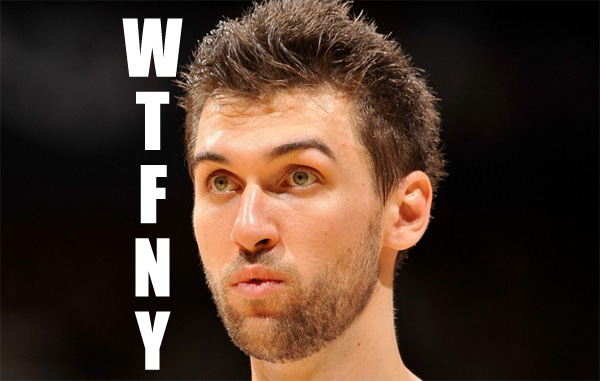 Image courtesy of EveryJoe.com
Days after the Brooklyn Nets landed Kevin Garnett, Paul Pierce and Terry in a blockbuster deal, the New York Knicks made a grab for the back page with a questionable trade for former number one pick, Andrea Bargnani. The deal cost them Steve Novak, Marcus Camby, three picks (one first round, two second round) and a head bumpin' Quentin Richardson.
Although Bargnani has proven himself an able scorer when healthy, it's not immediately clear how he fits into the Knicks' rotation. One possibility is that he'll come off the bench as a backup center, relieving Tyson Chandler and clearing out the paint for Carmelo Anthony with his jump shooting. This is probably the best option, as it would provide some much needed frontcourt scoring depth — think of him as a poor man's Chris Bosh. The downside to such a configuration is that it would offer very little rim protection, and it's not immediately clear how Amar'e Stoudemire would fit in. The thought of an Amar'e-Bargnani 4-5 sounds pretty good offensively, but outright atrocious in terms of defense and rebounding.
Obviously, Mike Woodson could have something totally different in mind. Maybe he wants to use Bargnani to spell Melo, putting him at the four when Chandler is at the five. Maybe he wants to put Andrea in the starting lineup, moving Iman Shumpert to the two and Melo back to the three. I've heard a few people put that idea forward, and have to say that it sounds awful: Melo had arguably his best season ever at the four, and there's no reason to mess with such profound success. Moreover, this shift would suggest that the Knicks want Melo to take less of a physical beating, implying that his shoulder may not be healing as well as he'd like us to believe.
The truth of the matter is that it's best not to speculate about all that, mostly for the sake of my sanity. What we know right now is that the Knicks have four frontcourt players on the depth chart, and of those four players, only Chandler can defend and rebound with any regularity. Aside from additional bench scoring, then, it's hard to say how the Knicks improved with this deal. You'd think they'd have wanted to do something about the lack of boards after they finished 26th in the league in that category, but then again, the Miami Heat finished 30th, so maybe it isn't that big a deal after all.
Aside from the trade's "win now" implications, it's important to note how the deal affects the Knicks long-term. The biggest thing that jumps out is that by getting rid of Novak and Camby, the only players the Knicks will have left on the books for 2015-16 are Raymond Felton and Shumpert. This would be great if it happened a year later when LeBron James, Kevin Durant, Kevin Love and other studly gents become free agents. Unfortunately, the only big name available when the Knicks have space in 2015 is Rajon Rondo, and you can be sure the Boston Celtics are going to find a way to hold on to him. This, combined with the fact that the Knicks gave up as many picks as the league allows, makes the Bargnani trade a bit of a downer as far as the future is concerned.
As it stands now, it appears that the Knicks blew it with this move. Barring an unforeseen bombshell of a trade, they won't have the personnel necessary to compete for a title over the next two seasons, and the future isn't looking much brighter. Of course, hearing Clyde Frazier say "barn-yarn-ee" for an additional 164 games should help to mitigate that.