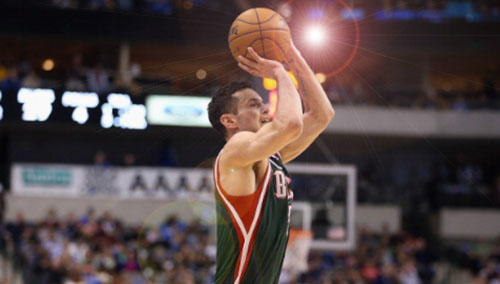 Just days after securing their point guard and leader Chris Paul, the Los Angeles Clippers took another step towards solidifying their roster and curing more of the ills identified during the 2012-2013 season. Via three-team trade, the Clippers sent thrilling 23-year-old point guard Eric Bledsoe and small forward Caron Butler to the Phoenix Suns in exchange for J.J. Redick and Jared Dudley. Whereas the Milwaukee Bucks will receive two second round picks for their collaboration in a sign-and-trade with Redick, who will be paid $27 million over four years, with Dudley taking home at least 4.25 million per for the next two seasons.
With the cloud of obscurity looming over the Clippers trade status after the Doc Rivers move, let me be the first to say this trade at the very least satisfies this Clipper fan. Although the Clippers are letting go of a Paul/Bledsoe pair that scored 116 points per 100 possessions while only giving up 105, moving Eric Bledsoe was the only definite at the beginning of the offseason if CP3 re-upped, and very few people in the Clippers organization or fanbase wanted to watch Caron Butler underperform for $8 million a year. Bringing in two players with over 40% in career field goal and three-point shooting addressed their obvious need for shooters as the Clippers consistently wet the bed all season sitting at an average 15th in the league from three.
Let's break this down a bit further, and examine why Doc Rivers, Andy Roeser, Gary Sacks and the rest of the Clippers brass made a great trade. First, if the Clippers have learned anything over the past two seasons, it's that dunks and flash are great, but wins taste much sweeter. In their quest to get out of the first round in convincing fashion, the Clippers moved a 30% three-point threat in Bledsoe and an 11 points per game at home/eight points per game on the road player in Caron Butler. Clipper fans hold Butler in high-esteem as he was the first to commit to the Clippers via free agency three seasons ago before the arrival of Chris Paul. However, if learning from championship franchises teaches you anything – sentiment does not produce rings. Moreover, although the extremely athletic, flashy and at times competent as a starter Bledsoe produced lots of excitement for the emerging franchise, he was also a detriment at times to their offensive production with his lack of shooting touch and spotty decision making.
Acquiring Redick and Dudley will force defenses to play the Clippers more honest, giving Blake Griffin and Chris Paul more opportunities to avoid double teams, in addition to spreading the floor, which should theoretically give Griffin more room to operate down low, considering/assuming he makes improvements on his post game. This trade produces more options in the up-tempo fast break style the Clippers thrive in, and eventually may have Lob City also be known for its shooting touch.
Salary-wise, the Clippers also did themselves justice. This move is a clear upgrade, without taking on additional space in their current salary cap. Sitting close to the hard cap, LA's most exciting team has six guaranteed and four non/partially guaranteed contracts, pushing current salary totals to a guaranteed amount of $61,832,481. Last, with a mid-level exception of 5.15 million and a 1.6 million trade exception, the Clippers don't seem to have much wiggle room left for above-par veteran role players, but if they've showed us anything over the previous three seasons, it's that they're never short on creative ways to improve.