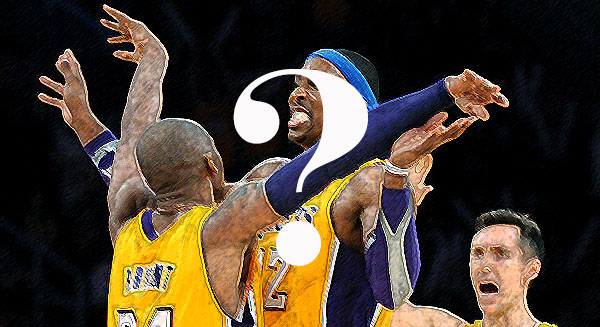 As NBA free agency entered its second day, the fanfare surrounding Dwight Howard and his imminent decision continued to reach a fever pitch. The Golden State Warriors, Dallas Mavericks, Atlanta Hawks, incumbent Los Angeles Lakers and Houston Rockets are all vying for the big man's services, with the latter two holding serve over the proceedings and deploying all their resources in service of luring him to their respective arenas: just look at this impassioned, stripper-centric missive Houston rap legend Slim Thug delivered to D12 via twitter, or this giant billboard plastered against the Staples Center imploring him to "Stay" in LA. There's not much more the teams could do to tug Howard's arm, except, perhaps, offer him a lucrative TV deal and the chance to star in his own show, which reportedly TV outlets in both Houston and LA have already done.
Amidst all this clamor, though, a nagging question should remain in the minds of these ardent suitors: is Dwight Howard really worth a max contract? Just a couple years ago he was a freak athlete and a game-changing force whose interior defense re-defined teams' offensive game plan, but since his back surgery he has either been out of the lineup or playing gingerly, refusing to hurtle around the court with the same abandon, agility or range. He put up similar (though worse) per-game numbers this past season, but his PER was a comparatively middling 19.4 (the third-worst figure of his career and worst since his second year in the league), and his win shares were the lowest since his rookie year at .134/48 (per Basketball-Reference.com).
Furthermore, Dwight simply doesn't look right — he's blocking shots, but his interior defense doesn't carry the same gravitas and is not discouraging guards from entering the paint on principle alone the way it once did in Orlando. Let us also remember that his free-throw shooting has regressed to legitimately problematic levels (49.2%), and that after nine years in the league, he still doesn't have a well-developed post game or really even a go-to move. As his athleticism fades, scoring efficiently will become even more of a challenge for the big man. Teams should ask themselves, is there any chance that Howard becomes something like Theo Ratliff over the course of this max deal? Are we okay with that?
Also worth considering is the fact that Dwight turns 28 in December and is entering his tenth year as a pro. The mileage on his body is not insignificant, particularly for a center, and a developing track record for injuries does not bode well for his long-term success. We may have already seen the best basketball we'll get from Dwight Howard, which should be a scary thought for any team considering dropping $88 million on a four-year pact (from any team not the Lakers) or $118 million on a five-year contract (from the Lakers). Lastly, these corporeal concerns don't even begin to factor Howard's character and attitude toward basketball and winning, which are, in a word, suspect. On the court he seems to lack the sort of dispassionate, cyborgian focus players like Michael Jordan had and Lebron James has developed, and off it he is both temperamental and sycophantic. If the pressures of LA crushed his spirit during the regular season, what will the NBA Finals do to his psyche?
All these questions give me pause, and should be carefully considered by teams seeking Howard, especially with the bumper crop of free agents arriving on the market in 2014 (could Lamarcus Aldridge be had for less and produce for longer?). Impulsively pursuing D12 on name-brand alone could be the death knell of relevancy and certainly cap space for several of the interested clubs, particularly Golden State, Dallas and Houston, so they must proceed with caution. General managers be warned: even with all these teams lining up for his services, you may ultimately regret pushing all-in on Dwight Howard.