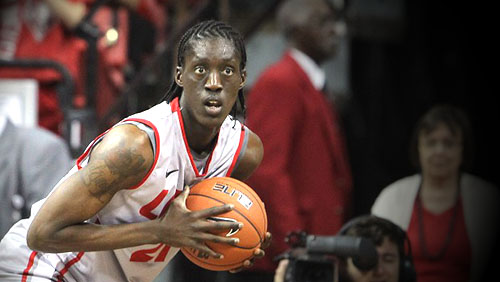 The Chicago Bulls needed shooting and they did their best to get it in the 2013 NBA Draft. The Bulls selected SG/SF Tony Snell out of New Mexico, which seemed a bit perplexing at first, especially since more acclaimed shooters like Allen Crabbe from California and Reggie Bullock from UNC were still on the board when the Bulls picked 20th overall. Many believed the Bulls would select Gorgui Dieng, the big man from Louisville who has the ability to turn a game around with his defense, but they chose the smaller, but more versatile Snell. Bulls fans should be delighted, though.
Many analysts have compared Snell with Kawhi Leonard, who he played with on the same high school team, but that might only be because of the braids, the length and the "hard worker" tag. They have two completely different playing styles, however. Snell is an extremely talented shooter with a smooth stroke. He is also deceivingly explosive. The guy can nail three like Ray Allen, while also driving to the hole on a fast break and ending it with an emphatic dunk ala Jimmy Butler. Did I forget to mention the guy is 6'7" and can play defense. Conversely, defenders on Snell are going to have an extremely hard time trying to get in his face, let alone blocking his shot.
Chicago Bulls head coach, Tom Thibodeau, will definitely love this guy's work ethic, defense and shooting ability. Snell will have to try to add some more muscle if he wants to match up with the bigger small forwards in the league, however. Snell also needs to become more aggressive as he does hesitate to drive to the basket in a half-court offense. In the NBA, attacking the basket is a way better option than clanking a fade-away or a desperation three. Nonetheless, Snell will have the time to develop those traits, especially during practice when he matches up against the likes of the aforementioned Butler and Luol Deng.
The Chicago Bulls' second round pick also was intriguing. The Bulls selected power forward Erik Murphy from Florida with the 49th overall pick of the draft. Murphy is a 6'10" stretch-4. He will definitely take Vlad Radmanovic's spot and Murphy adds a lot more to the Bulls than just shooting too. Murphy shot 52 percent from the field for the Gators, 45 percent from three-point land, but also has some low-post moves, definitely getting the job done on the offensive side.
Murphy's defense is lackluster, but Thibodeau has turned some awful defenders into decent ones, i.e. Kyle Korver. Fans will be happy with Murphy's hustle as you will see him trailing the fast break to make sure that the ball goes in and making sure that the defense does not let up any easy buckets. This pick could also be an experiment for a more "pick-and-pop" offensive model, since the Spanish MVP Nikola Mirotic will be coming over in a year or two. Do not be surprised if you see Murphy on the court playing with Derrick Rose, who will hopefully have more open lanes to drive with Murphy splashing triples after setting a hard screen.
The Bulls needed shooting, a big man and to replenish the bench. They got some proven shooters in the draft that can definitely earn spots in the rotation. Snell will backup Deng and Butler, while Murphy might be able to become the shooting big man in a small ball lineup. The Chicago Bulls made some smart picks that will hopefully become productive assets.