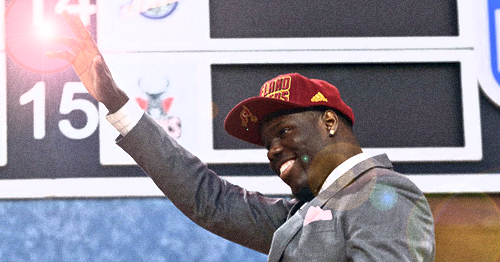 For many years, basketball in Canada has been mostly an afterthought, the little country to the North of basketball's greatest country, America. There's no doubt in anyone's minds that the United States has produced the best basketball players in the entire history of the game (Michael Jordan, Wilt Chamberlain, Bill Russell, Kobe Bryant and LeBron James just to name some of the all-time best). However, that humble country to the North is starting to show its promise in the form of Anthony Bennett, the number one overall pick in this year's NBA Draft. Before I get to Anthony, I want to educate you on the history, albeit short history, of basketball in Canada.
If you asked basketball fans if they knew where the first NBA game was played and what teams were involved, you would probably stump most of them. Maybe they would think of the Celtics and the Lakers, the two most storied franchises in the history of the league. The truth is that on November 1, 1946 in Toronto, the New York Knickerbockers played the Toronto Huskies in the first BAA (Basketball Association of America) game which the NBA now regards as their first game. A part of that Toronto Huskies team were two players from Canada, Hank Biasatti and Gino Sovran, the first Canadians to play in the NBA. The next significant player to come from Canada is the three-time NBA champion, Rick Fox. He won three titles with the Lakers from 2000-2002 where he was no more than a role player, but contributed relatively significantly to those three championships.
The best Canadian basketball player ever is without a doubt the future Hall of Famer and one of the best point guards in NBA history, Steve Nash. Nash was actually born in Johannesburg, South Africa, but grew up most of his life in Canada, moving to British Columbia when he was eighteen months old. He started to play basketball when he was only twelve years old, putting down the soccer ball and ice skates to focus more on hoops. He has had a seventeen-year career thus far, playing for the Phoenix Suns, Dallas Mavericks and Los Angeles Lakers and is creeping up on forty years of age. He is a two-time NBA MVP and an eight-time NBA All-Star, just to name a couple of his accolades. Steve Nash has set the bar as to what can be accomplished as a basketball player from Canada, leading the way for the future success of Canadian basketball.
This leads me perfectly into the future/present of basketball in Canada. No one was quite sure who would be drafted first overall by the Cleveland Cavaliers when the 2013 NBA Draft began, but I'm pretty sure nobody, even Anthony Bennett himself, was thinking he would go number one. Despite most thinking Bennett's ceiling isn't any higher than an All-Star appearance or two, it's still a huge step forward in the development of basketball in Canada for one of its own to go first overall in a sport that is dominated mostly by Americans and Europeans. Bennett will have a solid team to take some of the spotlight away from him with teammates Kyrie Irving, the recently-signed Andrew Bynum and fellow Canadian Tristan Thompson to name a few. The fact that he doesn't have to lead a team will be a perfect scenario for Bennett to feel comfortable and thrive.
Anthony Bennett's number one overall selection took some of the spotlight away from another fellow Canadian who will most likely be going number one in next year's draft. The consensus number one pick in the 2014 NBA Draft is Toronto native, Andrew Wiggins. He is a 6'7″ small forward who has sometimes been compared to LeBron James. Whether he has a LeBron-type career is obviously something no one can know for sure, but it seems like as of now, this college freshman at the University of Kansas will be something special. For a Canadian to go first overall in a draft stacked with American talent (Jabari Parker, Julius Randle and Marcus Smart, for example) not only shows the rest of the world that Canada has some serious players, but also that there might be a shift in power coming to the NBA. At least to some degree.
I can't sit here and honestly say that I believe that Canada will take over the number one spot for the best basketball players in the world, but I'm trying to say that two straight number one picks has to mean something. I think when it comes down to it, Canada is less putting pressure on Bennett, Wiggins and the rest of the young talent coming out of Canada and more so just being proud that Canadians are being well-represented in a league that we do not have a long or very good history in. The future of Canadian basketball looks bright with players such as Bennett and Wiggins leading the revolution. Now we just have to wait and see how bright and how far they can take it.