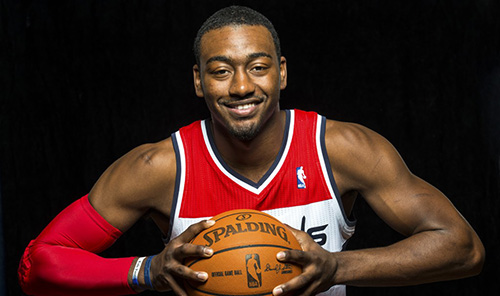 Having emigrated from the United Kingdom in May 2012, a big piece of my heart was left vacant when I could no longer renew my season ticket to Fulham Football Club. So, join me for regular updates as I embark on the Washington Wizards 2013-14 season and learning all things basketball.
I feel there is a certain change brought about when a fan makes the investment of purchasing a season ticket to a sports team, even when it will be spent sitting in the nosebleeds (hey, the view in the Verizon Centre is pretty good compared to some stadiums I have visited). From spending freezing cold nights in January travelling to games to watching a buzzer-beater in double-overtime, I'm sucker for a season ticket.
I must admit my basketball knowledge is somewhat limited. I know Nene has beautiful hair and John Wall can't throw a baseball – my obscure evidence of this is witnessing Wall throw a first pitch against the Orioles in 2011 that looked more like a bounce pass. However, the point of this report for me is to learn the ins-and-outs of a sport, be corrected along the way and document a journey of which I will hope will last for years to come.
For some time I have heartily joked with colleagues, friends, and family that the Wizards could very well be a dark house in this upcoming year's playoff hunt. As time moves on, the general consensus from basketball know-it-alls seems to be they are getting in on the joke. With the additions of rookies, Otto Porter and Glen Rice Jr., the Wizards have added some serious talent to the squad. Adi Joseph from USA Today gave the Wizards an A- on their draft report. Randy Wittman should stick that on his fridge and smile proudly.
Now don't get me wrong, the Wizards need some, dare I say it, magic, to become a potential playoff participant. A 29-53 record last season brought about some serious under-performances in players such as former first round pick, Jan Vesely that can't afford to be replicated this year. With Vesely due to represent the Czech Republic at the FIBA European Champions in September, he has the perfect opportunity to re-ignite the spark that saw him go so high in the 2011 NBA Draft.
Whilst the basketball season rubs its eyes from a rather delightful nap, we dwell in mini-training camps, ogling Wizards cheerleaders and enjoying the Summer League in Las Vegas. All eyes will be on how new draft picks, Porter and Rice will blend into the existing squad frothing at the mouth with young talent such as Bradley Beal and John Wall.
So here we are, the Washington Wizards bandwagon is now leaving Union Station via I-95 with stops at Heart Break City, Missed Opportunity Drive and Cautiously Optimistic Turnpike. It may be a bumpy ride, but it's sure as hell going to be a fun one.