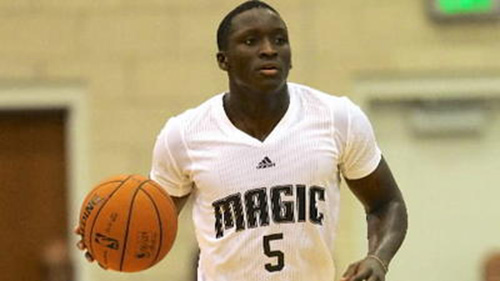 After a very impressive run during the Orlando Summer League, the Orlando Magic are giving serious thought to letting their top draft pick, Victor Oladipo, play point guard this upcoming season.
Oladipo showed off his superior athletic ability by driving into the lane, as well as his outstanding defensive instincts. Looking a bit like Dwyane Wade offensively and Tony Allen defensively, Oladipo averaged 19.0 points, 4.3 rebounds and 5.0 assists per game during Summer League and surprised many scouts with his ability to run point. He also impressed the Magic with his outside shooting, which was his biggest knock in college at Indiana.
With Jameer Nelson currently listed as the starting point guard, but with Orlando looking to dispose of as many veterans as possible for their youth movement, where does this leave Oladipo? Will he be the starting point guard or shooting guard come October? Oladipo, a natural shooting guard, had never played point guard before the Summer League. However, it sounds as if the Magic like the numerous options he gives the team:
"I don't think we know really right now where it's headed. I could see him being a 2-guard [a shooting guard] for us. I think I can see him being a 1-guard [a point guard] for us. And where he ends up, I don't know. But I think this week gave us a little bit better idea of what we have. I think he handled himself well at the 1. I don't think that necessarily makes him our future 1. Can he continue to develop in that area and become it? I think he has a chance," said James Borrego, Orlando Magic regular season assistant coach and head summer league coach.
Besides Nelson, the other Magic players in the backcourt are Arron Afflalo (who could be traded still), Doron Lamb and E'Twaun Moore. I think Oladipo could end up being a serious contender for NBA Rookie of the Year. He will have plenty of minutes and opportunities to fill up the stat sheet. Granted, the talent level of his opposing Summer League players weren't anything special, but when the real season starts, anywhere around 19 points to go along with five assists and four rebounds would mean the Orlando Magic selected the right player for their rebuilding project.