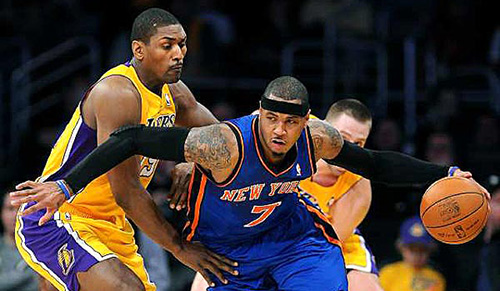 I lost count of how many times I refreshed my browser after Metta World Peace cleared waivers on Sunday, with the following posts on Hoops Hype eliciting a reaction greater than or equal to a Tiger Woods Fist Pump:
"A source close to Metta thinks it's 'a great possibility' he'll come to the Knicks."
"The Knicks are the frontrunner to sign World Peace."
"Metta World Peace is expected to meet with New York Knicks executives in Las Vegas."
It wasn't until he signed a two-year deal with the team yesterday that I realized how stupid I've been. Why would I get myself worked up over rumors that are nothing more than word of Metta? Taking anything he says at face value is dumber than throwing a beer at Ron Artest. More importantly, why would I waste so much emotional energy on a free agency storyline concerning the New York Knicks, a franchise that's looking more and more likely to push their 40-year championship drought to the half-century mark?
The fact is, the deal for Metta World Peace is downright depressing. That his addition to the squad elicits any kind of excitement shows just how low Knicks fans' expectations have sunk since they were easily dispatched in the 2013 playoffs by the far superior Indiana Pacers. Don't get me wrong: Metta is a valuable NBA player that is capable of lifting a team that's right on the cusp to the promised land. But the Knicks are not that team. The only thing they're on the cusp of is a 5th seed and another early playoff exit.
To make matters worse, over at the Barclay's Center, the Brooklyn Nets have established themselves as far and away the best team in the city. Thanks to the additions of Paul Pierce, Kevin Garnett, Jason Terry and Andrei Kirilenko, the Nets have a legitimate chance to dethrone the Miami Heat. General manager Billy King has assembled the super team that Dolan and his GMs of the month have only dreamed of. What's more, Mikhail Prokhorov has unquestionably assumed the throne of the late, great, oft irate George Steinbrenner, wisely digging deep into his own pockets to ensure that his team has the best chance to win. And if Mikhail is the heir to King George, that leaves Dolan as the city's richest joker; willing to spend, but with no rhyme or reason.
The recent trade for Andrea Bargnani tells you everything you need to know about Knicks ownership. In order to acquire a player that the Toronto Raptors were about to amnesty, the Knicks sent Steve Novak, Marcus Camby, Quentin Richardson and THREE draft picks north of the border, all for a name that, if you consider his recent history, isn't worth all that much anymore. The Knicks blew $25 million on a soft "g"—an ill-fitting one at that.
Compare that trade to a similar move by the Brooklyn Nets. Also in the market for a frontcourt addition that can shoot the basketball, they wisely signed free agent Andrei Kirilenko, a well-respected veteran that fits the bill perfectly and, oh yeah, only costs $3 million a year. Who cares if it pushed the franchise deeper into luxury tax hell? It's nothing compared to the 40-year inferno Knicks fans have suffered through; at least there's light at the end of their tunnel.
The sad reality for the Knicks is that for the next three seasons, they are stuck in win-now mode without any hope of doing so. Sure, there'll be some JR buzzer beaters, World Peace-isms and 50-point Melo games to distract us from our misery, but when the NBA Finals roll around, you can be sure that none of those games are going to be played at MSG. The chants for world peace will long have gone silent, the only sound remaining the distant cheers of those lucky fans across East River.