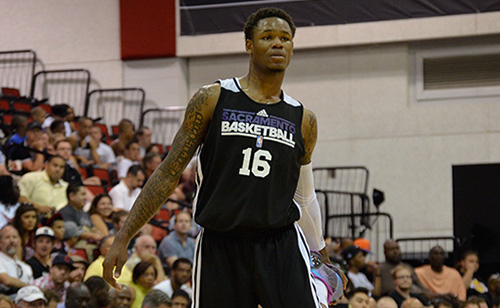 Entering Wednesday, in the arid climate of the Las Vegas desert, Ben McLemore found himself in the midst of a drought.
After shooting 8-for-35 in his first two summer league appearances, the 20-year-old rookie was failing to live up to the expectations of a high draft pick.
He didn't knock down the open jumpers that we're used to seeing him make and, in attempts to compensate, McLemore pressed. Trying to recapture any semblance of rhythm, he forced up a bevy of shots all around the half court. But McLemore's barrage only served to compound earlier miscues, as he dug himself into a deeper hole.
Wednesday, though, McLemore showed more patience, seemingly letting the game come to him rather than forcing the issue, and his approach paid off. In his third summer league appearance, he finally displayed the type of talent that has many saying he possesses the highest potential of any player in this year's draft class.
McLemore led the Kings with 26 points on 8-of-14 shooting in an 81-70 loss to the Raptors. In his best performance of the summer, McLemore more than doubled his three-point makes so far, sinking three of his six attempts against Toronto.
After the game, McLemore was quick to acknowledge his shift in mentality from his first two games to this one.
"Even coach (Bill) Self (sent) me a text today. He was telling me to relax and take your time and balance," McLemore said in an interview with Craig Sager following the game. "I've (been) rushing all my shots and changing the angles. I've been looking at the film and just working and seeing what I got to do to change that."
What he did was take his coach's advice and show more patience when picking his spots.
While only a summer league game, his play showed that McLemore clearly has the talent and shooting stroke to be a capable scorer in the NBA. However, the rough patches leading up to the performance also proves that the Kings will need to be patient in the way they handle their top draft pick.
A common error by teams far removed from success is to expect too much from a talented draft pick too early—something the Kings have certainly been guilty of in the past. After his Rookie of the Year campaign, Tyreke Evans was lauded as a savior, and then struggled to live up to expectations in subsequent seasons. This season, Thomas Robinson was traded away at the February deadline, just eight months after being selected No. 5 overall in the 2012 draft.
With new management in place, the organization should have some initial leeway to develop players how they want to without the pressure of winning games.
In players like Greivis Vasquez, Marcus Thornton and Isaiah Thomas, Sacramento has talented, proven guards that will be able to contribute right away. Their presence will also give the coaching staff the ability to bring along McLemore—and second-round pick Ray McCallum, for that matter—as slowly as is necessary to help them reach their potential.
On a summer league team, it's understandable to allow McLemore to go 4-for-23 and use it as a learning experience. But once Sacramento starts playing with its entire roster, it may be a more prudent decision to limit McLemore's minutes when he's forcing shots in order to quell bad habits before they grow into larger problems.
There's no doubt that McLemore has the skills to start at shooting guard in the NBA, and he looks the part when he exudes a little patience with his game, but the Kings will need to show patience with him if he's to reach that potential.