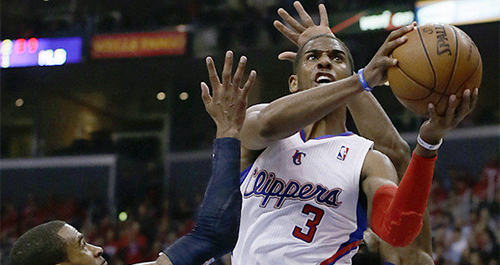 It seems like more and more good quality players are added to their ranks year-after-year.
What does this mean and how should it affect the way one drafts in nine-category head-to-head league?
First of all, let's break down what point guards bring to the table and figure out why we draft them. Primarily, they anchor your fantasy team's assist category. With the exception of ultra-electromagnetic elite forwards (LeBron James), most teams get the bulk of their weekly assist totals from their point guards, who also contribute either steals, three-pointers made or both. Some can score a lot, such as Russell Westbrook, Derrick Rose and Stephen Curry to name a few. Point guards aren't expected to make a big impact on the bottom line of your team's free-throw percentage, but someone like Westbrook who made 5.6 of his 7.0 attempts from the line help out nicely. At the end of the day, we really draft these players to compete in assists. All the other peripheral categories they may contribute to are just that, secondary in importance.
To put this abundance into perspective, there were twelve point guards who averaged 7.1 APG or higher during the 2012-13 season. Make that thirteen players, if you want to count that forward from the Miami Heat. Based on averages, Rajon Rondo led the league with 11.0 APG (38 games played) and Chris Paul came in second with 9.7 APG.
Ok, we get it, there are a lot of sources of assists come draft day, so what?
Well, for starters, this means that we have more flexibility during the draft. You don't need to rush and reach for a point guard early in the draft just to secure an anchor for your team's assists category, which was the understandable case in most drafts five or six seasons back. You can select a good quality forward or better yet a solid center-eligible player, knowing full well that there should be a 7+ assist contributing guy a little bit later in the draft.
While there is a clear advantage in staying loose and flexible in a draft, there is a pitfall that awaits drafters if they pass on too many quality point guards. Fantasy team assist averages rose last season. From my experience in leagues, 18 and 20 managers deep, I found myself needing up to three point guards just to remain competitive in the assists category. We shouldn't get lulled into complacency during the draft. Always be aware or at least have an idea of where your team is, statistically, as each round goes by. You don't want to end up with Brandon Knight as your team's primary point guard, do you?
Unless you are drafting a team that is specifically designed to punt the assists category, do not ignore your point guards. There's no need to rush in the first two rounds, just make sure to get at least one high-tier point guard as your primary source of assists and remember that you will likely need two more guys further down the line if you want to dominate that category in most weekly matchups.
This was originally posted on Points in the Paint. Check it out for more fantasy basketball awesomeness.