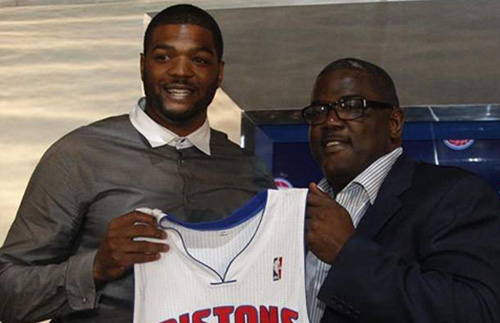 The Atlanta Hawks have had a very busy offseason up until this point.
Sure, it may not have turned out exactly how the team had hoped, due to the unsuccessful attempts at wooing both Chris Paul and Dwight Howard, but the team was able to bring in a few free agents. Midway through July, the Hawks have agreed to free-agent deals with Paul Millsap, DeMarre Carroll and Elton Brand, in addition to the re-signings of Jeff Teague and Kyle Korver.
However, the Hawks also lost two of their three longest-tenured players: Josh Smith and Zaza Pachulia. In addition to J-Smoove and Zaza, the Hawks have renounced the rights to Devin Harris, Johan Petro and Dahntay Jones. That brings the total number of departing players to five, and possibly up to six when you take into account the fact that the Hawks have yet to extend an offer to the scariest man in the NBA, Ivan Johnson.
For those keeping track at home, the (most likely) outgoing Hawks are as follows (and ranked in order of their effectiveness in NBA 2K13):
Josh Smith
Devin Harris
Dahntay Jones
Ivan Johnson
Zaza Pachulia
Johan Petro
Let's start with the most well-known of the departing Hawks.
Josh Smith
So it seems rather obvious that Smith would be the most-missed, right? Not so fast. While he has been a mainstay on the Hawks roster for the first nine years of his career, he was also the main source of anger (as well as wall-punching and remote-throwing) among Hawks fans over that same period. Even casual basketball fans know the problems with Smith: for every electrifying dunk or powerful block he gets, he throws in a couple of brain farts and infuriating long-distance jumpers.
While most Hawks fans have always been somewhere near 50/50 regarding their opinion on the enigma formally known as Josh Smith, not a single one can deny that they won't miss him at least a little bit. It isn't every day that such an exciting talent stumbles into the league, and for the last nine years the Hawks have hoped that he could reach his potential that he flashes every season. The patience finally ran out in Atlanta, however, and Smith will have the opportunity to simultaneously tantalize and torture Detroit Pistons fans for the next few years.
This brings us to the main point: how much will the Hawks miss Josh Smith?
Not that much.
While there will be noticeably less highlight-reel dunks and rejections next season, the Hawks put themselves in a much better position by signing Millsap to an affordable two-year, $19 million contract. Not only are they committed for less years and less money than they would have been with Smith, they also added a player who looks to fit very well into newly-hired head coach Mike Budenholzer's system. While there may be a drop-off in Hawks jersey sales due to Smith's departure, there will almost certainly be an increase in efficiency with Millsap's addition. Hawks fans may feel the most devastated about Smith leaving Atlanta, after all, what is there to argue about now that Smith and his shot selection are no longer impacting games?
Devin Harris
The Hawks' acquisition of Harris last season was met with great enthusiasm by many fans last summer. Not only because they were bringing in another quality guard, but because he was coming to town in a trade that sent longtime scapegoat Marvin Williams out to Utah. In reality, Harris could have missed the whole season due to injury and at least a handful of fans would have considered the trade a success. While I, for one, always sympathized with Marvin, I think the trade was a good idea for both teams, as a change of scenery looked to be beneficial for both players.
While Harris had a slightly more successful season than Williams, it was still a bit underwhelming. While Harris was able to put up decent numbers (9.9 PPG, 3.4 APG on a 44/34/73 shooting slashline), he played just 58 games due to nagging injuries throughout the season. Of those 58 games, he started 34 of them and saw his playing time increase slightly following Lou William's season-ending ACL tear.
So how much will the Hawks miss Harris? Relatively little in the grand scheme of things.
With the re-signing of Jeff Teague to a four-year, $32 million contract, the selection of point guard Dennis Schröder (aka German Chocolate) in the first round of the draft and the return of Lou Williams, there seems to be a decent amount of ball-handling capability in the Hawks backcourt headed into the future.
Dahntay Jones
Jones may be best-known for his role in Kobe Bryant's ankle injury last season. Which, unless you are a die-hard Lakers homer, wasn't very much of a role at all. After being acquired in a deadline deal from the Dallas Mavericks in exchange for Anthony Morrow, Jones appeared in 28 games for the Hawks and provided quality defense when called upon. Besides that, his presence was mostly as an enthusiastic towel-waver on the bench. I cannot deny that I will miss his dunking ability in NBA 2K13, although to be honest I don't remember a single dunk from Jones last year in a Hawks uniform.
Ivan Johnson
It still remains to be seen whether or not Johnson will be brought back to Atlanta, but with the recent signing of Elton Brand, coupled with the development of Mike Scott in this year's summer league, Johnson's chances of returning to Atlanta have been dropping lower and lower. Johnson is an interesting case. He is 29 years old, but has just two years of NBA experience to his name. He is known for a handful of things: wearing a diamond grill when he plays, flicking off a Boston Celtics fan following the Hawks playoff elimination two seasons ago, looking extremely intimidating and possessing a mild anger management problem (in case you're reading this article Ivan, I think you get a bad rap. Please don't kill me).
In his two NBA seasons, Johnson has averaged 6.5 points and 3.9 rebounds per game in his sporadic playing time. He has proven that he will do the dirty work, and has never allowed anybody on the court to bully him into anything. However, that is also partially working against Johnson. Will coach Budenholzer and his Spurs mentality want to bring back a player with Johnson's attitude? Up until this point it looks as though Ivan is on his way out of town. A definite disappointment for his Hawks teammates, as I am sure they are not looking forward to playing against him in the future. While his hard-nosed mentality will be sorely missed if he does leave town, obviously the Hawks believe they have enough size up front if they allow him to walk. I am sure the floor cleaners in Phillips Arena will be happy when Johnson is gone and they are no longer forced to clean up the fear-induced urine left on the court by the opponents forced to match-up with Johnson.
Zaza Pachulia
Without a doubt, Zaza Pachulia was the most entertaining player on the Hawks roster for the past few seasons. Sure, Josh Smith has tons of highlight-reel plays, Al Horford consistently dominates opponents, and DeShawn Stevenson has awesome neck tattoos, but Zaza is a true entertainer. One of the most underappreciated players in the league, Zaza is always good for a few offensive rebounds and a few laughs every game. Whether those laughs come as a result of falling down, starting to bleed out of nowhere, angering opponents or even missing a layup three times in order to get three offensive rebounds, the laughs are still there.
There is more to Zaza than the humor, though. He is a hard-working backup center in a league where most backup centers are nothing more than an afterthought. He was always the first one on the floor, chasing loose balls with the enthusiasm of a Hungry Hungry Hippo. After Al Horford went down with torn pectoral muscle two seasons ago, Zaza filled the starting center role admirably, averaging nearly nine points and nine rebounds while shooting better than 51 percent. However, back-to-back season-ending injuries really hurt Zaza's value to the team. As a result, the Hawks decided that they would be better off letting Zaza return to Milwaukee (where he spent the 2004-05 season) on a three-year, $16 million contract.
While many analysts thought that the contract seemed a bit pricey for a backup center, I think it is a correct gauge of Zaza's value, even after two years that ended in injury. One thing that Zaza brings with him on the court is intensity, something that the Hawks lacked more often than not over the past few seasons. Far too often, the team would get pushed around by larger teams. Zaza was the first wall of defense towards such bullying attempts, and as a result he constantly received technical fouls and the occasional flagrant. The Hawks front office drafted Brazilian center Lucas Nogueira in the first round this year as well as Bucknell center Mike Muscala in the second round, but it has yet to be seen whether both players will be on the roster this season
In addition to the drafting of two centers, the Hawks added Brand to eat some of the minutes at center. While advanced statistics prove that Brand is a much better defender than Zaza at the center position, at this point in his career I am uncertain whether or not Brand will be able to match the intensity that Zaza brought to the court. At nearly every moment over the course of his Hawks career, Zaza was the hardest working and most active player on the court. That work ethic and zeal is what the Hawks will miss this season, and something that a Brand-Nogueira-Muscala combination will be hard to make up for. After all, who else on the Hawks will go forehead-to-forehead with Kevin Garnett when the time comes again?
Speaking of large craniums, sorry for forgetting Johan Petro.
The Hawks locker room will surely miss the daily conversations as to whose forehead was bigger, Zaza's or Petro's.