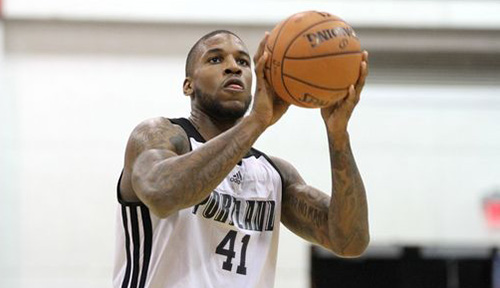 For Portland Trail Blazers fans and Thomas Robinson, the story of summer league has been one of emergence and confirmation. We knew he had talent, and we expected him to excel, but we didn't realize he'd come into summer league with a redwood chip on his shoulder. The Blazers fans can thank general manager Neil Olshey for being smart with his draft picks and sending two of them to Houston in exchange for the athletic forward.
I know, I know. You were expecting the regurgitated story of C.J. McCollum, how twice in a row the Blazers have mined mid-major gold. Here at Baller Mind Frame, we don't waste time on old stories, and besides, I'm not overwhelmingly excited by McCollum anyway. While the guard has led the Vegas Summer League in points per game, he also has the worst field goal percentage of all the players in the top 20. That does not bode well for a team in need of consistent bench scoring. However, what we also need is rebounding, and Thomas Robinson has averaged 12.8 a game in sporadic minutes while sharing the glass with 7-footer Meyers Leonard.
The rub on Robinson is that he's not consistent. Like a keg of Portland's finest, he's got untapped potential. Still, it was only last year that the Kings deemed him refined enough to make him the fifth selection in the NBA draft. Even in summer league, his talent is obvious. Watching Robinson navigate the paint as the ball floated to the rim is revelatory—for minutes at a time. While he seems to understand the glass in a way Rodman and Barkley did, he tunes in and out of games like an AM radio station. Most of the time, he boxes out well, jumps with uncanny precision and squeezes the ball with a ferocity that confirms that invisible chip on his shoulder. And that's the Robinson Blazers fans want to see. More often than not, the kid shows hustle and heart, and I believe with the right kind of coaching he can flirt with double-doubles off the bench on a consistent basis.
The Blazers were 24th in the league in rebounding last season and were 26th in defense. Hard-nosed, motivated guys with basketball smarts and solid instincts should help the team improve in both categories. Thomas Robinson can do the dirty work. If only the Blazers had the luxury of having J.J. Hickson come off the bench last year, the team could have won more fourth quarters. A productive and capable Robinson will reduce LaMarcus Aldridge's rebounding and defensive burden, and it will also limit Aldridge's minutes, so we can use him consistently in late-game situations.
Thomas Robinson is only 22. The Blazers gave up nearly nothing to get him—two second-round picks and the rights to two European players, both who aren't tantalizing prospects. Many analysts believed him to be better than half of this year's lottery class. After grabbing 18 boards in a loss to the Bulls, Robinson spoke about his first-year struggles with confidence and eloquence. Referring to his double-double performance, he said he could do that on "any night."
Citing his last few years that were marred by personal tragedy (his grandfather, grandmother and mother died all within three weeks of each other in 2011) and irregular opportunity, he implied that these circumstances had messed with his confidence and who he is as a person. And, regarding his critics who say he hasn't fulfilled his potential, he smartly replied he's "only had one season in the NBA."
Nothing regarding the longevity of Robinson's NBA career has been definitively established. All I know is what I've seen and heard. So far, I've heard him maturely analyze himself and his game, and I've seen him utterly dominate the glass.