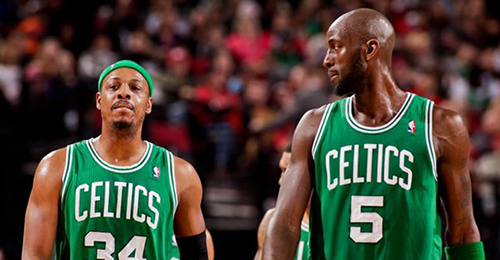 Remember how excited you were to see where some of your favorite NBA players would be headed during free agency, and possibly by trade? Do you remember some of the trade scenarios you played out in your mind and how they could help or hurt your favorite team? It doesn't seem that long ago, does it?
Let's be honest, the free agency period in the NBA goes about as fast as that summer vacation away from your job. It's a two- to three-week flurry of player signings, trades, releases and amnesty clauses that results in many teams looking a bit different from how they did at the end of June.
Now that the bulk of the NBA offseason moves has taken place, it's time to take a look at the top 10 players who will have the biggest impact on their new teams. I have a feeling this list will surprise a few of you.
10. Tyreke Evans (Sacramento Kings to New Orleans Pelicans)
A 15/4/4 guy in Sacramento, Evans comes to New Orleans with size, scoring ability and much-needed versatility. After being a starter during his time with the Kings, Evans may be taking on a sixth man role with the Pelicans during his first season. On a team with Jrue Holiday, Eric Gordon and Austin Rivers, Evans will be looking to assert himself more as a scorer, rather than a facilitator and playmaker. However, if an injury or poor point guard play arises, Evans can be asked to play the point and should be very efficient doing so. He is a solid defender who can cover players at three different positions. If all goes well for Evans and New Orleans, the Pelicans could compete for a seven- or eight-seed in the West by the end of the season.
9. Paul Millsap (Utah Jazz to Atlanta Hawks)
The Jazz are often a pit stop for many players nowadays. Paul Millsap was an exception. He spent seven good years with the Jazz, upping his scoring and rebounding nearly every season. Millsap will now take his career 12.4 points per game and 7 rebounds per to the Hawks, hoping to fill the void left by the departed Josh Smith. Widely regarded as an underrated big man, Millsap should fit in well with the Hawks. He is a very versatile scorer, willing to work off the ball and slashing to the basket, or posting up down low to get his points. On a team that is rebuilding, Millsap should help Al Horford solidify the Hawks frontcourt.
8. Monta Ellis (Milwaukee Bucks to Dallas Mavericks)
After only a little over a year playing in Milwaukee, the free agent Ellis inked a three-year deal with the Mavericks. This is a welcome addition to a Mavs team that is lacking speed and quickness in the backcourt. This signing should also help an aging Dirk Nowitzki, who is in need of another scoring threat to complement him and take the burden off his shoulders in the closing minutes of games. In addition, the two stars should work well together in pick-and-roll situations, giving Ellis the option to either swing the ball to Dirk for open looks, or take the ball to the basket off the dribble. If Ellis continues to play to a 19-point, 6-assist average, along with nice contributions from the newly-signed Jose Calderon and Samuel Dalembert, the Dallas Mavericks should be in strong contention for a low playoff seed this coming year.
7. J.J. Redick (Milwaukee Bucks to L.A. Clippers)
As part of a three-team deal that brought him from Milwaukee to the Clippers, Redick finds himself in a situation where his new team should be competing for Western Conference supremacy. Though Redick's 14-point average isn't staggering, he offers an outside shooting dynamic necessary for the high-octane Clippers. He can trail out to the three-point line on fast breaks for Chris Paul kick-out passes, or he can work off Blake Griffin or DeAndre Jordan screens in the half-court for medium-range jumpers. In addition, he is an underrated defender, often holding his own against the larger guards in the game. I see J.J. Redick as a key cog for the L.A. Clippers, possibly assisting in leading this team to a one- or two-seed in the West this year.
6. Eric Bledsoe (L.A. Clippers to Phoenix Suns)
The acquisition of Bledsoe will have more of a long-term impact for the Suns than a short one. Whether or not he starts or plays a sixth man role, Bledsoe should be a "push the pace" point guard that this Suns team really needs. Another important asset he brings is his ability to play passing lanes and create turnovers. Phoenix was in the middle of the pack in forcing turnovers last year, so Bledsoe should help them there. I believe he will have a breakout season with Phoenix next year, likely upping his points per game to double figures and his assists to five or six a game. It's important to keep in mind that Eric Bledsoe is only 23 years old. Don't be surprised if he's an NBA All-Star in a few years.
5. Josh Smith (Atlanta Hawks to Detroit Pistons)
Will the Pistons be a playoff team with the addition of Josh Smith? I would say probably not. However, the acquisition of Smith does solidify the Pistons frontcourt and gives them a chance to be competitive this upcoming season. The 6'9" Smith provides a secondary scoring option to power forward Greg Monroe. In addition, he is known as one of the premiere shot-blockers in the NBA, with an ability to guard players from any one of the three frontcourt positions. His 17/8/4 slash line will go far in helping one of the worst offenses in the NBA last year. If younger players like Andre Drummond and Brandon Knight continue to develop, along with a contribution from rookie Kentavious Caldwell-Pope, this Pistons team will wreak havoc on teams fighting for playoff spots in the Eastern Conference.
4. Andre Iguodala (Denver Nuggets to Golden State Warriors)
Some critics may see this as an unnecessary move, considering the Warriors already have an upstart small forward in Harrison Barnes. However, I believe the addition of Iguodala to the Warriors should help the maturation process of Barnes. The 6'6" Iguodala is known for his ability to penetrate to the basket and finish with authority. In addition, he's a hard-nosed defender who will take on the role of covering the opposing team's best player on the wing. He does well at getting to the line, which is one area guys like Barnes and Klay Thompson failed to help Steph Curry with last year. Iguodala will not interrupt any offensive flow with this Warriors team and will help create turnovers that lead to easy buckets. His addition should have the Warriors competing for a Western Conference title this season.
3. Paul Pierce (Boston Celtics to Brooklyn Nets)
What can a 35-year-old aging star provide for the Nets? Well, according to Pierce, he will be a "glorified roleplayer" who will serve whatever role the team needs to help them win. There will be some nights where Pierce will look to assert himself as a scorer. Other nights he may look to buckle down on defense and create turnovers for the multi-talented Nets offense. If the team needs Pierce to be a facilitator and playmaker, he can do that, too. I think the fact that Pierce will have less pressure in Brooklyn should show in his play this coming season. Even without Kevin Garnett in the deal, Paul Pierce probably elevates the Nets from a four- or five-seed, to a possible two-seed in the Eastern Conference.
2. Kevin Garnett (Boston Celtics to Brooklyn Nets)
To be honest, there was some consideration on rating Brooklyn's acquisition of the 37-year-old Kevin Garnett as the most impactful old face in a new place. The ultimate competitor, Garnett will give the Nets all the intangibles that are required for an NBA title team. He's tenacious, vocal and plays with a heart matched by very few. He will say what needs to be said and assert himself as a leader by example. As for the tangibles, Garnett is still an above-average defender, who does an excellent job on the defensive backboards. He can still hit the 14- to 17-foot jumper and plays the pick-and-roll as well as anyone. Don't be surprised if this Brooklyn Nets team represents the Eastern Conference in the NBA Finals next year.
1. Dwight Howard (L.A. Lakers to Houston Rockets)
The biggest splash this offseason was Houston's signing of Dwight Howard to a max-deal contract. Howard's 18 points and 12 rebounds per game should help revitalize a team that was at the bottom of the NBA in rebounding and low-post scoring. In addition, his ability to block and disrupt shots in the paint should help lead to transition opportunities for James Harden and the gang. I suspect Howard's point production will increase to levels that resemble his time in Orlando. If he can find a way to play with Harden, this team should move itself from a low-seeded playoff team, to a top-four team in the Western Conference. He is the best center in the NBA and it's about time he makes his mark. The only question is, how well will Dwight play with another superstar on the floor?
Other considerations for this list included Nate Robinson, Andrea Bargnani and Andrew Bynum. I'm sure many of you will not agree with the list, so feel free to leave your comments. Let the debate begin!