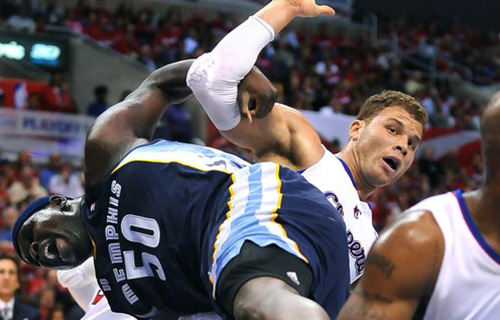 On January 12, 2011, the  Los Angeles Clippers took on the Miami Heat and Blake Griffin's frustration level was elevated due to a bevy of hard fouls and missed calls. "It" literally hit the fan with four minutes left, as BG32, in retaliation to a hard play against teammate Ryan Gomes, gave Heat point guard Mario Chalmers an elbow while running up court or, as we say where I come from, "a love tap." Soon enough, Chalmers let Griffin know exactly what was on his mind, and the exasperated big man had to be pushed away from the steaming hot confrontation by teammates.
Moments later, former Clippers point guard Baron Davis made his way to the paint, and dished the ball to Griffin for what would be one of a career buffet of thunderous highlight slam dunks. The Staples Center crowd cheered, beer spilled; the Heat called a time out and the end result was Blake Griffin backpedaling to the Clippers bench, sending a razor sharp stare towards Chalmers, as if to simply say, "now what?" That was the moment I donned Blake Griffin the "Ginger Gangster".
By no means is this an attempt to turn choirboy into thug or saint into sinner, nor am I suggesting Blake Griffin is either. This is merely an overdue retort to BG's most popular criticisms: Blake Griffin is overrated and soft. First, let's tackle the numbers. Since when is a two-time NBA All-Star with career averages of 20 points, 10 rebounds and shoots 53 percent from the floor not enough? If you take a look at the statistics of some of the NBA's best power forwards throughout time, you'll find similar stats in their third year, if not their entire career. Even if the most popular criticism, "all Blake Griffin does is dunk," were correct, those stats should give a glimpse into the kind of greatness and domination we'll eventually see from the Clippers stud.
When did restraint become synonymous with passivity? Or poise with being soft? And when did we start to celebrate the tasteless and revile the peacekeeper? From being cup-checked by Serge Ibaka, or wrestled to the ground on numerous occasions by various inferior big men, Blake Griffin received most of his criticisms after a ruthless physical battle with Zach Randolph in the first round of the 2013 NBA Playoffs. With the Clippers being sent fishing in the first round, many believe it was Griffin's lack of toughness that gave Memphis a window to jump through for greener second-round pastures.
If Blake Griffin retaliated every time he received a hard foul, he'd be labeled as an overrated thug, constantly suspended and a detriment to his team. If Randolph's taunting and cheap physical play is the basis for judging BG's toughness, then let's place equal attention to his maturity, which is most comparable to the great Shaquille O'Neal, who received more hard fouls than any player in NBA history and rarely retaliated. Fact is, Randolph was an underachiever with the Clippers and was moved to make room for Blake Griffin, much to Randolph's disdain.
When it's all said and done, who can argue that Griffin will have a much greater career than Randolph, who's already on his last legs? Obviously there's still the taste of Clipperland exile in Randolph's mouth, in addition to being shipped out for an (at the time) unproven rookie. This undoubtedly fuels his hatred for the Clippers and BG, and while (at the moment) Randolph obviously has greater offensive talents, time is key for Griffin, who many believe will eventually surpass this level of power forward talent and emerge as the best power forward in the game.
So if you're looking for BG32 to throw the fisticuffs, keep looking. Whether overrated, soft, offensively limited or any of the other inaccurate criticisms placed on the decorated star, he's a professional first who's shown the ultimate in humility and the ability to keep his cool. Maybe it's time to celebrate his composure. After all, any dog can bark at the moon, but have you ever seen the moon bark back?