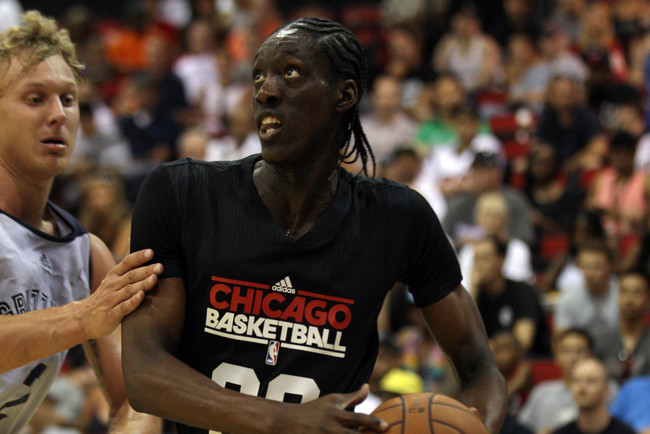 The Chicago Bulls' summer league run has ended with an impressive 4-1 record, which means absolutely nothing. The Bulls didn't win the championship in Las Vegas and even laid an egg against the Miami Heat squad, but the young guns are looking good. If the Bulls front office is smart, they should keep roster spots open for the entire starting five. Marquis Teague showed improvement, Andrew "Glock" Goudelock showed he can score, Tony Snell proved he was worth a first-round pick, Malcolm Thomas looked like Dennis Rodman out there and Erik Murphy rebounded, scored inside and scored outside. Here is a more in-depth look into why the Bulls should keep all five of these guys on the roster.
Marquis Teague really blew me away. He showed he can drive and had speed to get into the lane during the regular season last year, but he also showed that he can miss horribly on his jump shots and make some bone-headed decisions. At times last year, Teague looked skittish and lost. During this summer, he showed he can make the three-pointer, make smart decisions and actually be a mature floor general. Although it was not against top-tier NBA guys, Teague made 75 percent of his threes. That is pretty good for a guy who showed that he had no range at all last year. Teague also averaged 18.3 points per game, 4.8 assists per game, and posted an efficiency rating of 14.25.The one glaring problem for Teague, however, was the turnovers. He averaged 3.5 turnovers over four games; not too bad, but Bulls fans would definitely like to see that number go down. Also, the young point guard would try to push the ball against three defenders on a one-man fast break, but for the most part he set up others and gave them the best opportunity to succeed. Teague definitely showed more consistency and Bulls fans should expect him to have a bigger role in the rotation.
Andrew Goudelock became one of my favorite players this summer league, and I really hope the Bulls keep him on the team. This guy can flat out shoot and score. He can fill two needs for the Bulls. "Glock" can become the 2013-14 version of Nate Robinson, as well as take on the hole that Belinelli left. Goudelock has shown that he can score on the NBA level, as last year he had some great performances with the Los Angeles Lakers.On one play this summer, "Glock" dribbled hard to shake the defender on the perimeter, pump-faked, slightly lost his footing, let his defender fly by, then on one foot let a three-point shot fly, absolutely splashing it. That alone should make Gar Foreman and John Paxson put him on the team. Did I forget to mention he averaged 19 points per game along with scoring performances of 26, 31 and 22 points? During those games he did not even break the 30-minute mark, either. "Glock" is a shooter and a scorer. He hit over 50 percent from long-range. Chicago might have found a diamond in the rough with this one.
Tony Snell really reminded me of Luol Deng. It was eerie. Snell actually looked comfortable driving and handling the ball. He averaged 11.8 points per game and those points mostly came from within the arc. Early on, Snell's three-point shot looked a bit off, but as the schedule wore on it looked like he was beginning to get his legs under him. Although he only had a field goal percentage of 37 and only hit 34.8 percent of his threes, Snell scored 20 points on 6-of-13 shooting, going 5-of-8 from the three-point line in the last game against Dallas.His defense and rebounding were absolutely phenomenal. He did not record a foul in three of his five games and used his length and size to his advantage on defense. Players were having a hard time scoring against Tony, and he was getting into passing lanes like it was nothing. Snell also averaged 6.6 rebounds a game to go along with a solid 14.80 efficiency rating. Coach Thibs is going to really enjoy Snell because he can affect the game in so many ways.
Malcolm Thomas was like a Hungry Hungry Hippo on the boards. Thomas averaged 15 rebounds per game in three contests and even had a 22-rebound game. His strongest area is the offensive glass. Ten of his 22 rebounds in the game against Denver were offensive.He played to an efficiency rating of 18.67 and looked like a man on a mission out there. Malcolm Thomas's game simply screams Dennis Rodman, and if he can add some more muscle on his bones, he might develop into something special.
Erik Murphy is going to be a fan favorite and possibly take the league by storm. He was an absolute steal in the second round of the NBA draft. Murphy needs to get more consistent, but his skill set can really help the Bulls. Murphy is a less-mobile Dirk Nowitzki. At 6'10″, he splashes three-pointers like it's nothing. He is definitely not a defensive stopper or a beast at rebounding, but he gets the job done. Murphy only pulled down 4.8 rebounds per game, 0.8 blocks per game, and five personal fouls per game in only 27 minutes per contest.So on the defensive side of the ball (sigh); let us just say he is no Malcolm Thomas. Offense is this man's calling. After an atrocious first game that saw him hit zero three-pointers out of six attempts, the next five games it seemed like he couldn't miss. He shot 50 percent from deep and hit 54.8 percent from the field in the summer league. Murphy also showed off that he had some moves in the post. One of the more shocking things that a fan will see from Murphy is his ability to dribble and finish in the lane. Throughout the summer games, Murphy would pump fake and then dribble with ease towards the hole, giving himself an easy layup. Erik Murphy can add a dimension to the Chicago Bulls that they never had before.
Chicago Bulls fans should be urging the front office to keep young players like these guys on team, instead of making a play for veteran players. These players can either develop into terrific players that can aid the team in their quest for the title, or they can become very interesting trade assets for a big-name player in the future.