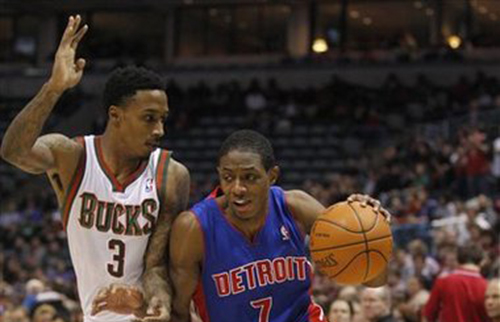 The Detroit Pistons and the Milwaukee Bucks have agreed on a sign-and-trade agreement that would send point guard Brandon Jennings in exchange for Brandon Knight, forward Khris Middleton and center VIacheslav Kravtsov. As part of the deal, the Pistons will pay Jennings $25 million over the next three years.
A bold move for GM Joe Dumars, whose last foray in the very speculative NBA free-agent market netted the Pistons only promises and heartache with the signings of Ben Gordon (ouch) and Charlie Villanueva (double ouch). I hope this move pans out.
A lot has also been said of the very formidable Pistons front line of Greg Monroe, Andre Drummond and Josh Smith, and they'll likely have the opportunity to pad their rebounding numbers going into this season with the acquisition of a shoot-first point guard sporting a sub-.400 career field-goal percentage.
While it seems that this move for Jennings will dampen the impact of the much-ballyhooed Smith signing, maybe a new situation for Jennings with new coach Mo Cheeks and veteran point guard signee Chanucey Billups will help him be more generous with the rock en route to ending Detroit's four-year playoff drought.