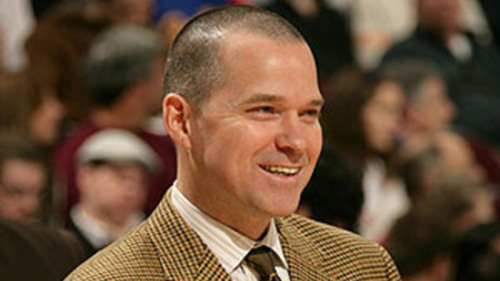 In a past life, Michael Malone may have been an architect. As a coach in the NBA, most everywhere he's gone he's left behind a fortress.
Now, as he prepares to begin his first NBA head coaching gig, Malone is in a position to build a kingdom of his own in Sacramento, and unsurprisingly, defense will be a priority. More than anything, Malone's track record indicates an ability to come in and change teams' results defensively.
Malone began his NBA career as an assistant coach with the New York Knicks, but his long stretch of success began when he joined Mike Brown's Cleveland Cavaliers staff in 2005. Brown himself came to the Cavaliers with a reputation as a defensive mind after his stints with the Indiana Pacers and San Antonio Spurs and together, with Malone, the staff in Cleveland was able to assemble one of the NBA's more formidable defenses. In the last two years of Malone's run in Cleveland, the Cavaliers ranked third and seventh, respectively, in the league in defensive efficiency and held opponents to 93.5 points a night over that two-year span. Malone and the rest of the Cavaliers staff had the advantage of time in Cleveland, though; time to build a roster that complimented their star and style, as well as time to implement their system.
In his next stop, the New Orleans Hornets, Malone wasn't afforded the same luxuries, but was still able to produce similar results. After finishing 37-45 and outside of the playoffs the previous season, the Hornets brought in a new coaching staff, which included Malone. The year before Malone arrived, the Hornets finished 21st in the league in defensive efficiency. Just a year later, with the insight of Malone and the rest of the coaching staff as well as some minor additions, New Orleans made the playoffs with a 46-36 record due in large part to their improvement on defense – the Hornets finished 10th in defensive efficiency that season.
The following year, Malone joined Mark Jackson's staff on the Golden State Warriors, a team that had become infamous for its lack of defense in prior years what with "Nelly Ball" and Monta Ellis. The improvement wasn't as rapid as it was in New Orleans – the Warriors were 27th in defensive efficiency in Malone's first year there – but it came nonetheless. Last season, the Warriors, known mostly for sharpshooting and an up-tempo offense, were able to make a surprising late-season run because of their balance. Golden State finished 14th in defensive efficiency; pretty astounding considering the amount of minutes they play Stephen Curry and David Lee, two players that have well-documented struggles on defense.
As has been the case with his previous stops, Malone comes to a team in the Sacramento Kings that is want for change defensively. While he's helped make impressive turnarounds throughout his career, Sacramento may prove to be his toughest challenge yet. Over the last five years, the Kings have ranked 28th or worse in the NBA in opponents' field goal percentage four times and 28th or worse in defensive efficiency three times. Never in those five seasons did they finish higher than the bottom third of league in either category.
Suffice it to say, Sacramento has mastered the art of allowing its opponents to score.
But in the role of a head coach for the first time, Malone has had more say in the team's acquisitions and the ability to hire his own staff. One of his first assistant coach hires was another Malone, his father, Brendan. If not because of some skill lifetimes in the making, you may instead – and more accurately – attribute Michael's defensive acumen to the impression his father had upon him. Decades ago, Brendan was an assistant coach under Chuck Daly for the two-time champion, Detroit Pistons.
Now, father and son are met with the task of building a foundation of defense in Sacramento, and with those two minds working together, I wouldn't bet against a fortress coming soon after.