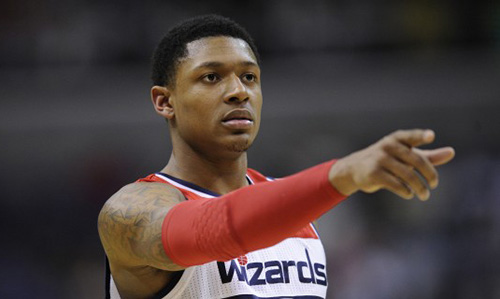 In my short time in the United States, I have managed to visit Las Vegas and like many of the millions that visit, I came away older, not any wiser and confused what time it actually was. My favorite anecdote came about when I was walking down the Vegas strip at around 3am. A Heath Ledger-style Joker impressionist was trying to scrape up blackout drunk girl off the pavement, lady garden on show, whilst staying in character, licking his lips asking "What hotel are you staying at?" I also found a free-play Simpsons arcade game that I played until 3am. Damn, I used to love that game.
This is my first year trying to keep up to scratch with the NBA Summer League and antics of the offseason. Soccer back in the UK is pretty comparable when teams of a high nature put out development teams and new signings against minnows of lower leagues. My favorite fixture so far this season saw a small beach town, Bournemouth Athletic face Spanish giants, Real Madrid. Fans were expected to pay over $100 for the privilege of a 6-0 loss with Cristiano Ronaldo kicking a ball so hard it broke a small child's arm:
[youtube]http://www.youtube.com/watch?v=JKUDv0h4W5U[/youtube]
If the Washington Wizards 2013 Summer League outing could be summarized in gambling terms, it would be comparable to the majority of people's visit to Sin City: in the red but enjoyable all the same. With a 2-3 record, the highlight certainly had to be the 97-69 victory over the Denver Nuggets on July 16th. In my previous View from the Nosebleeds I touched upon how just about everyone's patience was wearing thin with Jan Vesely's disappointing output. Vesely was certainly one of the positives in the Wizards camp, scoring 18 points in 22 minutes in said game. Vesely even managed a dunk in that tirade, shot on a camera dating from around the same time Pamela Anderson made her saucy home movie:
[youtube]http://www.youtube.com/watch?v=11ZBCPNXfzA[/youtube]
It was also great to see John Wall and Bradley Beal flying the Wizards flag high as they joined the Team USA mini-camp in preparation for the 2014 FIBA world cup. Wall finished with 10 points, two assists and two rebounds in a white shirt/blue shirt scrimmage. The trouble for Wall is that, wait for it, he has a huge wall to climb (puts sunglasses on…Yeeeeeeeahhhhh) if he is to make a rally for position of point guard. The team is currently stacked with talent at the position with candidates such as Derrick Rose, Kyrie Irving, Russell Westbrook and Stephen Curry.
Unlike Wall, Beal had a much reduced role in the set-up being limited to jump shots and light, non-contact due to his stress injury in his right fibula, which he suffered towards the end of last season. It is very interesting to note that Coach Krz holds no hard feelings towards Beal's career after he decided to attend Florida rather than Duke.
As I was writing this piece, I was going to highlight how John Wall's new contract had seemed to have gone quiet. My curious nature must have been the defining factor in dust being blown off a check book and pen going to paper. John Wall has signed a five year contract extension worth $80 million. The deal has brought the internet opionistas out in full force with suggestions that because he has never made an NBA All-Star team, he is not worth the payday he is receiving.
My knowledge of basketball is somewhat growing by the day, but I like to think I have a pretty good judgment of common sense. It would be interesting to know what these opinion formers would suggest be a better offer; we are forgetting this team gave Gilbert Arenas a six-year, $111 million contract and he liked guns.
The deal itself suggests that the Wizards aren't paying Wall for what he has done, but what he will become.
Wall is the sixth-fastest player in NBA history to reach 2,000 points and 1,000 assists (124 games). That is just one of the stats provided by the NBA that makes me froth like a rabid dog for this year's upcoming season.
New bandwagon rider alert: Martell Webster
Having signed a four-year, $22 million contract with the Wizards, Webster has decided to join my bandwagon. Speaking to 106.7 The Fan,
Webster said:
"This season. our expectations are we ARE getting to the playoffs. The expectations as far as those go is to try to get 6, 7, even possibly the 5-seed. All right, those are the expectations. We are getting to the playoffs. That is a definite in our minds. Our expectations are 6, 7 and possibly that 5 seed."
Alright, Webster! That's the type of talking we need. I thought I was sticking my head out when I thought the Wizard's would scrape an eighth seed and here we are talking about a fifth? I guess if I was paid millions of dollars, I would probably do the same thing.
Also read, View from the Nosebleeds, part one: All aboard the Washington Wizards bandwagon