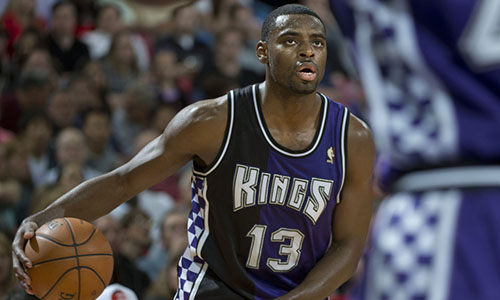 When the Sacramento Kings drafted Tyreke Evans instead of Ricky Rubio in the 2009 NBA Draft, Sacramento fans were both puzzled and outraged. With a rocky start to his career, Kings backers further doubted Tyreke and believed he wasn't worth the pick.
Evans changed that perception with an epic performance in a victory over a solid Utah Jazz team on November 9, 2009, dropping 32 points and 7 assists, and giving Kings fans a glimmer of hope that the franchise could come out of its worst span in franchise history. It seemed as if he had single-handedly turned the team's outlook around, eventually winning NBA Rookie of the Year honors and breathing life into the Kings.
Despite a record of 25-57, Evans's presence gave Kings fans their most memorable season since the playoff teams of the early 2000s. They had a new savior, a man who could give them hope for a win on a nightly basis. He "'Reked" havoc on the court and gave Sacramento fans what they needed: Hope.
In his rookie campaign, Evans averaged over 20 points, 5 assists, and 5 rebounds per game. The only other players to accomplish this in their first year? Micheal Jordan, LeBron James and Oscar Robertson. Pretty good company.
However, the success wouldn't continue in his next few seasons, as Tyreke's output declined consistently. He was still a good player, but the star he had been in his first year was just not burning as bright. It seemed as if the uncertainty he had to endure in Sacramento got to him and his teammates. Combine that with poor coaching, and it becomes clear that improving one's game in Sacramento is a challenge.
This led to a steep decline in his stat line, with diminishing averages in points, rebounds and assists in each season:
2009-10: 20.1 points; 5.8 assists; 5.3 rebounds
2010-11: 17.8; 5.6; 4.8
2011-12: 16.5; 4.5; 4.6
2012-13: 15.2; 3.5; 4.4
With a move to the New Orleans Pelicans, expect him to return to the 20-5-5 player he had been in his first year. He is entering a much more promising situation than the one he had left, and he won't have to fight so hard to get his team some wins. Playing alongside Jrue Holiday, one of the best young point guards in the league, will allow Tyreke to get more open and efficient looks, something he didn't see much of in Sacramento.
Thanks to the potent backcourt rotation of Holiday, Evans and shooting guard Eric Gordon, expect the Pelicans to compete for a seven- or eight-seed in the playoffs. And if Tyreke can unlock his superstar potential and be the player he is capable of being, the Pelicans could 'Reke havoc on the league for years to come.