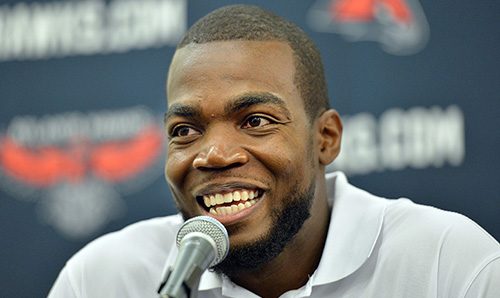 When Antawn Jamison is regarded as the best value out there, you know the NBA's free agency period is basically over.
Here's a look at some of the best free agency signings made this summer.
My criteria is pretty simple… which free agent acquisitions will have the biggest impact? Money is an important factor in my formula – an impact player on a veteran's minimum contract is a better deal than someone getting three years guaranteed. I also considered fit – Josh Smith might be a big name, but does he really make sense on a team that already has Andre Drummond and Greg Monroe? And impact matters – it's nice that Charlotte fans will get to watch Al Jefferson – a player who actually can put the ball in the basket on a fairly consistent basis – but that team is still going to be god-awful.
10. Beno Udrih, New York Knicks (1 year, $900,000)
Udrih will be a lot more than a third point guard for the Knicks – he essentially replaces the retired Jason Kidd in Mike Woodson's rotation. That will give New York the option of using dual point guard lineups again; the Raymond Felton/Pablo Prigioni combo was probably Woodson's most effective backcourt last season.
9. Jarrett Jack, Cleveland Cavaliers (4 years, $25 million)
The Cavs should make the playoffs for the first time since LeBron's big decision, and Jack will be a big part of their resurgence. A veteran backcourt presence capable of playing both guard spots, he's an ideal fit in a rotation with super-talented, but oft-injured Kyrie Irving and emerging scorer Dion Waiters.
8. Dorell Wright (2 years, $6.1 million) and Mo Williams (2 years, $5.4 million), Portland Trail Blazers
Portland got close to zero production from the second unit last season. The additions of underrated veterans, Wright and Williams, makes the team much deeper in the backcourt and on the wing.
7. Chris Copeland (2 years, $6.1 million) and C.J. Watson (4 years, $4 million), Indiana Pacers
Like the Blazers, the Pacers made a couple of low-risk moves that should substantially improve their bench. Indy gets extra points for stealing both players from Eastern Conference rivals.
6. Nate Robinson, Denver Nuggets (2 years, $4.1 million)
The fact that there wasn't more demand for Krypto-Nate after last season – the guy carried the injury-riddled Chicago Bulls for extended stretches – says a lot about how Robinson is perceived around the league. And there's a chance that he'll wear out his welcome in Denver just as he did in New York and Chicago. But he could be an outstanding fit as a third guard for the Nuggets. The presence of Ty Lawson and Andre Miller means Robinson won't have to run the team as he did last year, filling in for Derrick Rose. And in the "instant offense" role, he should thrive.
5. Mike Dunleavy, Chicago Bulls (2 years, $6.5 million)
Chicago is essentially replacing Nate Robinson and Marco Belinelli with Derrick Rose and Mike Dunleavy this season, which might be the biggest upgrade any team makes at any two positions. A dangerous three-point shooter, Dunleavy should help create space for Rose's drives to the rack.
4. Paul Millsap, Atlanta Hawks (2 years, $19 million)
The Hawks let Josh Smith walk and replaced him with Millsap, which seems like a pretty significant upgrade. Smith is a far flashier player and has posted gaudy shot-blocking numbers in his career, but Millsap is an incredibly solid all-around contributor who should help propel Atlanta back into the playoffs. One worry is fit – Millsap is best-suited to playing power forward, which is also Al Horford's preferred position; that will be something new coach Mike Budenholzer can sort out in training camp. (Besides, as a long-time San Antonio Spurs assistant, Budenholzer has plenty of experience with centers that would prefer not to be called centers.)
3. Andrei Kirilenko, Brooklyn Nets (2 years, $6.51 million)
Kirilenko's arrival won't get as much attention as the trade that brought Kevin Garnett and Paul Pierce to Brooklyn, but it may be just as important to the team's title aspirations. He gives newbie head coach Jason Kidd the flexibility to limit the minutes his two future Hall-of-Famers will play, which should help all three be more effective for the stretch run and playoffs. Kidd should know the importance of managing veterans' minutes… he played far too many for the Knicks last season when Raymond Felton was sidelined, and had nothing left in the postseason.
And Kirilenko is an absolute bargain. He made $10 million last year, and could have made at least that by signing elsewhere. His decision to play for fellow countryman Mikhail Prokhorov raised more than a few eyebrows around the league and led to whispers of some sort of side deal that would make up the difference in Kirilenko's earnings. Of course, Kirilenko certainly wouldn't be the first player to take less money for the chance to play for a contender.
2. Andre Iguodala, Golden State Warriors (4 years, $48 million)
One of the league's top "do everything" players should be an ideal complement to the rest of Mark Jackson's squad. His passing can take some of the ball-handling pressure off Stephen Curry (and mitigate the loss of Jarrett Jack) and his defense will help Andrew Bogut keep points off the board and cover for some of David Lee's biggest deficiencies.
1. Dwight Howard, Houston Rockets (4 years, $88 million)
We're willing to give Dwight a mulligan on last season for a couple of reasons – he was hurt, and he was a bad fit for Mike D'Antoni's offense. We're even willing to ignore the fact that, off the court, Dwight might be the most annoying player in the league. Because in Houston, he should return to dominance.
Squint at this year's Rockets and you'll see a strong resemblance to Howard's best Orlando teams… the big guy in the middle, anchoring a lineup with lots of floor-stretching shooters and passers. If Howard and James Harden stay healthy and Chandler Parsons continues to develop, the Rockets could be a top-four team in the West.