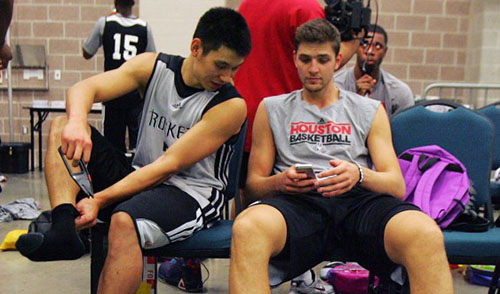 Dwight Howard signing with the Houston Rockets was the main storyline of the NBA this offseason, but it is foolish to forget the core of talent that Hoston had assembled before Howard's arrival. Sure, adding the consensus best center in the league shouldn't go unnoticed, but it seems as though every piece of news and analysis heard about the Rockets this offseason pertains solely to Dwight.
In order to combat this obsession, I thought it would be a good idea to point out the top three reasons the 2013-14 Rockets will deserve the league's attention, while trying to exclude any Dwight-related mentions whenever possible.
3. Jeremy Lin will benefit greatly from Dwight's presence in the paint (both offensively and defensively)
Saying that many Rockets fans were underwhelmed with Lin's play last year would be an understatement. While much of this can be attributed to an atrocious playoff series against the Oklahoma City Thunder in which he averaged just four points and two assists on 25 percent shooting, the disappointment of "Linsanity" drove many fans crazy throughout the regular season as well.
While Lin's stats aren't eye-catching, there wasn't very much of a drop-off across the board compared to his numbers the previous season with the New York Knicks. The main source of disappointment in Houston stemmed from over-exaggerated expectations for the young guard. Anybody who expected more than 13.4 points and 6.1 assists out of Lin, in what was his first full season in the NBA, probably had not seen more than a handful of Knicks games in 2011-12 and let SportsCenter convince them that Lin would transform the Rockets into an instant contender.
That isn't to say that Lin didn't have his noticeable shortcomings last season. His shot was extremely inconsistent, his ability to move without dominating the ball was poor, he turned the ball over too much, he had trouble finishing opportunities at the rim, and his one-on-one defense was atrocious more times than it was serviceable. All of that was the case in New York as well. Those shortcomings took a backseat to his strengths when he took the entire league by storm, and Lin was able to intersperse enough of the spectacular (a game-winning three, a 38-point game, and plenty of double-doubles) during his 35-game run with the Knicks.
The addition of Dwight will take pressure off him on both sides of the ball. I know I said I'd refrain from mentioning Dwight whenever possible, but this is a point focused on the benefits Lin will gain, so cut me some slack.
Lin struggled at times last season with James Harden implemented as the main ball handler in the Rockets' offensive sets. In New York, Lin was able to dominate the ball much more often, and as a result he was given the freedom to weave in and out of traffic until he saw a path to the hoop or was able to find an open teammate. That was not the case in Houston, as Lin found himself moving without the ball more often than not and settled for far too many contested jumpers as a result. With Dwight in town, Lin's touches may not rise, but the amount of touches that allow him to be effective will. Pick-and-rolls, give-and-goes, and kick-outs off double teams (which lead to more uncontested shots) all suit Lin's style more than what we saw last year. While i'm almost sure Lin will not handle the ball as much as he'd like, being the fourth option in a well-spaced offense should boost his efficiency to a level where Rockets fans will learn to like him again. Even more, with Howard in the paint on defense, Lin's poor man-to-man defense will be easier to ignore. If nothing else, the amount of times he gets burned on D will allow Dwight a ton of opportunities to boost his block total.
2. More size spread throughout the court
Last season, whenever Omer Asik left the game (to catch a breather, avoid foul trouble, or re-curl his bangs so they stay out of his eyes during free throws), Greg Smith was the only option at backup center. This would, at times, push Chandler Parsons or Carlos Delfino to the power forward position, and really hurt the Rockets' rebounding. By adding Dwight to the mix, the Rockets will finally be able to run out bigger lineups whenever they feel the need to. There are a handful of options to experiment with, but you can bet the Rockets will be quick to attempt an Asik/Howard frontcourt whenever their size is needed on the court. This will allow Smith more time at the 4, which better suits his size and athleticism. In addition, it will allow Donatas Motiejunas to log minutes at the small forward position. While many Rockets fans seemed to give up on D-Mo after a quiet rookie season, at least some of his struggles should be attributed to playing out of position. Sure he may be 7'0″ tall, but as evidenced by his poor post play, D-Mo should spend a bulk of his time on the perimeter, or coming off of screens looking for his shot.
In the end it is all up to Rockets coach Kevin McHale to set his lineups, but I believe that by shifting Smith, D-Mo, and Terrence Jones down a position, the team's rebounding efficiency will make marked improvements. Add in the fact that Parsons will rarely have to guard opposing teams' power forwards this season (as was the case at times last year), and the Rockets should find themselves with a size advantage very often. A portion of this depends on the development of each of the players I named however, so let's just hope the younger Rockets put in as much time in the weight room and film room as Smith puts in at the tattoo parlor.
1. Chandler "Bang" Parsons' continued improvement will make him the most dangerous third option in the NBA
Unless he's raining down threes on your favorite team, it is impossible not to like Chandler Parsons. After being taken in the second round of the 2011 draft, Parsons showed flashes of offensive brilliance during his rookie season. While his shot was inconsistent most of his first year, shooting just 33.7 percent from beyond the arc, he upped his three-point shooting to 38.5 percent last season and proved that he should not be given any space from deep. In addition to his shooting, Parsons also proved that he wasn't afraid to drive to the basket. This combination made it difficult for defenses to camp next to him at the three-point line, and as a result, opened up even more good looks from deep. By the time last season was over, Parsons proved that he could be the most consistent part of the Rockets offense when needed. While James Harden struggled in games where he couldn't draw fouls or get his isolation threes to fall, Parsons hit his stride by the end of the season and put up double figure points in 23 of the last 24 games.
With the addition of Dwight, the Rockets have added a post player that warrants defensive attention, as well as the occasional double-team. Parsons, Patrick Beverley and new addition Reggie Williams (brought in to replace the departing Carlos Delfino) all have an excellent stroke from three-point land. Howard's addition will almost certainly open up more good looks for Parsons and allow him to raise his three-point percentage even more. Parsons also proved that he isn't afraid of pressure, as he played his best basketball of the season during the playoffs. In the Rockets' six-game series loss to the Thunder, Parsons averaged 18.2 points, 6.7 rebounds and knocked down 40 percent of his three-point attempts.
While Harden and Howard may be the two most recognizable names on the roster, Parsons has the potential to be the most important this upcoming season. While defenses will no doubt lock in and try to shut down both Harden and Howard, it will force Parsons to step up and make big shots. If last year is any indication, Parsons is more than up for the challenge.