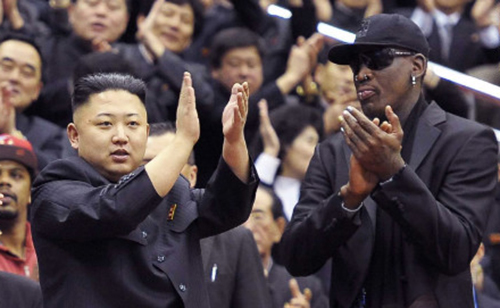 The world can breathe a sigh of relief now that Dennis Rodman has returned safely to U.S. soil. Here are a few takeaways from his second trip to The Democratic People's Republic of Korea.
– I know I should probably frown upon Rodman's insistence that mass-murdering dictator Kim Jong Un is a good guy, but I can't help but dwell on the fact that a man nicknamed "The Worm" has more international goodwill than the president of the United States. Could you name one world leader that Obama has a Rod-Un-like friendship with? Could you even name one political figure in this country? I hate to say it, but Obama could learn a thing or two from Rodman, at least on the being-a-chill-bro side of things.
– While we're on the subject of praising awful human beings, I have to recognize Kim Jong Un for allowing Dennis Rodman to hold his infant daughter. Perhaps the most famous baby-holding event since Michael Jackson's Balcony-Gate, or possibly the Lion King, Dear Leader demonstrated beyond the shadow of a doubt his undying faith in number 91. I wouldn't let the guy carry my 3DS, so Mr. Un, I hereby commend you on your trusting nature.
– Perhaps the most titillating bit of news to emerge from the trip was Rodman's intention to coach the 2016 North Korean Olympic basketball team. I don't know about you guys, but I would see the shit out of that movie. The log line practically writes itself: Disgraced professional athlete tries to reverse his fortunes by coaching a misfit bunch of ragtags to Olympic glory. If that sounds familiar, it's probably because I've just outlined the plot of the 1993 classic, Cool Runnings. (Side note: That movie is 20 years old. Everyone you know will die someday.)
– Finally, we have to give a shoutout to Paddy Power, the Irish bookmaking firm that sponsored Dennis' journey. A quick Wikipedia search reveals that the company is notorious for taking bets on the first species to be driven to extinction during the BP oil spill, and on the assassination date for President Obama. Classy, yes, but being the standup guy that he is, Rodman swallowed his pride and held his North Korean press conference in front of numerous Paddy Power logos, in addition to dying his hair green for the occasion. If I were Kim Jong Un (I say that phrase daily), I would have taken umbrage with Rodman's coloring preference. When Dennis Rodman is in North Korea, Dennis Rodman has a sacred duty to dye his hair the good old North Korean red, white and blue. To be fair, I guess I see how that could have caused some confusion.
Have any thoughts on Rodman's great adventure? Leave them in the comments.