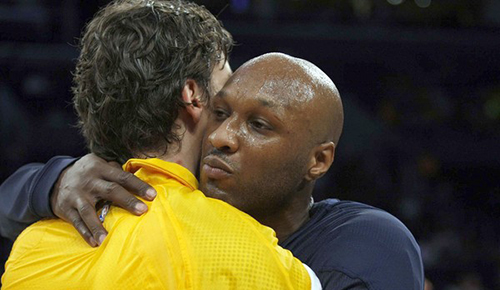 Let's begin today on a positive note, with the signature play of Lamar Odom: a coast-to-coast defensive rebound, hustle down the court and offensive drive.
In this clip, all of Odom's greatest strengths are present, from his tenacity at the glass to his effortless ball-handling to his slinky presence in the post. Uniquely gifted for a man of his size, Odom stretches the floor with jumpers and collapses the paint with solid defense, providing the perfect counterpoint for a dominant center like Andrew Bynum or Pau Gasol. On those turn-of-the-decade Los Angeles Lakers squads, when Bynum, Gasol and Odom formed a dominant three-man rotation, the Lakers could not be stopped, especially inside. Odom was spotty, sometimes pouring in 20 and 10, sometimes 7 and 3, but when he heated up, he couldn't be stopped.
Off-court, Odom exuded Metta World Peace levels of goodwill while withholding the worrying outbreaks of genuine insanity. Both Queensbridge natives had difficult upbringings and radiated joy to offset early trauma, but it was unclear just how far either was affected by his respective childhood. While Metta went public with his psychological troubles, Odom seemed content reliving his lost years through copious amounts of candy and settling down with fellow goofball, Khloe Kardashian.
On those blissful Lakers squads, when Lamar provided the charming wink to Kobe Bryant's scornful glare, Odom became my favorite player, the most fun to watch on the court and the one I wanted to befriend after the game. In fact, the only Lakers merchandise I own that mentions a specific player is an Odom t-shirt jersey, my good luck charm through European travels, NBA Finals battles with the Boston Celtics and a year spent watching 9:00 AM hoops in Vietnam. I represented my favorite sport, my favorite team, and Odom represented the best of the league, maybe not in skill level, but in individual enthusiasm and dazzling style.
After the 2011 playoffs, when the Lakers were swept by the Dallas Mavericks, the roster as assembled no longer seemed up to the challenge of snagging another championship ring, not with the rest of the league ramping up the arms race. Significant moves had to be made, that was clear, but Odom never deserved his place on the auction block, even if he could be converted (with Gasol) into Chris Paul. Before the trade alchemy could be completed, NBA Commissioner and acting New Orleans Hornets owner David Stern nixed the deal, but not before outing the Lakers' intentions.
For Odom, this betrayal was one hardship too many. During the strike-extended offseason, the mercurial forward suffered through the death of a cousin and a traffic collision that killed a pedestrian, both events shattering his already inconsistent psyche. In his darkest hour, when he contemplated giving up the sport that had brought so much joy to his life, his team, his family, decided they no longer wanted him around. The rock he'd relied on for the past seven seasons had up and left, leaving Lamar stranded in the choppiest sea he'd yet encountered. Acting more on wounded pride than reasoned thought, he demanded that the Lakers finish the job and he was promptly sent to the Dallas Mavericks.
In Dallas, it became clear that Odom had not rebounded from his brutal offseason. No longer the same man that won the NBA Sixth Man of the Year the previous season, the long-limbed ghost in the #7 jersey only showed sparks of resurgence, never enough to inspire belief in a full-blown comeback. He never meshed with the locker room or Mark Cuban's domineering ownership, resulting in an unceremonious downgrade to the D-League and eventual release before season's end. The next year, when he returned to his original team, the Los Angeles Clippers, there was hope that location determined Odom's unhappiness the previous season and that a move back to L.A. would bring back the player we'd admired.
Unfortunately, it did not.
The rest, the breakdown and fall from NBA grace this summer, you already know or can find easily through a quick Google scan; I don't have the heart to go through it again here. Instead, I offer warmest wishes for Odom's return, for his recovery, his rebound back to the high-flying hustler he was in his best moments, his greatest games. I believe that man still exists, no matter how many layers of sadness and mistakes he's buried beneath.
It was easier when he was on the court. Even though my words of support never reached him, at least I had my eye on him, knew what he was going through. I felt like, in some small way, I assisted through spectating, that I was there with him and we would triumph, together. Now, Odom's woe occurs behind closed doors and there's nothing I can do to help. It feels miserable here, but I can only imagine how he's hurting on his end.
What's there to do? Instead of hand wringing over individual actions, we should wish him all the best and remember him at his most dynamic, his most joyous, and hope that the Lamar Odom we know and love returns.