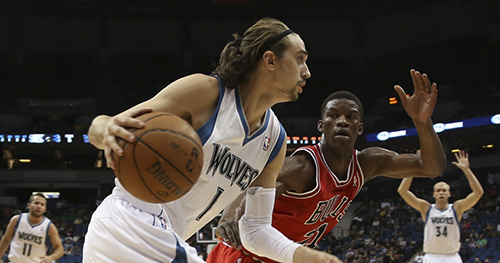 It's hard to tell if a European player is going to make it in the NBA. While the basketball has the same circumference overseas and the hoop is just as tall, some guys just can't grind with the physical behemoths that dominate the American game. A GM deadset on finding Vlade Divac 2.0 may instead wind up with Darko Milicic. Indeed, the next Nowitzskis are harder to identify than Waldo floating in a sea of candy canes. However, inspired by the European Championship, I'm gazing into my Slovenian snow globe and through to the 2015-16 NBA season. My body usurped by the Balkan basketball gods, I'm fading out into a video montage; Journey is playing while six Europeans are making highlight plays in American arenas. Here are the names of the top six European prospects.
6. Tibor Pleiss, Rights owned by the Oklahoma City Thunder
While he's been toiling away in Europe for three years since the Oklahoma City Thunder acquired his rights in the 2010 NBA Draft, Pleiss will eventually end up in the NBA. Currently committed to Spanish Club, Saski Baskonia, for at least another year, the 7'1″ German is priming himself for a transcontinental transition. In five games at the European Championship, he averaged 11.6 points and 11.0 rebounds. Overall, Pleiss ranked second in rebounding, fourth in blocked shots and sixth in field goal percentage. While his post game isn't especially refined, Pleiss moves well and shoots fantastically for a big. Though he'll need to beef-up to excel in the NBA, he is gradually becoming the player that Thunder GM Sam Presti has always believed he could be.
5. Jan Vesely, Washington Wizards
Despite an underwhelming second year with the Washington Wizards, Vesely has the skill-set to consistently contribute in the States. The lone Czech representative in the NBA put up outstanding numbers at this year's European Championship, and he'll return to Washington D.C. eager to play a viable role in the Wizards' resurgence. In five games, Vesely averaged 17.2 point and 11.2 rebounds. Against Marc Gasol's Spain team, the reigning European champion, Vesely grabbed 14 rebounds. First in total rebounds, offensive rebounds and field goal percentage, he also managed to rank third in steals. The 6'11″ power forward reminds me of Dino Radja inside the paint and Andrei Kirilenko on the perimeter. If the Wizards can't find a place for the sixth overall pick in the 2011 NBA draft, another team should pick him up before he returns to Europe permanently.
4. Jonas Jerebko, Detroit Pistons
Since his breakout rookie year with the Detroit Pistons, during which he started 73 games and averaged 9.3 points and 6 rebounds, Jerebko has yet to live up to his potential. He missed the entire 2010-2011 season due to an Achilles tear and regaining his form has proven difficult. However, in this year's European Championship, he played with confidence and grace, and I believe he will play a prominent role for the Pistons this coming season. Averaging 16 points, 6.8 rebounds and 2.4 assists, Jerebko carried the Swedish team while creating space for fellow NBA player, Jeffrey Taylor. While his offensive game is well-balanced, he might have been the best defensive player in the tournament. Especially convincing was his game against Russia when he scored 22 points, secured 13 rebounds and two steals. Jerebko's attitude alone can make the Detroit Pistons better. Here's hoping he's finally regained the form that made him a minor celebrity among Piston fans in 2010.
3. Mirza Teletovic, Brooklyn Nets
Due to the plethora of Hall of Fame players that the Nets will employ this year, Teletovic will spend most of the season on the bench. This is especially unfortunate because he was absolutely dominant during the European Championship. However, a year among NBA legends coupled with his already formidable skill-set might turn him into a future NBA All-Star. Though he's almost thirty, Teletovic still moves well, and he's a capable rebounder and a versatile power forward that can hit threes and hold his own in the paint. Teletovic averaged 21.6 points and 7.6 rebounds in Slovenia. I wouldn't be surprised to see him catch on with another team before the trade deadline.
2. Jeffery Taylor, Charlotte Bobcats
After excelling in the 2013 NBA Summer League, Taylor has continued to impress at the European Championship. The Swedish national and Vanderbilt alum led the European Championship in points per game with 21.2. Two months prior, he averaged 20.3 points for the Charlotte Bobcats in the Vegas Summer League. While he shot 42 percent from the three-point line in Slovenia, Taylor can also effectively attack the basket off the dribble. Just the same, I'm not sure if he'll thrive in the Bobcats system. He needs veterans around him to help him mature, and he's not a good enough rebounder to play the power forward position. I imagine him excelling elsewhere as a small forward on a more experienced team.
Alexey Shved, Minnesota Timberwolves
Okay, you've probably heard of Shved. Come to think of it, you've probably heard of most of these guys. Just the same, none of them have been consistently good, and all these players have the potential to excel in the NBA. Shved averaged 8.6 points and 3.7 assists over 23.9 minutes per game in his rookie campaign with Minnesota, and if the Timberwolves can stay healthy, he will do better. Burdened with leading the Russian national team at the European Championships, he was a bit too shot-happy during the tournament, and his high turnover rate indicates that he was trying to do too much. Nevertheless, he still averaged over 16 points and four assists. Surround Shved with a cast of quality NBA players, and you'll undoubtedly see his his turnovers go down and his overall offensive production increase exponentially.
That's it. The vision, fled. Feeling a bit light-headed, I'm staring aimlessly at a snow-dusted, miniature Ljubljana. What happened? How'd I get this NBA Nostradamus tattoo on my chest? Did I miss anybody? And who the hell is Tibor Pleiss? Let me know what you think…