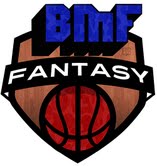 Every year I play in at least eight competitive fantasy basketball leagues of various formats and settings. I have found that my drafts, with the minor adjustments here and there for scoring formats, have generally focused on several targeted players. At this point I've done several drafts and would like to share my personal preferences this season. The key word there is "preferences," so feel free to disagree and go in another direction. This is just here to throw out some extra insight as you prepare for your drafts.
Top 3 Picks
Russell Westbrook, James Harden, Stephen Curry. You can shuffle-up and deal them almost any which way and I'd be fine taking one of them first overall. I must say that in 9-cat I am currently favoring Curry because of his lower turnovers and superior field-goal percentage. When it comes to 8-cat, the debate of "Harden or Westbrook" is raging all over the internet. Westbrook's triple-double threat and his post-Durant chip on his shoulder is an explosion waiting to happen. On the other hand, the pairing of Harden with coach Mike D'Antoni is simply a match made in Heaven too perfect to ignore. Beard's PG eligibility is a huge boost as well. I leave that choice as a matter of preference of the drafter, Westbrook's rebound advantage or Harden's superiority in threes made.
Middle of First Round
I like Karl-Anthony Towns, Kevin Durant, Kawhi Leonard, and Giannis Antetokounmpo. Both Durant and Leonard deliver excellent shooting percentages that are complemented by generous contributions in other categories from the small forward spot. KAT has the perfect mix of upside and great free-throw shooting from a center that I crave. Antetokounmpo brings positional eligibility like no one else, plus he's a triple-double threat whose ceiling is nowhere near the horizon just yet.
Late First Round
I am excited about Hassan Whiteside and he gets a premium nod because he's an overwhelming league leader in a particular category (blocks). The simple principle of going for the "least resources to win more points (roto), guarantee a won category (H2H)", makes him a gem in my book. I also like Paul George, even though he makes my team in head to head leagues inclined to punt FG%.
Second Round Special
This is the zone where I like to grab my talented, multi-cat power forwards. Yup, that means Paul Millsap, Kristaps Porzingis and Draymond Green. If I do end up picking a guard at this spot, I do prefer Damian Lillard or Kyle Lowry. John Wall and Kemba Walker's knees scare me like a random clown on the street at night. The knock on Lillard and Lowry is their low field-goal percentages at high shot volumes. I prefer to go for the guards in head to head and gear up for punting FG% and tend to go for the power forwards in rotisserie drafts.
Third-Round Core Picks
I am expecting Rudy Gobert to wind up with a bounce-back season. In the event that I didn't get my Whiteside-reach pick in the first round, Rudy is my poor man's version. I am high on Isaiah Thomas and have picked him several leagues already. He and Al Horford will make a great tandem in Boston and I fully expect his assists to rise thanks to those pick-and-roll plays, while his field-goal percentage rising a bit thanks to the easing of defensive pressure on him now that there's someone else in Boston worth guarding. Victor Oladipo is also a solid pick in the third as far as I'm concerned. Well that's if he slips that far. He should explode this season in his new team. Late in the round, I'm willing to gamble on Eric Bledsoe. He's an injury prone guy who can easily return second round value when he's healthy.
Rounding out the Team in the Fourth
Considering I'm staying away from guys like Kemba and John Wall in the second round, this tends to be the spot where I pick my second, sometimes first point guard. My favorite target here is Goran Dragic. He is the new face of the Miami Heat (along with Whiteside) and should be huge this season. I also have a fantasy-basketball crush on Jae Crowder and his "three-and-D" game, so I don't hesitate picking him at this spot.
Middle Rounds belong to Houston and Upside
Yup, I go for Trevor Ariza and Ryan Anderson. At this stage in the draft, I tend to have secured my primary big man and point guard. These guys will light it up from beyond the arc under Mike D'Antoni and their fantasy-friendly stat lines are solid enough to warrant their priority.
The demand for Nikola Jokic and Myles Turner have driven their price (ADP) up so much that it makes sense to just sidestep the mob of managers grabbing them and going for some other value picks. Case in point is Rudy Gay. He's fallen pretty far in several drafts. He's healthy and still a solid pick in the latter part of middle rounds.
My upside targets are Devin Booker (yes, I predict his preseason will carry over into the regular season), Jeremy Lin, Aaron Gordon, and Otto Porter. Booker has the potential to be this season's CJ McCollum, while Gordon and Porter are versatile forwards who have the ability to be a one-steal, one-block, one-trey kind of contributor. Jeremy Lin, what can I say? Well, "Linsanity 2.0" is a distinct possibility now that it's just him and Brook Lopez holding the fort for the Brooklyn Nets. I want on that Linsanity train ride and am willing to pay the price of admission.
Late-Round Fliers
Miami's Josh Richardson caught my eye in the tail end of 2015-16. He's starting the preseason injured, but could be a in for a huge season for the Heat given the opportunity. Rondae Hollis-Jefferson is not a sleeper pick and many guys already have their eye on him and his defensive numbers, so I have not had the chance to own him just yet. Mirza Teletovic is my poor man's Ryan Anderson and is worth the token three-point specialist late in drafts. Jrue Holiday has fallen hard, but as far as fliers go, his return can pay off some hefty dividends. He's worth stashing in leagues with weekly roster changes and an IR slot.
Rookie Picks
I personally prefer Buddy Hield late in the middle rounds, but at this point so does everyone. I like Kris Dunn of the Minnesota Timberwolves as well. He can have a big rookie year if Ricky Rubio is ever traded (Dang those rumors! Argh!), but even if Rubio stays, Dunn should have enough minutes available to him that he can be worth a late-round pick.