2013-14 NBA SEASON PREVIEW CONTENT LIST
Atlantic: Celtics | Nets | Knicks | 76ers | Raptors | Division Preview 1 and 2
Central: Bulls | Cavaliers | Pistons | Pacers | Bucks | Division Preview
Southeast: Hawks | Bobcats | Heat | Magic | Wizards | Division Preview
Pacific: Warriors | Clippers | Lakers | Suns | Kings | Division Preview
Northwest: Nuggets | Timberwolves | Thunder | Trail Blazers | Jazz | Division Preview
Southwest: Mavericks | Rockets | Grizzlies | Pelicans | Spurs | Division Preview
Top 10 by Position: PG | SG | SF | PF | C
Top 10 Lists: Sixth Men | Sophomores | X-Factors | Intensity | Under 25 | Comeback | GMs | Europeans | Overrated | Contenders | Wild Predictions
Fantasy Basketball | NBA Fandom Games | League Preview | Ultimate Season Predictions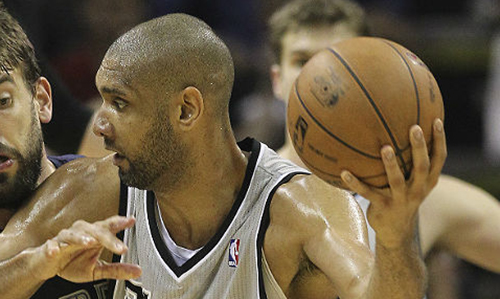 10. Josh Smith, Detroit Pistons
Smith would be significantly higher on this list if it were a fantasy basketball ranking, as his 1.3 steals and 2.1 blocks per game are truly elite. In real basketball, Smoove loves to take horrible three-pointers early in the shot clock, that cripples his team. Since he's still only 27 years old and getting a fresh start in Detroit, he makes the list ahead of David Lee, Greg Monroe and Serge Ibaka. I'm already questioning this decision and DV and Frankie haven't even edited this list yet! Last year, Smith took 201 three-pointers and only made 61 of them. That's 28 percent! Joe Dumars will regret bringing Smith to Motown if Smith doesn't play closer to the basket.
9. Carlos Boozer, Chicago Bulls
Boozer has proven critics wrong for a decade, becoming a perennial double-double machine. He could jump out of the gym in his glory days, but injuries and age have sapped his hops. However, Boozer learned to play at an elite level anyway. Perhaps his biggest impact on the game was blowing off a handshake agreement years ago that changed the current landscape of the NBA. Either way, nobody expected this nice of a career when Boozer came out of Duke.
8. Kevin Garnett, Brooklyn Nets
The Big Ticket is similar to Tim Duncan in terms of greatness. He's up there with Kobe and Jordan for the most passionate players we've ever seen. He's lost a step, obviously, but his defensive intensity is worth more to any team than whatever 99 percent of other players bring to the table. It is hard to gauge how he'll respond to the trade that brought him and Paul Pierce to Brooklyn, but he'll crack my Top 10 until he's retired. Garnett's leadership and heart can drastically impact the standings if he can get Brook Lopez to play with more intensity.
7. Pau Gasol, Los Angeles Lakers
Gasol has bad knees and is coming off a forgettable 2012-13 season. Kobe Bryant is coming off an injury and everyone thinks the Lakers are done. However, Gasol isn't that old. He turned 33 in July and fired off an 11-year streak of elite play before Dwight Howard came and messed everything up. Dwight is gone. Pau claims to be healthy. I'm a believer that this Lakers team has another run in them.
6. Blake Griffin, Los Angeles Clippers
Griffin is one of the most exciting players in the league and Doc Rivers could mold him into something very special. But remember when Kenyon Martin was elite, and then lost his hops? That could happen to Blake eventually. Maybe sooner than later if he doesn't expand his game. Somehow, Griffin is still only 24! It feels like he's been around for a decade. His legs are at least 29. Maybe he'll polish his game over time ala Carlos Boozer. It'll be fun to watch either way.
5. David West, Indiana Pacers/Zach Randolph, Memphis Grizzlies
If West and Randolph didn't square off a couple of times each season, I would swear they're the same person. Both players have put together phenomenal careers, but they're so similar they count as one person for this list. Less than a year apart in age, both players are 6'9″ and in the 255-pound range. West has averaged 16.1 points and 7.2 boards over his underrated career. Randolph's numbers are 17.2 points and 9.3 boards per game over his equally underrated career. While Randolph has a slight edge in rebounds and scoring, West has the better career field goal percentage and blocks a few more shots. It's splitting hairs.
4. LaMarcus Aldridge, Portland Trail Blazers
Aldridge is quietly having a very solid career tucked away in the Pacific Northwest. If he played in a larger market, he'd probably have his own sneaker, commercials, et cetera… but he doesn't. You can make a case that Aldridge is a poor man's Tim Duncan. Minus the rings, of course. Aldridge has scored 21-plus per game in three consecutive seasons and is as reliable as anyone at his position.
3. Dirk Nowitzki, Dallas Mavericks
I don't care that he's old. Dirk is a winner. Before an off-year in 2012-13, he scored 20-plus points for 12 consecutive seasons. The 11-time NBA All-Star and 2011 NBA Finals MVP appears healthy and ready for another typical Nowitzki season. Mark Cuban thinks Dirk is still good enough to lead a team and, well, I've seen "Shark Tank."
2. Kevin Love, Minnesota Timberwolves
Any general manager building a team from scratch would have Love atop this list. Throw out last season's injury-plagued campaign in which Love only played 18 games. Focus on 2011-12, the last time he was healthy, when Love averaged 26 points, 13.3 rebounds and drained 105 three-pointers in a lockout-shortened season. Those are Larry Bird numbers. However, Love needs to prove he can stay healthy; plus he's never played on a decent team and loses weight like he has a stomach full of tapeworms. Love appears healthy entering the season and is primed to become an all-time great, statistically. Hopefully one day we'll get to see if he'd produce like this on a winning team.
1. Tim Duncan, San Antonio Spurs
The godfather of his position. Possibly the greatest power forward of all-time, Duncan appears to have one more elite season left in the tank. Last year, the 37 year old averaged 17.8 points, 9.9 rebounds and 2.6 blocks per game. He'll miss double-digit games due to rest and various injuries, but the Big Fundamental remains the best player at his position when he's on the court. Well, at least the most reliable. Younger players could be ranked ahead of Duncan on potential, but c'mon. The guy has 14 NBA All-Star appearances, four rings, two MVP awards and is the surest Hall of Famer since Michael Jordan retired. He'll top my list until he's finished. Did I mention that he owns four rings?