2013-14 NBA SEASON PREVIEW CONTENT LIST
Atlantic: Celtics | Nets | Knicks | 76ers | Raptors | Division Preview 1 and 2
Central: Bulls | Cavaliers | Pistons | Pacers | Bucks | Division Preview
Southeast: Hawks | Bobcats | Heat | Magic | Wizards | Division Preview
Pacific: Warriors | Clippers | Lakers | Suns | Kings | Division Preview
Northwest: Nuggets | Timberwolves | Thunder | Trail Blazers | Jazz | Division Preview
Southwest: Mavericks | Rockets | Grizzlies | Pelicans | Spurs | Division Preview
Top 10 by Position: PG | SG | SF | PF | C
Top 10 Lists: Sixth Men | Sophomores | X-Factors | Intensity | Under 25 | Comeback | GMs | Europeans | Overrated | Contenders | Wild Predictions
Fantasy Basketball | NBA Fandom Games | League Preview | Ultimate Season Predictions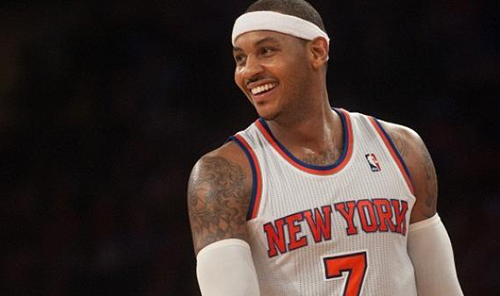 Over the long, illustrious history of the NBA, the small forward position has had its fair share of stars come and go. From John Havlicek to Larry Bird and Julius Erving to Michael Jordan's right-hand man, Scottie Pippen and finally to the new age of Paul Pierce, LeBron James and Kevin Durant, the list goes on and on. With the next wave of potential stars on their way, who is the best small forward in the business right now? What about top ten? The position has some depth, but these players are the top right now.
10. Danny Granger, Indiana Pacers
If the Pacers had a healthy Granger, it's possible the Miami Heat would not have won their second consecutive title last season. Granger has been a mainstay for the Pacers for the last eight years, and while he only played five games last season due to injuries, he could be in for a good season. With Paul George's emergence, Granger will have some of the pressure off of his shoulders to be the team's go-to guy this season. He is a decent team defender, and his presence on the perimeter will only help the already stingy Pacers defense.
9.Rudy Gay, Toronto Raptors
A midseason move to the Raptors was just what Gay needed after an abysmal 42 games for the Memphis Grizzlies. While he doesn't put up the big, flashy numbers that some players on this list do, Gay's numbers improved across the board in the second half last season. The Raptors were one of the league's slowest paced teams last season, so if the team hopes to improve and potentially contend with Gay, they'll need to ramp up their pace and get out in transition more. The offseason acquisition of Steve Novak could help Gay by giving him another option to help spread the floor and give him more room to operate in the offense. Gay is a solid defender, and can and will be a key part for the Raptors on both ends this season.
8. Danilo Gallinari, Denver Nuggets
A key in the Carmelo Anthony trade, Gallinari falls in eighth on the list. With Iguodala out of Denver, Gallo could be in for a larger role in the offense once he returns from injury. But when will he return? He's recovering from an ACL injury, so the timetable for his return is unknown. The team went 7-4 in 11 games without Gallinari in the regular season, but struggled against a Warriors team in the first round of the playoffs, getting knocked out in six games. Gallinari's scoring and floor spacing ability were a key for the Nuggets to have their most successful season in team history last year, and he will be missed while out this coming season.
7. Loul Deng, Chicago Bulls
Hopefully, head coach Tom Thibodeau doesn't actually run Deng into the ground this upcoming season. Deng is the Robin to Derrick Rose's Batman – when Rose is healthy and playing that is. With Rose expected to be back on court this year, Deng could see his numbers offensively rebound some after a few tough seasons shooting the ball. He's a good individual defender, and a very good team defender, able to use his length to his advantage at all times. Unfortunately for Deng and the Bulls, he was unable to finish out the playoffs last season due to complications from a spinal tap, which put his life in danger. Hopefully he's able to come back, along with Rose, at full strength and help the Bulls contend in the Eastern Conference.
6. Paul Pierce, Brooklyn Nets
After 15 years with the Boston Celtics, Pierce makes a move to the division rival Brooklyn Nets after a blockbuster trade this summer. Pierce is getting close to the end of his playing days, but along with Kevin Garnett, he's got some left in the tank for one more run with the new look Nets. At his age, Pierce is still one of the better defenders at the three, and he can still score in many different ways. While he may be a step or two slower, he's still one of the better small forwards in the game and an all-time great for the Celtics.
5. Kawhi Leonard, San Antonio Spurs
Leonard is one of the brightest young talents in the NBA right now at the small forward position. Known as a hard-nosed, ferocious defender, the San Diego State product has made a name for himself with the San Antonio Spurs. Leonard could be considered a prototypical "three and D" type of guy, but his ability to get to the basket elevates his game to another level. He's still very young and has a lot of room to grow, but the Spurs definitely have one of their pieces for the future in Leonard.
4. Andre Iguodala, Golden State Warriors
After one very successful season with the Denver Nuggets, Iduodala is on the move for the second consecutive offseason. For the high-flying, tenacious defender, the Warriors will mark his third team in nine seasons after being selected ninth in the 2004 NBA Draft. Even though Iguodala isn't a go-to scorer as some like their wing players to be, he brings other intangibles to the court. He's able to be a secondary ball handler for the team, which could lead to a big season for Warriors guards Stephen Curry and Klay Thompson.
3. Carmelo Anthony, New York Knicks
Some would argue that Melo is the best scorer in the league, while others would argue he's one of the most overrated players. Melo has his games where he struggles with consistency and scoring efficiency, then other times he'll shoot the lights out for multiple games in a row. With the chance to opt out after this season, it could be a make it or break it season for Anthony and the Knicks.
2. Kevin Durant, Oklahoma City Thunder
If it weren't for LeBron, Durant would be, not only number one on this list, but in the league as a whole. Durant can score in any way that he wants, and his game, as a whole, continues to evolve each season. With Russell Westbrook at his side, Durant is the leader of a two-headed monster that leads the Thunder each season. Durant is going to have a lot of time left in his career and a slip from LeBron, or just older age, could move Durant up to number one on the list.
1. LeBron James, Miami Heat
Most people would say this isn't close, but it's closer than one would think. LeBron is the best player in the league right now, but Kevin Durant is breathing down his neck. The reigning regular season and NBA Finals MVP does a little bit of everything for the Heat. It's nearly impossible to stop the freight train that leads the defending champs every night. With Miami looking to win its third consecutive title, James will look to improve on his already ungodly numbers from last season to help bring the trophy back to sunny South Florida.