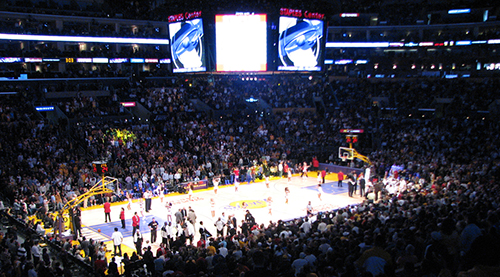 This is the time of year I live for!
Trust me when I say it has nothing to do with the beginning of fall or the World Series being in full swing. I'm just a regular joe that happens to be a 24/7/52 NBA fanatic who may or may not be obsessed with fantasy basketball and gives up sleep to write about it.
What can I say, I'm a giver.
Editors Note: Baller Mind Frame's partner Draftstreet is hosting a freeroll starting Friday, 11/1. A $500 prize pool paid out to the top 50, $100 for first place. Don't forget to sign up, here's the link.
With the first night of NBA action in the bag, let's check out who was hot, and who was not.
Fantasy player of the night: DeAndre Jordan
35 minutes played – 17 points – 11 rebounds – 3 blocks – 3 steals – 1 assist – 8 of 10 FG – 1 of 2 FT
After a monster preseason that saw DeAndre block 19 shots in the first four games while looking like every bit of a potential Defensive Player of the Year candidate, D.J. seems to have grabbed that momentum and ran with it straight into the regular season. The biggest takeaway from last night's game for DeAndre's fantasy future is the 35 minutes played. With Doc Rivers running the show, and DeAndre's arch enemy Vinny ("The Minutes Restrictor") Del Negro out of town, maybe this will be the year we finally see D.J. eclipse his paltry career 24.5 MPG. If so, a career year is on the horizon.
Honorable Mention: Paul George
24 points – 6 rebounds – 5 assists – 1 steal – 3 blocks – 8 of 16 FG – 5 of 7 FT – 2 3FGs
Fantasy dud of the night: Wesley Johnson
21 minutes played – 3 points – 3 rebounds – 1 block – 0 steals – 1 assist – 1 of 11 FG – 0 of 0 FT – 1 of 4 3FG
While Wesley Johnson wasn't in many "standard" league lineups last night, he was looking like he might be one of the sneakier deep league plays. Yes, Johnson is a gritty defender and not known for his jump shot, but going 1 for 11 from the field is inexcusable.
Waiver wire pick and play of the day: Xavier Henry (LAL vs. GSW), owned in just 2.6 percent of ESPN leagues.
Henry has been a deep league target since shining in the preseason and it doesn't look to end now that the games count. Last night, Xavier came off the bench and dropped 22 points, 6 rebounds, 2 assists and a steal to help lead the Los Angeles Lakers to a 116-103 win over their hometown rival Los Angeles Clippers. With Kobe out until Turkey Day, someone has to score and Henry looks like the early favorite to hold the king's crown until he returns.
Quick hits: Steve Nash is hurt again, or still? Or maybe just old. Either way, pick up Jordan Farmar while you still can…. Jared Dudley played an awful 23 minutes of basketball. Look for Matt Barnes to siphon his minutes…. Carlos Boozer had a big game with 31 points, 7 rebounds, 2 assists, 1 steal and 1 block, quieting the rumors of his basketball demise…. With Danny Granger out for three weeks nursing a calf injury, Lance Stephenson made sure the Pacers didn't miss him one bit with his fantasy friendly 19/7/5 stat line. Get him while he's hot…. Andrew Nicholson heated up for the Orlando Magic, pouring in 18 points with Tobias Harris out. Put him on your deep league radar.