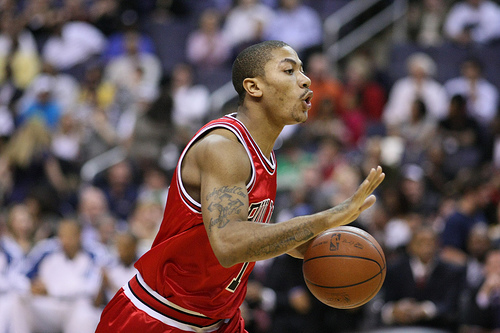 The NBA season's second game was one of the most anticipated matchups in the league: the Miami Heat vs. the Chicago Bulls. Derrick Rose had his first official game back since his ACL tear, and there's much to talk about. There are those out there known as dreamers that believed D-Rose would break out of the gates with a bang. The reality is that he's still rusty and needs to find his way back, resulting in a sub-par stat line: 12 points, 1 rebound, 4 assists and 5 turnovers. Despite his performance, there are some things to take away from his first game this season.
The Good:
Okay, even though his shots were off, just like most of his teammate's shots, D-Rose looked confident. He wasn't hesitant to put the ball on the floor and take it strong to the hoop. The man's explosiveness is definitely still there, and he's just as quick as he used to be. It would be a concern if he looked nervous on the hardwood, but he was definitely not tending to his knee, so wipe that sweat off your brow.
The Bad:
Yes, he was cutting and blasting through the lane, but he still needs to find his rhythm. D-Rose took some poor shots and didn't distribute the ball well. This is the beginning of the "shaking off the rust" phase of a comeback—a reality check for those who thought Rose would come back with vengeance right away. Rose particularly wasn't spectacular from beyond the arc either, making just 1 of 7 three-pointers. He was bad in this game, but not the version of bad that he wanted to be.
The Ugly:
If you've played the game long enough, you'll know that getting back into the swing of things is just as hard on the defensive end as it is on the offensive end, especially after a long time off the court. Did Mario Chalmers and Norris Cole cause problems for D-Rose? Yes. Did Cole cross up the former MVP? Definitely. Rose just couldn't keep up with Chalmers and Cole, losing them on screens and not playing up to his potential on defense. The struggle is real indeed.
So, there are 81 games left in the NBA regular season. Rose is obviously rusty, but as the games go by, he'll shake off that rust little by little, and be the raging bull on the court that fans love.
Image courtesy Keith Allison/Flickr