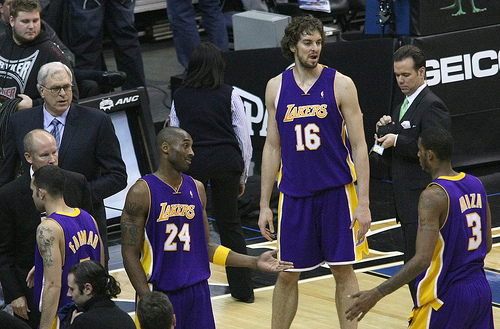 Well, that couldn't have gone much better.
After an offseason spent wringing hands, worrying over injuries and doubting the direction of the franchise, the Los Angeles Lakers returned with a decisive victory over their cross-arena rivals, the Los Angeles Clippers. Playing without leading scorer and spiritual guide Kobe Bryant, the Lakers relied on the strong efforts of Pau Gasol and a bunch of players you probably forgot existed, or never knew existed in the first place.
The mystery men were none other than the newest members of the Lakers bench, a group that hasn't seen more than one or two standouts at a time for the last decade: Jordan Farmar, former UCLA point guard and onetime Laker, directed the offense in Steve Nash's absence; Jordan Hill, a fellow Jordan entering his third year on the squad, hounded the boards and hustled after every and any loose ball; Jodie Meeks, in his second year with the Lakers, showed some restraint and good decision making with a series of solid jumpers and drives to the hoop; and last but certainly not least, the biggest surprise of them all, Xavier Henry, a second-year player new to the Lakers and the spotlight, came up huge with a career night of acrobatic dunks and drilled threes.
Before you accuse me of taking it too far, of building a molehill of a season opener into a a holy mountain of potential, I am well aware that the Clippers sandbagged the Lakers, that they underestimated their neighbors, looked ahead on the schedule and didn't prepare as well as they should have. I'm also aware of their "rotation" at the 4 and 5, consisting of one formidable defender and rim finisher in DeAndre Jordan and one strong offensive player in Blake Griffin. Without any reasonable subs—Ryan Hollins? Antawn Jamison?—to bring in and the inherent limitations of their starting two, their only two, an interior victory against the Clippers is not the decisive coming-out party one might hope for. Caveats aside, let's proceed with hyperbole.
The first quarter served as a reminder that Pau Gasol is one of the most talented big men in the game. With an arsenal of running hooks, post-ups, on-target passes, and even a three-pointer, Gasol was a revelation, the most affirming evidence that we will be okay without Kobe. As for the other starters, Nash was limited but fine, as was Steve Blake; the less said about Shawne Williams the better. The final starter, Nick Young, did his very best Kobe impression, all impossible jumpers, daring drives, and trips to the foul line. He creates the same ball black hole as Kobe, absorbing roughly the same number of possessions, but his high volume brought low yield. This could be a conscious strategy by coach Mike D'Antoni, forcing his squad to become accustomed to their regular ball share while compensating for the lack of scoring, so when Kobe comes back, they'll have more than enough firepower. More likely, Young just needs to settle down.
The teams went into halftime tied. Through the third and beginning of the fourth, it looked like the Clippers would build up their lead and ice the game. Then, the real magic clicked, the bench explosion led by Farmar, Hill, Henry, and Meeks, with Wesley Johnson tagging along for the ride. They outperformed the Lakers starters in ball movement, defensive containment, and general hustle, suffocating the Clippers starters and frustrating them into committing turnovers. D'Antoni was so impressed, he left them in until the end, letting this motley crew, this ragtag bunch of runaways and leftovers, overcome the odds and triumph over their glitzy, glamorous counterparts. Yes, it was a joyous day for Lakers Nation, but we cannot simply celebrate these winnings, we must take lessons from the contest and adjust the roster accordingly. D'Antoni, are you listening?
The main problem to solve before Kobe's return is simple: who starts at small forward? There are options at power forward and center and locks at the guards with Nash and Kobe, but no proven, true small forward on the roster. Over the next however many weeks, D'Antoni needs to audition Henry, Johnson, and Elias Harris for the role, focusing on the most glaring gap in the rotation. D'Antoni must have thought Young or Williams the answer, but barring some major transformation, I'm betting they aren't. Based on his efforts last night, let's start Henry first.
This moves Young down to his natural position of shooting guard and Blake to his natural spot on the bench. Williams, too. Next, we promote Hill to a starter, his boundless energy and board-crashing a perfect counterpart to Gasol's more cerebral and finesse-based game. If you wanted to go even more reasonable, you could move up Meeks and feature three young, athletic defenders against opponents' top players, but that may be too reasonable for D'Antoni. Let's keep Young where he is and bank on the black hole theory.
With a starting core of Nash, Young, Henry, Hill, and Gasol, the rest of the rotation falls naturally into place. Farmar and Blake share Nash's off court minutes at point guard, as well as some time at the shooting guard, depending on the performances of Young and Meeks. Johnson plays limited backup to Henry at small forward. Elias Harris, too. At power forward, we have Williams and rookie Ryan Kelly providing the stretch 4 D'Antoni's so fond off. Finally, Chris Kaman replaces Gasol at center in addition to limited two tower action, D'Antoni only bringing out Robert Sacre in case of emergency.
D'Antoni won't follow these guidelines, because he's possibly insane and definitely stubborn. Think about his relied-upon lineup of Nash, Blake, Young, Gasol, and Kaman. He has two sets of players providing nearly the same function: two crafty veteran point guards with strong outside shots and two lumbering giants with limited athleticism and solid jumpers. Instead of playing the same cards all at once, he should redistribute the wealth, move some of that aged excellence back to restrain the young bucks and scoot a little of the youthful energy on up to enable the pace DAntoni is so fond of playing.
Or, and I'm just spitballing here, D'Antoni could decide the lineups with a custom roster dartboard. It sounds random, sure, but no more random than what we've seen so far.
Image courtesy Keith Allison/Flickr