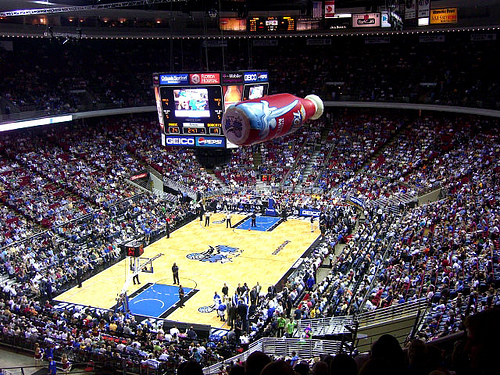 On the second night of a back-to-back to start the season, the Orlando Magic visited the Minnesota Timberwolves, who were celebrating their season-opening win. After a loss in Indiana, the Magic were looking to right the ship. Arron Afflalo came up huge for the Magic, leading the team with 28 points on 11-of-22 shooting to go with nine rebounds and five assists. This was a welcome bounce-back for the seventh-year guard, who struggled in Indiana, scoring only nine points the night before.
Despite this effort from Afflalo, the Magic could not close the door on the Timberwolves, as Kevin Love hit a late three-point shot to send the game into overtime. In OT, the Timberwolves cruised to a five-point victory. Kevin Love led the way for Minnesota, as he poured in game highs in points and rebounds with 31 and 17, respectively.
Orlando Magic Game Notes: 
Nikola Vucevic's Bounce-Back Game
After a quiet night in Indiana, Nikola Vucevic put up great numbers against Nikola Pekovic, scoring 22 points and grabbing 6 rebounds. This should delight Magic fans after Vucevic's strong season last year. After a bout with a great center last night in Indiana, he looked much more comfortable tonight on offense and on the glass.
Jameer Nelson
Jameer Nelson has been very impressive so far in this young season at facilitating the offense and giving the young players good looks. Nelson scored well, with 18 points, but he moved the ball well also, contributing eight assists. It will be crucial for players like Victor Oladipo, Moe Harkless, Nikola Vucevic and Tobias Harrs if Nelson can put them in a position to succeed.
The Power Forward Position
For a second straight game, the power forward position proved to be tricky in regards to rotations for head coach Jacque Vaughn, and that will probably remain the case until Glen Davis and Tobias Harris are healthy. However, the injuries helped the case of newcomer Solomon Jones, who made the most of his opportunities and grabbed six offensive rebounds on the night in 22 minutes of play. Also, Andrew Nicholson rode the wave of his big game in Indiana and continued his scoring ways, making six shots for 13 points. Even though this position will be murky for a while, the Magic are showcasing talent and players that can fill the gap in Harris' and Davis' absences.
The Road Ahead
After tonight's loss, the Magic have a day off and play again Friday in Orlando for their home opener against the 0-1 New Orleans Pelicans. The Timberwolves play Friday as well, hosting the 1-0 Oklahoma City Thunder in the Target Center.
Image courtesy André "Fran"/Flickr