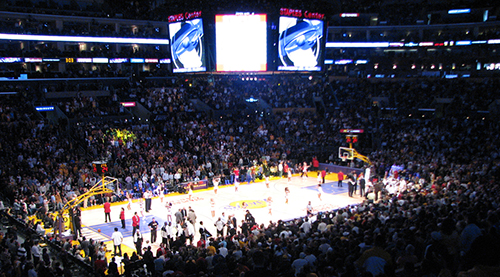 Damian Lillard is on track and taking his Rookie of the Year campaign to the next level. He's knocking down threes, lighting up the scoreboard and is clearly in the driver's seat in Portland. Few people were brave enough to invest their precious second-round picks in Lillard, so far it seems their aggressive approach is paying off.
Anthony Davis of the New Orleans Pelicans is breaking into fantasy basketball's Top 10 with not only his solid defensive numbers, but also his fantastic shooting from the charity stripe at 95 percent on 6.7 attempts. He blew up the other night to garner the "Fantasy Line of the Week" with 25 points, 9 rebounds, 4 assists, 6 steals and 6 blocks while shooting 9-of-13 from the field and 7-of-8 from the line. We haven't seen a true big man deliver such a high level of fantasy output since Kevin Garnett was still with the Minnesota Timberwolves!
Surprise!
Russell Westbrook shocked everyone with an unexpected appearance and start for the Oklahoma City Thunder on Sunday night. Westbrook was initially projected to miss four to six weeks. This is a huge swing of good luck for drafters who wanted to take a chance on his eventual return and production. Reggie Jackson, whose pre-draft value was on the uptrend thanks to his expected time as a starter, takes a hit in value. Still, Jackson is expected to be the team's offensive punch off the bench and should retain some reasonably reliable value.
Lance Stephenson was an afterthought in most early drafts, but with the not-so-surprising injury that Danny Granger sustained, Stephenson's value catapulted, making him an effective sleeper of sorts. He looks like he should retain his trajectory and if Granger does return, he will likely come off the bench.
Thanks to the Phoenix Suns' decision to trade away Marcin Gortat, Miles Plumlee has been a sleeper hit so far this season. He's currently averaging a double-double and he shoots well from the line. The Suns are loaded with stretch 4s and Plumlee is the only one able to do any solid work off the glass.
Xavier Henry cracked the Los Angeles Lakers starting lineup on Sunday night thanks to his hard work and productive preseason. The franchise is in flux and still trying to get its bearings while waiting for Kobe Bryant to recover from his Achilles injury. He's a player to watch moving forward, but for now he still only holds deep-league appeal.
Rookie Wars
Michael Carter-Williams has taken the lead among all rookies this season as top dog thanks to two very good performances. His debut was more than mind-blowing, as he scored 22 points, dished out 12 assists, grabbed 7 rebounds and collected 9(!) steals against the Miami Heat in what ended up as a stunning upset.  On November 2, MCW asserted himself with yet another double-double, scoring 26 points and dropping 10 dimes against former MVP Derrick Rose and the Chicago Bulls. Talk about baptism by fire. Carter-Williams has flourished against very good Eastern Conference teams and should continue to deliver the goods this 2013-14. He will have his off days, but until he racks up many of those, MCW is the rookie to beat in fantasy.
All eyes were on Victor Oladipo in most fantasy drafts. I saw him get picked as early as the fifth round in a standard league. He's been coming off the bench for Orlando, but has seen some heavy minutes on the court. Word is the Magic are looking to trade away Jameer Nelson to possibly make room for Oladipo in the starting lineup. If/when that happens, Oladipo should be able to chase Carter-Williams' production and make this a closer race.
Vitor Faverani of the Boston Celtics has emerged as a sleeper hit. He won the starting center job in Boston and has put it to good use. So far he's been delivering fourth-round value thanks mainly in part to his current 4.5 BPG, but we don't expect him to keep that up. Nonetheless, he's surpassed Kelly Olynyk, Cody Zeller, Alex Len and even first overall pick Anthony Bennett on the fantasy ladder.
Slow Starts
Derrick Rose has finally returned to action. He even won a game via a baseline floater. The problem is his shot is still off and he's clearly playing off some game rust. This is something that should be expected and owners shouldn't worry too much at this point. We expect Rose to slowly get his groove back in due time.
Deron Williams was hampered this preseason by injuries. He's off to a rocky start and even had his minutes capped in his first couple of games back in action. He's underwhelming right now, but if he can get healthy he should be able to improve his production. Owners may want to wait until D-Will racks up a string of solid games before selling him off to the best bidder.
*This article was first published in PointsinthePaint.com. Check it out for more fantasy basketball awesomeness.