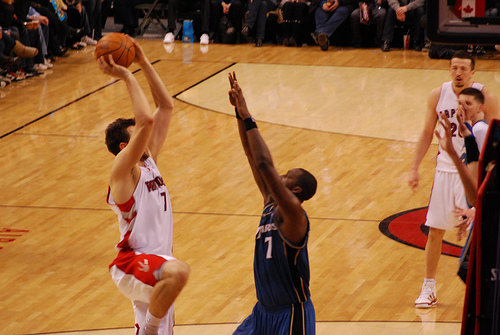 The next Dirk Nowitzki? That's what some people had Andrea Bargnani pegged as going into the 2006 NBA Draft. The Toronto Raptors were lucky enough to have the No. 1 overall pick that year. They would finally get that much needed superstar to team up with Chris Bosh and rid themselves of memories of Vince Carter. Unfortunately for the Raptors, Bargnani would not live up to the hype throughout his seven years in Toronto.
Instead, the Raptors got one good season from him in 2010-11 (when he averaged 21.4 points per game), two average seasons, and a god-awful one last year when he was plagued with injuries.
"Il Mago" (The Magician) did not play like his nickname suggests. He instead played like "L'incubo," or "the nightmare," a pretty cool nickname if he were actually any good. Instead, Bargnani gave Raptors fans high blood pressure as they watched his nightmarish defensive efforts on a nightly basis. Andrea's English improved over those seven years, but he must have forgotten to learn the word "defense."
There were times, especially last year, when I would watch Andrea aimlessly stumble around the court, looking for his man to guard, and I'd feel a pain in my chest. To all New York Knicks fans: Andrea Bargnani is not good for your health! Don't get overexposed to Andrea Bargnani for long periods of time! That is all.
Speaking of Andrea's new hometown New York, I should say that I'm actually hoping Andrea doesn't do terribly there. As much pain as he's put Raptors fans through, he never did anything off the court that made you hate him. It seems like he's just a good guy who got overhyped and couldn't live up to other people's expectations.
The one thing that could lead to Bargnani's success in New York is the lack of pressure he has going into the season. He's not expected to be the franchise player, something he couldn't be in Toronto. Carmelo Anthony will get most of the attention from the media, which could allow Andrea to ease into his role and actually produce at a high level.
The Carmelo Anthony-Tyson Chandler-Andrea Bargnani frontcourt is intriguing. On paper, you have quite possibly the league's best scorer in Carmelo, the former NBA Defensive Player of the Year in Chandler, and a former No. 1 overall pick in Andrea Bargnani. Carmelo and Bargnani are not known for their defense and Chandler seemingly only scores on alley-oops and put-backs. It's going to be a fun experiment.
Raptors fans were happy to say ciao to Bargnani this offseason, ending an era in Toronto that won't be fondly remembered. Andrea's greatest moments in Toronto were when he was injured, sitting on the bench in his amazing Italian suits. There was also that time he dunked on Chris Andersen … so there's that.
There's no denying that New York fans are passionate, but the Knicks aren't a legitimate threat this year. All signs point to less wins, and you can be sure Andrea will have a pretty significant role in that, thanks in large part to his three rebounds a game.