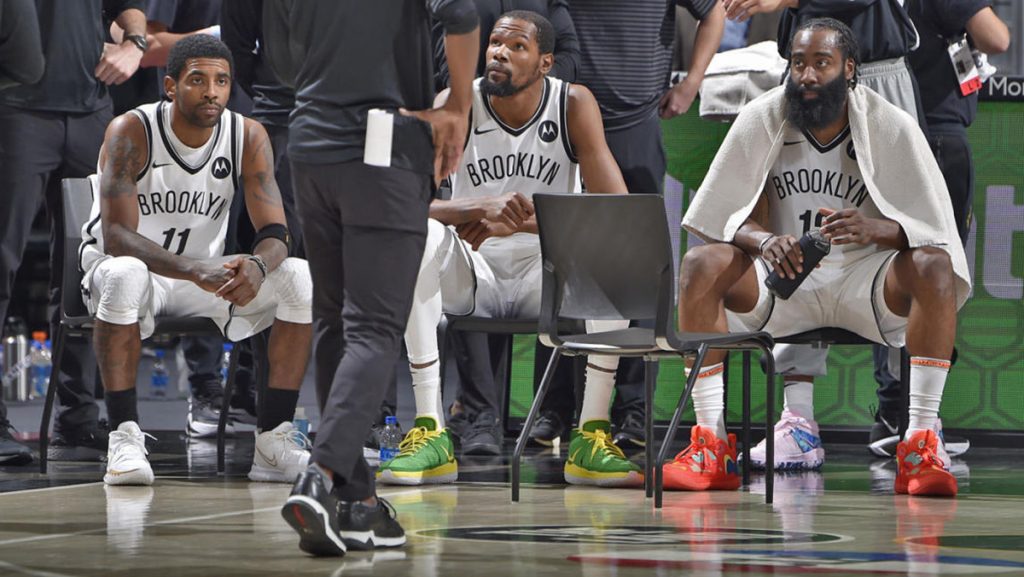 The Brooklyn Nets Big Three has been polarizing since James Harden was traded and joined Kevin Durant and Kyrie Irving on the team. Some have said they're instant contenders (they're right), others have said they've given up too much depth (they're right too, but don't you think the Nets had to give up quality to get a top five player), the doubtful have said that they won't have any defense and defense wins championships (they're right also), and, of course, the LeBron James stalwarts think it's about their object of affection and the Nets did all this to beat an older, but still great, King James (maybe they're right, but I'd like to think individual teams are focused on getting better for the organization's sake and not to beat one player, but perhaps that makes too much sense).
Whatever your thoughts, it's safe to say it is way too early to pass judgement on the trade. I'd suggest that you couldn't even judge it this season because the normal rhythm of the NBA's heartbeat has been dealing with the palpitation of COVID-19. There's no continuity with games being postponed, players having to sit out due to the NBA's COVID-19 protocol, and of course, ten less games and less practice time. For the record, this is different than last season's resumption in the NBA Bubble because COVID-19's effects were well-managed then. Kudos to the A for that. This season feels free-for-all-ish, but there are still odds being pushed out at Sports Betting Dime every day so you can see how the odds change if a major player on the team tests positive for COVID-19, which could mean that any respective games could be postponed.
In any case, it's only been two games that the BK Big Three have gotten an opportunity to do their thing on the hardwood. Logically, to pass definitive judgement too early is clearly a fool's errand, unless you want to be an "I told you so" braggart by staking your claim now in the hopes your 50/50 proposition pans out. (Shoulder shrug). But, I get it. Sports is visceral where loyalties to a team or player tempts you to flex and protect them at all costs; it can even drive you to hate a team or player that threatens the sanctity of your team/player.
But, let's take a step back here when it comes to the addition of Harden. Pun fully intended. Again, it's been two whole games of the Nets' Big Three with only one possible practice between the three games total the team has played since the trade. Load management prevented Kevin Durant from playing that second game against the Cleveland Cavaliers, so we obviously can't count it on the BKB3 record.
So, with all this talk about a big three, I thought we'd be better served to look back in history to the last big three that came together in this sort of roundabout way. While Durant, Stephen Curry, and Klay Thompson with the Golden State Warriors are the last trio of superstars to band together, it's not comparable here because both Curry and Thompson were already there, with KD joining in on the fun. It was one joining two. No, we need to go back a little further to 2010 when both LeBron and Chris Bosh teamed up with Dwyane Wade in Miami; two joining one. For all intents and purposes, we're counting the Slim Reaper here as part of a new duo because he didn't play at all last season, so it'd be him and Harden joining Kyrie, who only played 20 games in his first year with the Nets last season. And, let's not forget, there's also a new head coach in Steve Nash as well. While Nash may have a pretty good coaching staff supporting him, he's still trying to figure things out himself.
How dare these Brooklyn Nets take so long to get things together! Am I right?!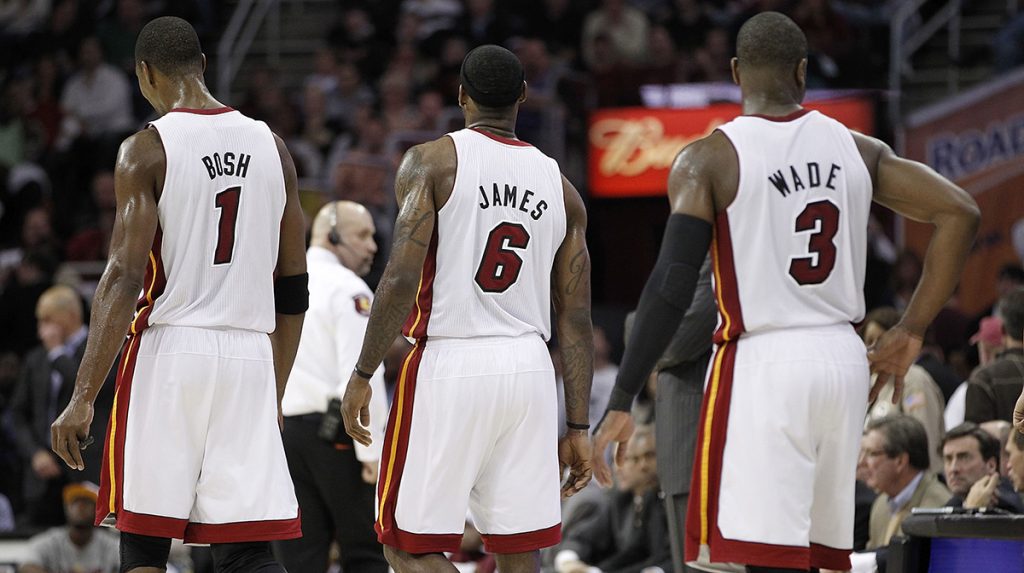 So, here are some comparisons between BKB3 and Miami's Tres Grandes… both have a 1-1 record after two games of playing together, both have a 10-8 team record after 18 games, and both became touchstones for love or hate with no grey area between the two. But, the real bond between these big three (and any other super team formed) are high expectations, and these Nets can either fold or show up and show out. My expectation (full disclosure – I'm a Nets fan; and my NJT stories can prove I'm not a recent bandwagon passenger) is that much like the 2010-11 Heat, these Nets will make the NBA Finals, but lose in their first attempt. However, with a second season of chemistry and loaded with veterans that want to win a ring signed during the offseason, I do think the Nets would have an excellent chance next season. But, I do have concerns, especially relative to the Heat's Big Three.
When LeBron (26), Bosh (26), and Wade (29) got together, they were young and in the height of their prime. Durant (32), Harden (31), and Irving (28) have a lot of games under their belts, as well as some injury history for KD and Kai. But where the Heat truly stand out is their defense. They finished fifth in Defensive Rating (103.5) and sixth in Opponents PPG (94.6) whereas the Nets are currently 26th in Defensive Rating (112.4) and 27th in Opponents PPG (116.8). Talk all you want about out-scoring the other team, but as the saying goes, defense wins championships.
For the sake of argument, how do the offenses compare? The Heat finished third in Offensive Rating (111.7) and eighth in PPG (102.1), while the Nets are currently third in Offensive Rating (115.8) and second in PPG (120.3). Their respective Net Ratings are, for the Heat, +8.2, which was tops in the NBA that respective 2010-11 season and for the Nets, +3.4, which is currently seventh. Looking at all of these numbers, the Nets may not be too far off from being as effective as the Heat, as long as they can get their defense figured out, which includes how much better their communication gets, particularly on defensive switches, and an upgrade in personnel, specifically depth for a rim protector and defensive rebounder. They also need to minimize turnovers. Where the Heat also shined was the players outside of the big three had specific roles: Udonis Haslem was the tough as nails rebounder, Joel Anthony altered shots, Mike Bibby and James Jones were the shooters from three, and Juwan Howard and Jerry Stackhouse were the veteran presence. The Nets need to figure those roles out in order to go far.
So, what will happen, love or hate these current Brooklyn Nets and their trio of superstars? No idea. I can't say, and neither can anyone else. The only ones that can, the same as the Miami Heat of 2010-11 and several seasons afterward, are the Nets, who have a smaller window to contend, but first things first. Let's all relax and let this season play out. Then we can all yell and argue about the merits of the BKB3.