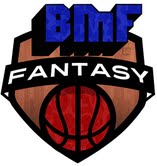 The season may be young, but fantasy basketball is in full swing. With such a small sample size, it's important to know when to act, and when not to overreact. So don't go dropping Larry Sanders or Kawhi Leonard for a "hot" waiver-wire pickup just yet.
Fantasy Player of the Night: James Harden
The Bearded one was his usual stat-stuffing self last night, much to Portland's chagrin. Harden shredded the Trail Blazers for 33 points, 7 rebounds, 3 assists, 2 blocks and a steal. Let's keep it simple: if you own him, play him. If not, try to trade for him. Barring injury, Harden has an outside chance to unseat one, if not both, of the "big two" drafted ahead of him in fantasy rankings. I said outside chance!
Fantasy Dud of the Night: Amare Stoudemire and Andrea Bargnani
In 33 minutes the (expensive) duo combined for 8 points, 5 rebounds, 6 turnovers and 1 assist en route to the New York Knicks being defeated by the Al Jefferson-less Charlotte Bobcats. Read that sentence again. Even with Tyson Chandler out four to six weeks, I'm sure you can find better options in standard leagues.
Pick and Play of the Day: Jordan Crawford, owned in just 2.2 percent of ESPN leagues
In his last two games, Crawford has eclipsed the 20-minute mark and we should see that trend continue, especially if Gerald Wallace is sidelined from the bruised knee he sustained against Memphis. While Crawford is a shaky defender, we have seen him fill up the stat sheet before when given minutes. Someone other than Jeff Green has to score some points for Boston, right?
Quick Notes: Tyson Chandler went down last night and will miss four to six weeks with a non-displaced fracture of his right fibula. If the Knicks were losing with him, now what?… Mario Chalmers has been a sneaky-good fantasy play, averaging 10 points, 5 assists, 3 rebounds and 3 steals a game. He should be owned in all leagues moving forward…. Jonas Valanciunas broke out against the Heat's anemic frontcourt with 18 points and 9 rebounds. Consistency has not been his strong suit…. Landry Fields looks like a new man the last two games and should be on your deep-league radar…. Enes Kanter put up 21 and 8 against the Nets. He looks like the big man to own in Utah…. Roy Hibbert is blocking an insane amount of shots (5.25 per game) and has the inside track to lead the league for the rest of the season…. Greg Monroe has been a beast, averaging 17 points and 11 rebounds, and is still the best player on the Pistons. Don't tell Josh Smith…. Gerald Green is hot and has 11 threes in his last two games. He is worth a look in most leagues while George Hill is out…. Markieff Morris came to life with 17 points and just may have won back the starting power forward spot in Phoenix…. Tyreke Evans is losing playing time to Brian Roberts and Anthony Morrow. The future looks bleak but you almost have to hold him in hopes of a resurgence…. Jordan Farmar dropped 11/3/7 in 24 minutes, showing once again he is the best point guard on the Lakers…. Jae Crowder had 18 points in garbage time but I like what I saw. I'm buying in deep leagues…. Tim Duncan is back to his old tricks, putting up a 17/8/8 stat line with four blocks to top it off. Rumors of his demise this season are wrong, so far…. Kenneth Faried started last night and chipped in 15 points and 8 rebounds…. If you need a center, Timofey Mozgov is shaping up to be a nice deep-league play…. Patrick Beverley returned but had a lackluster outing, with 12 points, 4 rebounds and 1 assist. He still looks like the point guard of the (near) future in Houston…. LeBron James had another stellar outing, with 35 points, 8 rebounds, 8 assists and a block. In case you forgot, he is still a fantasy demigod…. After a slow start, Wesley Mathews is heating up and has 19 or more points in his last three games…. Omri Casspi is shaping up to be a deep-league super-sub. Keep an eye on him in standard leagues and be ready to pounce if the trend continues upward…. Even his nine-point dud from last night can't overshadow the fact Kyle Korver is playing out of his mind right now and should be owned in all leagues…. DeMarcus Cousins is either on the refs' last nerves already or just extremely foul prone to start the season. Whatever it is, it's killing his fantasy shine…. So far this season, Isaiah Thomas looks like the Kings' best player and he still can't get the starting nod. I thought they fired Keith Smart?
I still need a name for my column so feel free to hit me up with ideas.