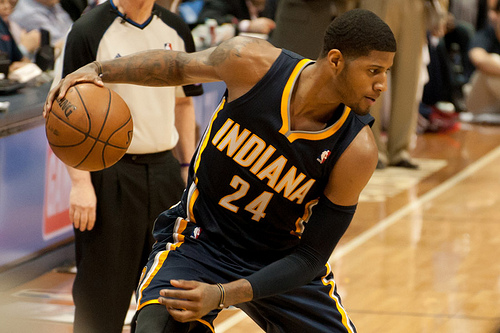 I remember when I was eight years old, jumping dirt bikes over a homemade ramp on the sidewalk in front of my friends house. There were about five of us who did it regularly over the summer and to a kid, our mothers hated it. There was always a point in time when I knew we had put the ramp too high. I wanted to think positively in that moment, but inside I knew when I started pedaling my little red Huffy toward the ramp that the knot in my stomach was telling me it was going to end badly. There was going to be blood. It was going to hurt. And it always did when I got that feeling. Always.
In the past, being an Indiana Pacers fan has been like that.
The expectations of a season or a particular game were sometimes too high. Going into the playoffs last year, I wanted the blue and gold to jump the hurdle that was Miami, but inside I had that familiar knot. The years we were pounded by the Knicks I knew there was going to be pain. It was going to end badly. It always did.
There was a point in last night's game against the Chicago Bulls when I went to grasp for that knot and discovered there was nothing there to find. I expected that we wouldn't go 5-0, but instead all I saw was the Pacers going from three down in the third quarter to up five in the fourth, then 10, then 15. Three-pointers falling and falling and falling. Scola playing like a possessed man, Hibbert blocking another five shots to add to his league-leading total.
The Pacers are now 5-0. Paul George is quickly reaching superstar status. Lance Stephenson seems to be dwelling in point guard nirvana and the bench is coming out every night quite strongly. Last night's matchup, and ones like it coming up on the schedule, were exactly why Larry Bird pulled the trigger on obtaining Scola in the first place.
Now the team has a much deserved day off before hosting the Toronto Raptors at the Fieldhouse. Toronto has lost two of their three road games this year, and should be much easier fare than the Bulls were last night. Their lone win of the year was against the Bucks in Milwaukee. These are the type of games that can trip up a team if it's not mindful, particularly with a trip to Brooklyn coming up on Saturday. The guys might just be in a empire state of mind one day too soon.
They have a day to enjoy the 5-0 record and two-game lead in the conference, then it's back to work. The season is young, but this year they might just be Evel Knievel jumping the Snake River, not just some kid on a Huffy.
Image courtesy Basketball Schedule/Flickr