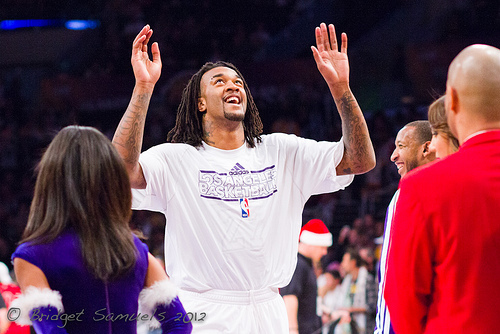 Since my last crack at the Los Angeles Lakers roster, coach Mike D'Antoni incorporated my most pressing suggestion, the promotion of Xavier Henry to the starting lineup, and ignored nearly everything else. Typical D'Antoni. He doesn't seem to realize I'm on his side here, that I'm trying to save his job, the Lakers season and myself the emotional agony of watching wasted potential, spending time with an inferior on-court product when a clear alternative is available, a way out of the mediocre mire.
Despite a host of possible suggestions, to simplify today's lesson, I'm going to zero in on one: play Jordan Hill. Not just garbage minutes, or five or six minutes randomly in the second quarter, or 13 (13!) total minutes over the course of a game. Actually play the man, feature him as what he is—one of the best players now wearing purple and gold.
D'Antoni's working with a handicapped roster and, accordingly, a miracle season or deep playoff run isn't expected. That said, to continue to stubbornly assert his preferred style of play on the team instead of adapting a new game plan to the strengths of his personnel, well, it's downright foolish. Philosophies are wonderful things, but when you refuse to adjust your theoretical preferences to the bounds of reality, you're a madman. Yes, D'Antoni wants that stretch 4 who can spot up for a corner three at the beginning of every set. It's an admirable thing, maybe something to strive for. At the moment, does that dream deserve playing Shawne Williams at significant minutes? The answer has to be no.
What the Lakers need now, what a typical power forward does, what Jordan Hill provides, is a presence on the boards and a scrapper down low that will hustle after every ball. Pau Gasol and Chris Kaman are too slow-footed and the perimeter defense too leaky to risk sacrificing any advantage in the paint the Lakers have.
There has to be something more here, behind the scenes, another factor at play in D'Antoni's decision-making process, as the overwhelming amount of evidence and logic is too great to be dismissed by mere preference. What's causing D'Antoni to bury Hill on the bench? I have a few theories I'm bouncing around.
No defense is an active choice
All these years, we assumed D'Antoni sacrificed defense in favor of offense, a strategic measure of opportunity cost, but maybe D'Antoni actively hates defense. Whether he believes it stifles the creative purity of the game, distracts the players from what's important or fails to please the spectators, the decisions D'Antoni makes aren't only offense first, they are meant to cripple any defensive edge. Why else would the Lakers begin a game with Steve Blake covering Monta Ellis? That could not have been a rational choice, the work of a man with anything but complete, irrational disdain for defense.
He plays his cards close to the chest
With all the in-depth scouting reports and film profiles on every player, D'Antoni likes to keep a secret weapon or two in his back pocket, unexpected talents that he can whip out for a trump every now and then. A perfect example of this phenomenon is Jeremy Lin from D'Antoni's time with the New York Knicks. When every Knicks point guard went down and Lin became the de facto starter, he surprised the world with his impressive play and contagious enthusiasm. D'Antoni acted the bemused caretaker, as taken aback as the rest of us, but he knew exactly what he was doing, saving that ace for when he'd need it the most. How else could one explain previously giving that court time to the ghosts of Mike Bibby and Baron Davis?
New York brings him down
Speaking of the Knicks, D'Antoni didn't exactly leave on the sweetest of terms. After failing to corral his stars and repeatedly falling short of expectations, owner James Dolan conferenced with D'Antoni and they decided it'd be best if he resigned. It wasn't an unceremonious firing, but it was an abrupt and frank confession of his shortcomings as a coach, mainly his inability to resolve roster chemistry. Even worse, his former assistant and now replacement Mike Woodson led the Knicks to the finest ball they'd played in that iteration. More or less, New York is D'Antoni's greatest failure, and Jordan Hill had a front row seat to one year of that train wreck. Every time they meet eyes, stinging regret sets in again, leading D'Antoni to keep Hill in exile at the end of the bench.
Chaos is the best strategy
Similar to the hidden talent theory, D'Antoni may employ another intricate system to outsmart opposing scouts: entirely randomized roster choices. How does a team prepare against a squad starting two point guards, two centers, and a small forward? As soon as that's puzzled out, he brings in a point guard, two shooting guards, and two power forwards. Now, some people might look at those rotations and say, hey, that almost makes two complete lineups, with five players each at their natural positions, but with a predictable approach like that, it's practically giving the game away. Better to confuse everybody, your own squad included, then play right into expectation.
Predator was super scary
I mean this in the most loving way possible, but Jordan Hill looks an awful lot like the Predator. Not so much the face, more the dreads and stocky build, the general relentless drive. Again, this is meant as a compliment. Still, you can't shake the association, and maybe D'Antoni can't either. Haunted ever since its theatrical debut, he's spent the last 26 years trying to shake the beast from his nightmares, desperate with no inner Arnold Schwarzenegger to slay the demon inside. Now, just when he was getting a hold on his crippling fear, he has to coach its living and running embodiment. The less Hill plays, the more sleep D'Antoni gets, if any at all.
Image courtesy bridgetds/flickr