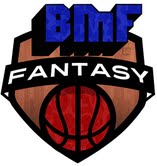 We had a packed Wednesday night with 10 games on the schedule, so let's jump right into the fantasy goodness.
Fantasy Player of the Night: Nikola Vucevic
Vucevic dominated DeAndre Jordan in the the paint, amassing a monstrous stat line of 30 points, 21 rebounds, 3 assists, 1 steal and a block. You can talk about rookie Victor Oladipo all you want, but the cornerstone of the Magic's future is already here and goes by Nikola. Here comes my second bold prediction in as many days: Nikola Vucevic will finish the season as the top center in fantasy basketball.
Fantasy Dud of the Night: Derrick Williams
Williams had almost no impact on the court in his 19 minutes of play, putting up 0 points, 2 rebounds, 0 assists, 1 steal and 0 blocks. He has all the talent in the world and has shown he belongs in the NBA, but after this bomb he may find himself stuck on the bench. Until he does something of merit he is useless outside of the deepest leagues.
Pick and Play of the Day: Timofey Mozgov owned in just 0.1 percent of ESPN leagues.
The pickings are slim, but Timofey has carved out a solid role in Denver's deep frontcourt. In just over 20 minutes per game, Mozgov is averaging 9 points, 3 rebounds, 1 steal and one block. While his numbers aren't overwhelming, he's been a bit more consistent than the rest of the bigs in Denver and looks to be in favor with head coach Brian Shaw. "He's been doing everything that we've asked him to do, rolling to the basket, running the floor, being a presence in the middle," said Shaw. "He's definitely showing steady improvement." Maybe someday he will be remembered for his play instead of this.
Quick Notes: The Bobcats have won back-to-back games with Bismack Biyombo starting at center in place of the injured (ankle) Al Jefferson. I never thought I'd type that, ever. With Jefferson questionable to play on Friday, Bismack could be a solid source of blocks and boards…. Kirk Hinrich had a productive 31 minutes off the bench, with 12 points, 3 rebounds, 5 assists and a block. He is worth a look in most leagues, especially with his dual guard eligibility…. Blake Griffin put up 23 and 13, notching his third double-double of the year. Not to be outdone, DeAndre Jordan snatched 19 boards to go with 4 blocks in a losing effort against the Magic…. Spencer Hawes bounced back from a poor outing to drop another monster line of 23 points, 13 rebounds, 5 assists, 2 blocks and a steal. He was insanely hot to start last season as well before nagging injuries brought him back down to earth. Maybe this is the year he puts it all together…. Brandon Bass busted back on the scene with 20 points after just scoring 12 in his last two games combined. While the points are nice, his peripheral stats leave much to be desired…. Vitor Faverani is droppable in standard leagues after another poor outing. Jared Sullinger and Kelly Olynyk look like the better options in Beantown…. Gordon Hayward exploded for 28 points, 9 rebounds, 5 assists and a steal in another Jazz (0-5) loss…. Tyreke Evans remembered he played basketball for a living, posting a respectable 16/7/4 stat line…. Zach Randolph left Wednesday's game after eight minutes to be with his fiance who had just gone into labor. Welcome to the world, baby Z-Bo!… Zaza Pachulia had a big line of 14/9/7 filling in for starter Larry Sanders, who was out due to birth of a child as well…. No. 1 overall draft pick Anthony Bennett finally scored the first basket of his career and is now averaging a dismal 1 point and 3 rebounds a game…. Gary Neal got hot off the bench, knocking in four threes on his way to 23 points…. Steph Curry played only 24 minutes due to another sprained ankle but did manage to dish out seven assists, salvaging the night a bit for his fantasy owners. The good news is Curry is expected to be back in action Friday to face the Spurs…. Kevin Love is back in a big way, averaging 26/14/4 on the year and proving he was worthy of a top 10 pick…. Markeiff Morris had another big game off the bench for the Suns, posting 23 points and 12 rebounds. Even if he plays behind Channing Frye he's getting starters minutes and is the power forward of the future in Phoenix…. Danny Green broke out of his slumber with 19 points on 8-of-11 shooting and three treys. He also chipped in 5 rebounds, 2 assists, 2 steals and 4 blocks. Nice to have you back, Danny.