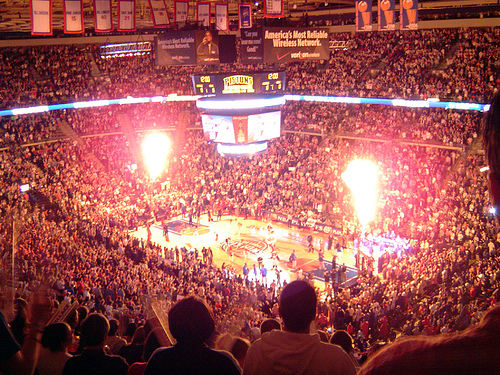 The Detroit Pistons made a surprising trade this offseason, sending Brandon Knight to the Milwaukee Bucks in exchange for Brandon Jennings. This move and the free-agent signing of small forward Josh Smith show that Pistons general manager Joe Dumars wants to win now. The Pistons have not made the playoffs in four years and are looking to become a playoff contender again. Jennings is an upgrade over Knight, but as a shoot-first point guard he is not the right fit for Detroit.
During Brandon Jennings' tenure with the Bucks, he displayed the potential to be an All-Star. He is very athletic and can create shots off the dribble. Jennings' issues in Milwaukee were that he had poor shot selection and turned the ball over too much. Also, he clashed with former Bucks head coach Scott Skiles and current coach Larry Drew.
Jennings joins a Pistons team that has one of the best frontcourts in the NBA. Power forward Greg Monroe is coming off a career year last season, averaging 16.0 points and 9.6 rebounds. Center Andre Drummond showed improvement towards the end of last season and dominated in the Las Vegas Summer League. Newly acquired small forward Josh Smith had a great career with the Atlanta Hawks and will look to be an All-Star this year. So far this season, this group has played well together.
The Pistons need their point guard to distribute the ball to Monroe, Drummond and Smith. Brandon Jennings has the ability to be the facilitator the Pistons need, but he has shown throughout his career that he is an offensive-minded point guard. Jennings signed a three-year extension and is looking to establish himself as the Pistons' best player. These factors give no indication he will be willing to alter his game to fit the Pistons personnel.
Joe Dumars will look to move Jennings by the trade deadline. This summer, Dumars tried to trade for Boston Celtics point guard Rajon Rondo, but was rejected by Celtics general manager Danny Ainge. Dumars will again pursue a trade for Rondo by offering Jennings as the main piece in the deal. The trade makes sense for both teams.
The Pistons get an All-Star point guard that is the best facilitator in the NBA. Rondo would bring leadership and playoff experience to the Pistons, which they desperately need. With the great frontcourt that the Pistons have, they will run a lot of pick-and-roll on offense. Rondo runs the pick-and-roll better than any point in the NBA.
The Celtics get a young talented point guard that is a scoring threat and could be a core piece in their rebuilding efforts. With the Celtics trading Kevin Garnett and Paul Pierce to the Brooklyn Nets, Boston would benefit from Jennings' scoring ability. Dumars will have to throw in a first-round pick and possibly rookie shooting guard Kentavious Cadwell-Pope as incentive for Ainge.
There is a possibility that Pistons guard Chauncey Billups will be able to mentor Jennings and show him how to be an effective NBA point guard. If this happens, Dumars' gamble on Jennings will have paid off. With Dumars on the hot seat for his recent trades and free-agent signings, expect him to monitor Jennings' performance closely. If the point guard doesn't play well, Dumars will certainly attempt to make Danny Ainge an offer he can't refuse.