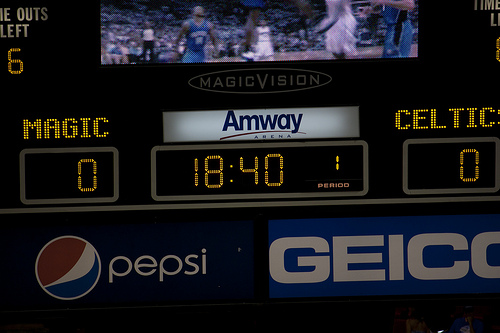 Game 6
Who: Boston Celtics vs Orlando Magic
Where: Amway Center
When: Friday November 8th 7PM
Projected Starters
Orlando:
PG: Jameer Nelson
SG: Arron Afflalo
SF: Maurice Harkless
PF: Jason Maxiell
C: Nikola Vucevic
Boston:
PG:Avery Bradley
SG: Jordan Crawford
SF: Jeff Green
PF: Brandon Bass
C: Vitor Faverani
Inactives
Orlando: Tobias Harris (ankle), Glen Davis (foot), Solomon Jones (knee), Hedo Turkoglu (Not with team)
Boston: Rajon Rondo (knee)
The Facts
The Magic come in winners of three straight, including wins over the Brooklyn Nets and Los Angeles Clippers.
Boston comes in after winning their first game of the season against the Jazz on Wednesday.
The Celtics took all three meetings last season and have won seven of the last eight meetings.
The Magic currently rank ninth in the league in points per game, and ninth in points allowed per game.
The Celtics rank 30th in points per game and second in point allowed per game.
Magic Keys to Success
Rebound
Through five games the Magic sit in first place in the league in total rebounding. They rebounded it strongly in their win over the Clippers Wednesday, grabbing 51 misses. They're facing a Celtics team that currently ranks a dreadful 28th in total rebounding. The Magic must crash the boards and keep the hungry Celtic big men at bay.
Keep the pace up
The Magic currently sit in a comfortable 11th place in the league in pace (number of possessions per game), while the Celtics are found in a tie for 24th at 95.7. Coach Jacque Vaughn has talked about his Magic men getting out and running the floor more, and tonight could be the perfect opportunity to do so. The Magic are currently averaging 11.2 fast break points per game, and are coming off a season low eight in Wednesday night's win.
Defensive Pressure
As the league currently sits, the Magic are the third best defensive team based on defensive rating (points given up per 100 possessions). They're ninth in points given up per game, and have seen arguably the most improvement on that end of the floor early in the season. They've been allowing Nikola Vucevic to play in a center field type role, somewhat like the Indiana Pacers, the best team in the league based on defensive rating, do with Roy Hibbert. They showed a willingness in Wednesday's win to allow the ball handler in the pick and roll to have the open mid-range jumper, so it'll be interesting to see if they do the same with a more mobile center in Vitor Faverani.
Space the floor
They're facing a team in the Celtics that are holding their opponents to a league low 27.1% from three this season. Coach Vaughn said in the pre-game that the team was so good defending the three due to their length on the wing with the likes of Jeff Green, Gerald Wallace and Courtney Lee. The Magic come in shooting the three at 41.6% as a team, and is not afraid to space it and let it fly from deep.
Originally posted on our Orlando Magic blog. You can read more here.