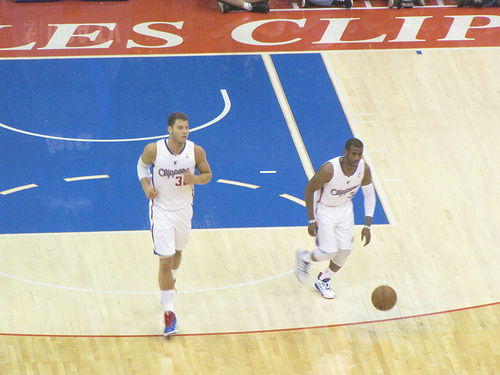 The Los Angeles Clippers keep getting exposed and at this point it's fair to wonder if this is the team identity we're stuck with for the season, or will things improve enough for fans to believe in that Western Conference title projection.
Oh yeah, the 19 turnovers didn't help either. The Clippers tipped off against the defending champion Miami Heat for what would be a test in elasticity and a self check. The Clippers were expected to bounce back from Wednesday's loss against the not-as-talented (on paper) Orlando Magic, as their game against the Heat would be the precursor for a glimpse of what fans should expect in the postseason and possibly a finals matchup. Maybe it's premature to be thinking finals, and the way the Clippers have been playing, looking forward to the All-Star break is more aligned with reality, and this 102-97 loss to the Heat shows that spending more time in South Beach might be a foregone conclusion.
The Clippers entered this matchup as the league's highest-scoring team, while also giving up the most field goals as well, and for a moment in the first quarter their aspirations to be among one of the league's stingiest defenses showed as they forced two early turnovers to open up a 9-2 lead. Despite Miami's 21-point first-quarter average, they put up 28 points in the midst of a solid Clipper assault. Matt Barnes sat out for his second straight game with a thigh contusion, which left LeBron James to be defended by a mix of Willie Green, Jared Dudley and Blake Griffin, all of whom he had his way with early in the game.
Although the Clippers collected 19 fast break points (17 in the first half) to Miami's four, the second quarter opened to sloppy passes from the bench leading to turnovers that Miami capitalized on in transition, leading to a 56-52 Clippers halftime lead despite Chris Paul being held to five points, his season first half low. The Clippers opened the third quarter with a rare three-pointer from Blake Griffin, but the Heat outscored the Clippers by 15 points over the next 15 minutes with stifling defense that caused Chris Paul to make poor decisions and turn the ball over, contributing to his five turnovers.
Miami would eventually close the third quarter shooting 57 percent to go up by three, and despite Blake Griffin having his fourth double-double of the year with a Clippers highs 27 points and 14 rebounds, the fourth quarter belonged to Wade, who torched J.J. Redick for 11 horribly defended points, finishing the game with 29.
Chris Paul (11 points and 12 assists) commented on his worst performance of the season: "I have to trust my teammates. I just played a bad game. I have to get the ball out of my hands." That's easier said than done for Paul, who doesn't have much reason to trust the majority of his teammates unconditionally. Blake Griffin has been his living highlight reel self and J.J. Redick has provided the Clippers with a great shooting threat at shooting guard, but Dudley has yet to fit in with the starting unit and DeAndre Jordan's new agenda of being a defensive juggernaut creates a lack of offensive dependability in the low post.
Great players force the issue, and right now Paul is the Clippers' only great player. When there's a lack of dependability in a great player's teammates, oftentimes that will lead to more mistakes than success—and that will be a point of contention for a team showing slow progress defensively and in the clutch. The Clippers supporting cast must begin to tout their strengths, as right now they're being overshadowed by their weaknesses.
The Clippers will try to get back on track in their next game against the Rockets in Houston on Saturday. They will need to continue to define each player's role, and players will need to play within the confines of those roles. At an early season record of 3-3, playing at .500 won't get the job done for a team whose championship aspirations seem to dwindle with every revealing loss.
Image courtesy Dinur Blum/Flickr